.
Regular price
$39.90
Sale price
$18.97
Unit price
per
Sale
Sold out
If you order within
Arrives by
Could you show me your teeth?
Biting toys are a fantastic way to improve reaction speed and encourage the natural interest in surroundings.

They show that often, there's no need to be afraid and give a pleasurable adrenaline kick, but in a safe way.
Do you have the reaction it takes?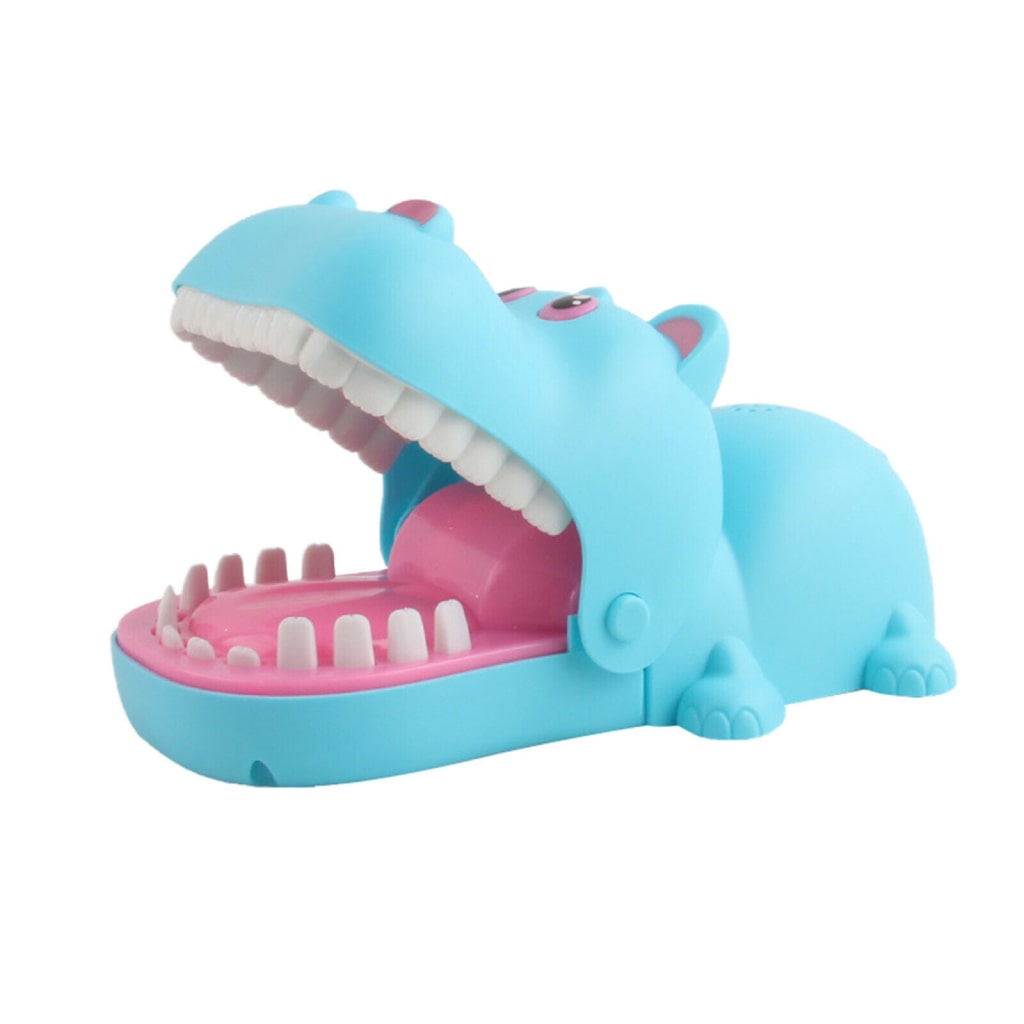 When the mouth of the crocodile is open, you can start pushing the "teeth." When you get to THAT tooth, it'll force the mouth to close. The challenge is not to have your finger "bitten."
Perfect size
The toy is approximately 6.29x6.29x5.11 inches, so it's perfect for anyone. It's made to provide a fun experience while not taking up much space when you store it.
Nom, nom!
Spice up your and your kid's everyday life! It teaches them curiosity, trains their reaction, and gives them an unforgettable kind of fun. It's not scary or painful, but it can excite even the most severe adults.

A crocodile biting toy for anyone. Have a little bit of fun!

These days, kids spend too much time on screens and need more time engaged in educational and interactive play.
You're concerned about their development and want to offer them a fun and educational toy that can get them off screens and actively learning.
Enter the Crocodile Biting Toy! This remarkable toy addresses your concerns, providing an exciting way for kids to learn, play, and ignite their imagination.

Benefits of this crocodile-biting toy:


Interactive Learning: Encourages kids to explore, learn, and play interactively.
Fine Motor Skills: Develops fine motor skills through precise manipulation.
Educational Fun: Combines entertainment with learning about wildlife.
Realistic Design: Mimics the look and behavior of a crocodile.
Hours of Play: Provides long-lasting entertainment and engagement.
Quality Materials: Crafted from safe and durable materials.
Parent-Approved: Loved by parents for its educational value.
Screen-Free Play: Offers a break from digital screens.
Unisex Appeal: Suitable for both boys and girls.
Ideal Gift: This makes for a thoughtful present that combines fun and education.

FAQ (Frequently Asked Questions):


Q1: What is included with the Crocodile Biting Toy?
A1: The toy typically includes the crocodile model, small accessories, and an activity guide.
Q2: Is this toy suitable for all ages?
A2: It is generally designed for children aged 3 and up, making it ideal for preschoolers and older kids.
Q3: Is the crocodile safe for kids to play with?
A3: Yes, the toy is crafted from non-toxic and child-friendly materials for safe play.
Q4: How does it help with educational play?
A4: The Crocodile Biting Toy combines learning about wildlife and fine motor skill development.
Q5: Can kids customize the crocodile's appearance?
A5: Yes, the toy often includes small accessories for personalization.
Q6: Is it suitable for group play?
A6: Absolutely, it's perfect for siblings or friends playing together.
Q7: Can it be used indoors and outdoors?
A7: While it's typically designed for indoor play, it can be used outdoors in suitable conditions.
Q8: Does the crocodile require batteries?
A8: No, the toy operates without batteries for continuous play.
Q9: How do I clean the toy?
A9: Cleaning is often as simple as wiping the toy with a damp cloth.
Q10: Where can I purchase the Crocodile Biting Toy?
A10: You can buy the Crocodile Biting Toy online through our website. Select the product, add it to your cart, and follow the checkout process to introduce this exciting and educational toy to your child's playtime.
View full details
Enjoy Free Shipping on Every Order
Experience the ultimate convenience with our free 3-day shipping service available to all customers throughout the United States.
24 x 7 Customer Support at Your Service
We offer customer support through live chat, email, or phone, making it easy for customers to get assistance with their inquiries.
Crafted with American Pride: All Our Products Are Made in the USA
Experience the assurance of exceptional quality and support local industries with our wide selection of products, all proudly made in the USA.
Peace of Mind: Our 14-Day Return Policy Has You Covered
We want you to love your purchases, which is why we offer a hassle-free 14-day return policy. If you're not completely satisfied with your order, simply return it within 14 days for a full refund or exchange.
Explore Our Diverse Range of Products
Our store offers a vast selection of products, giving customers the convenience of finding everything they need in one place.
Our Customers Award Us 5 Stars
We are thrilled to share that our products has received widespread acclaim from our valued customers, with an abundance of 5-star customer reviews pouring in.
Your Choice, Your Security: Explore Our Multiple Payment Options
We offer secure payment options, giving customers peace of mind when making transactions.
Track Your Orders at Every Step
Customers can track their orders in real-time and receive updates on their delivery status.