.
Regular price
$64.90
Sale price
$26.47
Unit price
per
Sale
Sold out
If you order within
Arrives by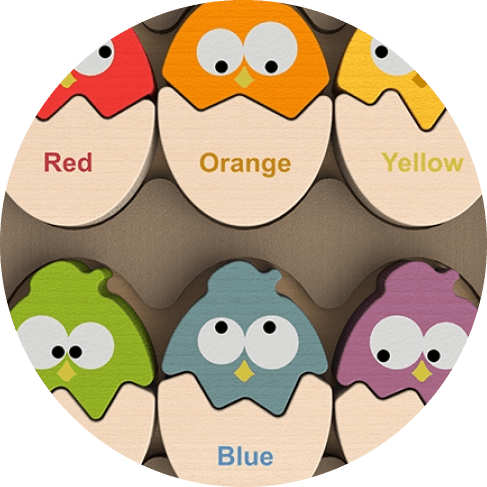 The perfect learning puzzle game
Count chickens and learn colors, too, with the popular preschool puzzle game that gets all the kids clucking!
Using a fun and classic "chicken and egg" theme, Color 'N Eggs Bilingual Matching Puzzle by BeginAgain teaches colors and their names in English and Spanish.
It's fun all in one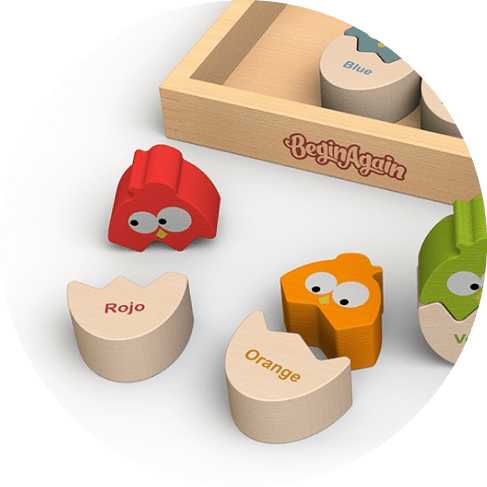 Sharpens cognitive, verbal, and motor skills
Add some imagination
This puzzle sharpens problem-solving skills and inspires character stories. 6 characters and their matching eggshells make for challenging preschool fun!
Kids
love to play; parents love the materials.
The Color 'N Eggs Bilingual Matching Puzzle from BeginAgain makes
learning fun
! This is equally essential at BeginAgain, all of the products are designed with the environment in mind. This puzzle is beautifully crafted from sustainably harvested rubberwood and finished with water-based stains. BeginAgain is working towards a greener world, one
toy
at a time!
Benefits of this Puzzle Game:


Bilingual Learning: The Color 'N Eggs Bilingual Matching Puzzle introduces young learners to both English and Spanish, fostering bilingual language development.

Educational Fun: This puzzle offers a playful and interactive way for children to practice vocabulary, letter recognition, and early language skills.

Fine Motor Skills: Children enhance their fine motor skills by manipulating and matching puzzle pieces, preparing them for more complex tasks. 

Stimulates Memory: Matching the colorful eggs with corresponding words in two languages encourages memory and cognitive development.

Durable and Safe: Crafted from high-quality, child-safe materials, this puzzle is built to withstand rigorous play and ensure your child's safety.

Versatile Learning: The set can be used for individual play or as a group activity, promoting social skills and cooperation.

Color Recognition: The vibrant, eye-catching colors in this puzzle assist in teaching color recognition to young children.

Parent Involvement: Parents can engage in their child's learning journey by joining in on the puzzle-solving fun.

Compact and Portable: Its compact size makes it easy to take on the go, providing entertainment and learning during travel.

Boosts Confidence: Successful puzzle solving boosts a child's confidence and self-esteem, motivating them to explore more challenges.

FAQ (Frequently Asked Questions):


Q1: What age range is this puzzle suitable for?
A1: The Color 'N Eggs Bilingual Matching Puzzle is designed for children aged 3 and up.

Q2: Is this puzzle made from safe materials?
A2: Yes, it's crafted from high-quality, child-safe materials to ensure your child's safety during play.

Q3: How does it help with bilingual learning?
A3: This puzzle introduces young learners to both English and Spanish, helping them develop bilingual language skills.

Q4: Can it be used for group play or in educational settings?
A4: Yes, it can be used for both individual and group play, making it suitable for educational settings and social play.

Q5: Is this puzzle easy to clean?
A5: Yes, it can be easily cleaned with a damp cloth or baby-safe cleaning solution.

Q6: How does this puzzle encourage fine motor skills?
A6: Children manipulate and match puzzle pieces, enhancing their fine motor skills and preparing them for more complex tasks.

Q7: Are the puzzle pieces large enough to be safe for young children?
A7: Yes, the puzzle pieces are designed with safety in mind and are of an appropriate size for young children.

Q8: Can parents actively participate in their child's learning with this puzzle?
A8: Parents can engage in their child's learning journey by joining in on the puzzle-solving fun and promoting bilingual development. 

Q9: What are the dimensions of the puzzle?
A9: The puzzle's compact size is approximately [insert dimensions], making it portable and travel-friendly.

Q10: How does this puzzle support cognitive development?
A10: Children stimulate their memory and cognitive development by matching colorful eggs with corresponding words in two languages, creating a solid foundation for learning.
Reviews
Our reviews are verified for authenticity
My 2 year old lover this puzzle and I love it because it helps me teach her Spanish

My almost two year old neice loves cats and thought this puzzle was great. Her 3 year old brother also enjoyed playing with it.

These are super cute and very simple, but maybe too simple. I wish instead of the large oval shapes it was more like a puzzle. However, it is a great tool for teaching colors in Spanish and English.

Very cute and good quality.

Bought this product because the colors are listed in Spanish on one side and English on the other. Great simple bilingual household toy.

This is super cute! I bought this for a bilingual friend's little boys birthday! It was a huge hit! So cute and I love that it features both Spanish and English. Seems like good quality as well and has a little box for it to store. Nice and durable puzzle!

I bought these to help my daughter learn colors. She is 1 so she puts everything in her mouth. They are hard wood and made really really well, I'm very impressed. They have been a help to me, with learning the colors too. We love them! Definitely recommend!!!
View full details
Enjoy Free Shipping on Every Order
Experience the ultimate convenience with our free 3-day shipping service available to all customers throughout the United States.
24 x 7 Customer Support at Your Service
We offer customer support through live chat, email, or phone, making it easy for customers to get assistance with their inquiries.
Crafted with American Pride: All Our Products Are Made in the USA
Experience the assurance of exceptional quality and support local industries with our wide selection of products, all proudly made in the USA.
Peace of Mind: Our 14-Day Return Policy Has You Covered
We want you to love your purchases, which is why we offer a hassle-free 14-day return policy. If you're not completely satisfied with your order, simply return it within 14 days for a full refund or exchange.
Explore Our Diverse Range of Products
Our store offers a vast selection of products, giving customers the convenience of finding everything they need in one place.
Our Customers Award Us 5 Stars
We are thrilled to share that our products has received widespread acclaim from our valued customers, with an abundance of 5-star customer reviews pouring in.
Your Choice, Your Security: Explore Our Multiple Payment Options
We offer secure payment options, giving customers peace of mind when making transactions.
Track Your Orders at Every Step
Customers can track their orders in real-time and receive updates on their delivery status.