If you order within
Arrives by
Regular price
$111.00 USD
Sale price
$39.99 USD
Unit price
per
Sale
Sold out
If you order within
Arrives by
Сlassic Orthodontic Pacifier
Designed to soothe naturally
Finally, here's a pacifier that soothes babies and parents, too. This Orthodontic Silicone Pacifier is backed by science to actively support your baby's breathing and oral development. It is designed for maximum comfort and breathability - three vent holes provide more airflow to help babies' mouths stay dry and less likely to conduct rash.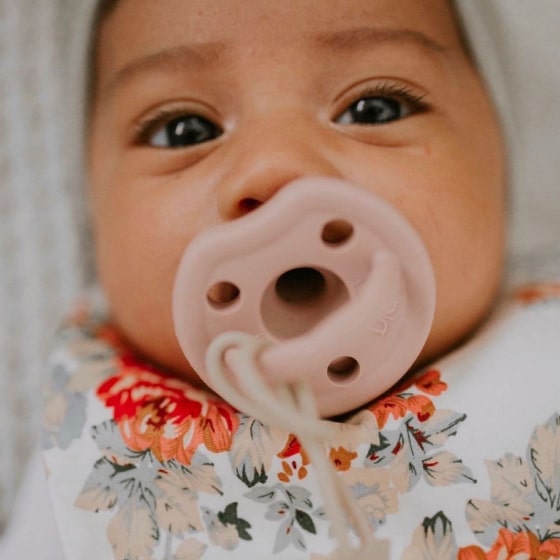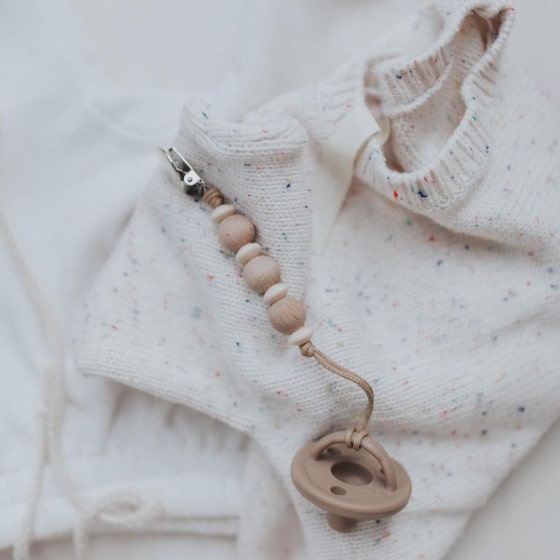 #1 for breastfed babies
The Classic Pacifier: features and benefits
Orthodontic, supportive shape
This classic orthodontic pacifier adapts to your baby's mouth, always staying in the correct position. This helps support the palate and the development of wide, healthy grins.
Extra-small teat
The pacifier's unique breast-like nipple is shaped to soothe the baby just like the mom. This makes for an easy transition from breast to a pacifier.
Comfortable and stylish
The lightweight handle allows babies to keep the pacifier in their mouth and the pastel pink color just tops it off!
Free from harmful substances
This pacifier is 100% silicone, free of BPA, PVC, latex, and phthalate. CPSIA tested and certified, it meets all safety requirements.
Details and care
Age: the first year (0m-12m). Dishwasher safe (top rack only). Please note: This is NOT a teether. These pacifiers are strictly for soothing ONLY.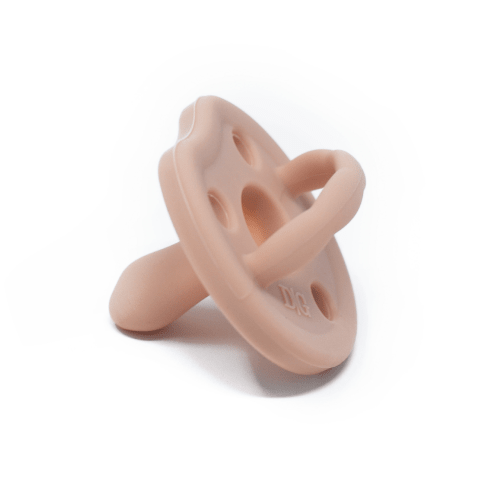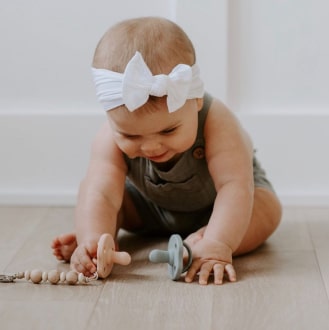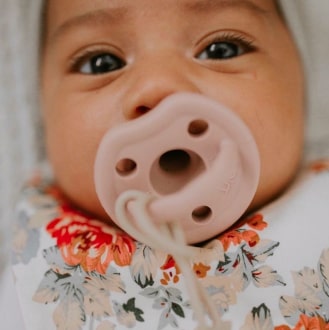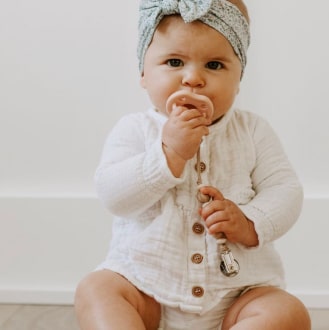 About The Dearest Grey
Hi, I'm Summer founder of The Dearest Grey! Everyones story starts some where and I'm here to tell you mine all started in hopes to bring a modern twist to baby products. Here at The Dearest Grey we take safety very seriously. We have all of our products put through a serious of testing done by a government approved facility (CPSC). Our colors are hand chosen to provide a unique style. Our products are also super functional and perfect for on the go. We also pride ourselves on our customer service. Check us out on Instagram! @thedearestgrey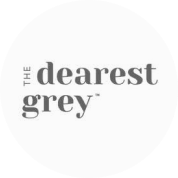 Designed In
Montgomery , Texas
Reviews
Our reviews are verified for authenticity
Oh my goodness these pacifiers are absolutely amazing! It is just so clean looking 😍

I absolutely love these pacifiers. My newborn wouldn't keep the hospital supplied pacifiers in his mouth but these stay. Fast forward 3 months and this is still the only pacifier he will keep ahold of.

Finally a paci that my newborn is interested in!

The design is so sleek and I love that it is 100% silicone instead of rubber like some others. The color is beautiful and my baby took it with no issues. We're converted!

Literally the only pacifier my newborn will take!

Love love love these pacifiers! Great quality and cute color!

Our son's favorite. Shipped quicker than we thought they would.

Love the color of these pacifiers. I have always had the natural rubber from the other brand and liked them, but the silicone alternative is better in my opinion. The rubber always seemed to get tacky when dry and was harder to clean. I also appreciate that the silicone is pretty close to the same softness as natural rubber and not a stiff nipple like other brands.

We love love love this product! It's the first one we've purchased but my second daughter (who is 15months) had never taken a pacifier, and always sucked her thumb... we offered this to her instead and she has taken amazing to at as a transition tool from thumb sucking! Plus it's super cute!

Rating this 4 stars because my baby isn't here yet to try it out. However from what I can see and feel these are definitely worth the money! It is soft but you can tell it is durable. Not to mention how cute they are! I'm really excited and happy with my purchase.

I purchased this hoping it would help soothe my daughter, she unfortunately didn't take it but I did like the design and material the pacifier is made out of.
View full details
Featured store in media
Homekartz has been constantly featured on top media sites like Fox, USA Today, Market watch and others
13,452+ Positive Reviews
So many positive reviews and happy customers cannot be wrong!
Free 3 day shipping
We provide free first class USPS and FedEx shipping on all orders.
24 x 7 support
We won't leave you alone! Every one gets 24 x 7 priority support.
90 Day Money Back Gurantee
We offer 90 days risk free trial with 100% satisfaction guarantee.
You help someone today
When you buy from us, we donate 10% of each sale to a child in need in the USA.
Made with Love
"Each product is made with not only the best material but a little bit of happiness and kindness too."
What customers say
*****

My 5 year old grand son loves the products that we bought from homekartz. They provide a high quality product.

*****

My daughter loves the toys that I purchased for her and we keep buying more toys for her from time to time.

*****

My kid loves the clothes that i got for him. Home kartz has really great clothes for different occassion.