.
Regular price
$64.90
Sale price
$26.47
Unit price
per
Sale
Sold out
If you order within
Arrives by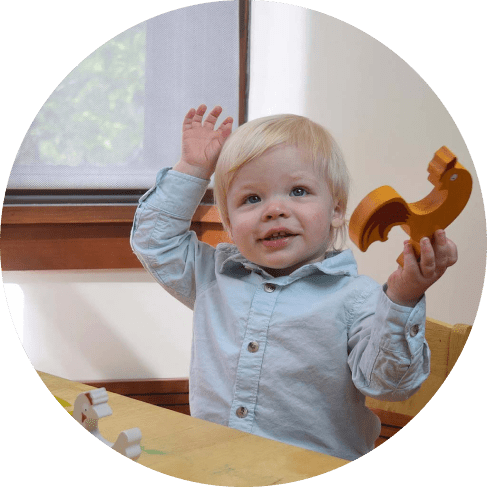 It's the perfect first puzzle
This Chicken Family Puzzle will please animal-crazy kids and their eco-minded parents. Kids love to solve the puzzle and tell their own imaginative stories. This animal game makes a perfect first
puzzle
for all children.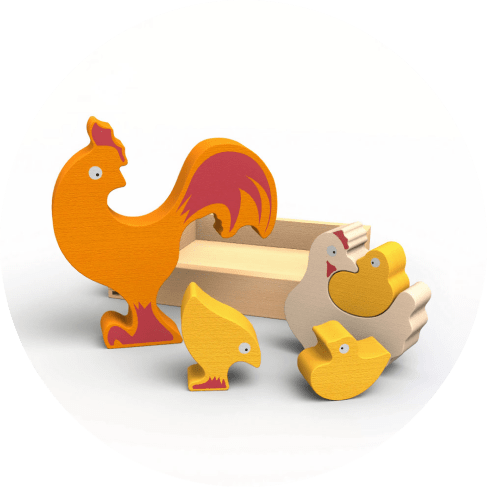 Sweet family of chickens
The Chicken Family Puzzle from BeginAgain features five differently shaped, bright, and colorful pieces that form the shape of a lovely family of chickens.
Multiple ways to play
This puzzle features a rooster, chicken, and hens that can be traced for coloring or played with as a playset for imaginative fun. It helps promote creative thinking and stimulates active play.
Eco-friendly & fun
This puzzle is beautifully crafted from sustainably harvested rubberwood and finished with water-based stains. The adorable Chicken Family Puzzle will surely charm your preschoolers with the adorable retro look. The easy-to-grab puzzle pieces inspire storytelling as well as challenging first puzzle play.
Searching for an engaging and educational toy for your child?
Discover our Chicken Family Puzzle Toy! This delightful puzzle captures your child's attention while nurturing their problem-solving skills and creativity.

Here's why you'll love our Chicken Family Puzzle Toy:


Educational Play: This puzzle enhances cognitive development, promoting problem-solving and spatial reasoning.
Charming Design: Shaped like a lovable chicken family, it adds a dose of cuteness to playtime.
Premium Quality: Crafted from high-quality materials, it's durable and built to withstand hours of play.
Parent-Approved: Join the parents who have witnessed their child's joy and learning with this chicken family puzzle.
Elevate your child's playtime with our Chicken Family Puzzle Toy. Click now to add this educational and charming toy to your cart.

Benefits of this Educational Toy:


Educational Development: The Chicken Family Puzzle Toy encourages cognitive development, enhancing problem-solving and spatial skills in children.

Charming Design: Shaped like an adorable chicken family, it adds a delightful and lovable element to playtime.

Durable and High Quality: Crafted with premium materials, it can withstand rough play, ensuring durability and longevity.

Parent-Approved: Parents appreciate the educational and fun aspects of this toy, making it a valuable addition to their child's playtime.

FAQ (Frequently Asked Questions):

Q1: What is the Chicken Family Puzzle Toy?
A1: The Chicken Family Puzzle Toy is an educational and charming puzzle designed to engage children in problem-solving and imaginative play.

Q2: Is the Chicken Family Puzzle Toy safe for kids?
A2: Yes, it is made from child-safe materials, ensuring a secure and enjoyable playtime experience.

Q3: What age range is this puzzle suitable for?
A3: The Chicken Family Puzzle Toy is typically suitable for kids aged 3 and older, depending on their puzzle-solving skills.
Q4: How does the puzzle enhance cognitive development?
A4: By requiring children to solve the puzzle and fit the pieces together, it promotes problem-solving, spatial reasoning, and fine motor skills.
Q5: Can adults enjoy this puzzle too?
A5: While designed for kids, adults can also find the chicken family puzzle enjoyable, especially when sharing playtime with their children.
Q6: How do I clean the Chicken Family Puzzle Toy?
A6: Cleaning is simple; use a damp cloth to wipe the puzzle and keep it looking fresh.
Q7: Does the puzzle require batteries?
A7: No, the Chicken Family Puzzle Toy is battery-free. It's a classic toy that relies on problem-solving skills and imaginative play.
Q8: Is this a good gift for birthdays or special occasions?
A8: Yes, it makes a fantastic and unique gift for children, encouraging both learning and play.
Q9: Are there more puzzle options available?
A9: We offer various puzzle options to cater to different interests and skill levels. Check out our collection for more choices.
Q10: How can I purchase the Chicken Family Puzzle Toy?
A10: You can buy the Chicken Family Puzzle Toy through our website. Just click on the product, add it to your cart, and follow the checkout process.
Reviews
Our reviews are verified for authenticity
Bought as a gift for an 18 month old. It's cute but on the smaller side.

This was a great gift for a 2 year old who loves chickens. She adores her chicky puzzle!

Love love love. Bought this for me not the kids 🙈 kids love it too. Durable.

Love it! It is a great first puzzle for little hands and looks nice on the table. Gave it 4 stars instead of 5 because I think for the price it could be bigger.

2nd time to purchase this puzzle. my granddaughter loves it (and loses pieces!). good quality

Got it for my 2 1/2 year old grandson, and he loved it! Made very well. Love the box that they all live in!! Fits great in the diaper bag.

my two year old granddaughter and I really like it. Lots of fun for a simple little puzzle. Got it on lightening deal so good price.Very well made.

The puzzles from this company are freaking adorable. I also reviewed the farm one - this passes every test, they're soooo well made and imaginative and fun. GET THESE. No regrets. I will buy these forever for my kid and for gifts.

My two year old daughter really enjoys this puzzle. With a bit of help getting started she was able to get the idea and assemble it on her own. Construction quality is high -- the pieces are all smooth and the color is uniform. This toy is amazing in that by playing with it, it essentially gets put away. I'm sure any parent of small children has experience with toys that come apart into many pieces and the associated foot pain. Since a successful completion of the puzzle means all the parts are in the tray, the pieces really tend to stay in one place.
View full details
Enjoy Free Shipping on Every Order
Experience the ultimate convenience with our free 3-day shipping service available to all customers throughout the United States.
24 x 7 Customer Support at Your Service
We offer customer support through live chat, email, or phone, making it easy for customers to get assistance with their inquiries.
Crafted with American Pride: All Our Products Are Made in the USA
Experience the assurance of exceptional quality and support local industries with our wide selection of products, all proudly made in the USA.
Peace of Mind: Our 14-Day Return Policy Has You Covered
We want you to love your purchases, which is why we offer a hassle-free 14-day return policy. If you're not completely satisfied with your order, simply return it within 14 days for a full refund or exchange.
Explore Our Diverse Range of Products
Our store offers a vast selection of products, giving customers the convenience of finding everything they need in one place.
Our Customers Award Us 5 Stars
We are thrilled to share that our products has received widespread acclaim from our valued customers, with an abundance of 5-star customer reviews pouring in.
Your Choice, Your Security: Explore Our Multiple Payment Options
We offer secure payment options, giving customers peace of mind when making transactions.
Track Your Orders at Every Step
Customers can track their orders in real-time and receive updates on their delivery status.