.
Regular price
$129.90
Sale price
$45.97
Unit price
per
Sale
Sold out
If you order within
Arrives by
Can I expect less mess and spills with this unique suction bowl and spoon set?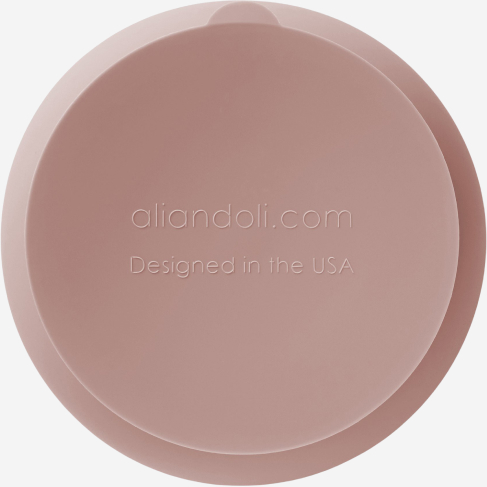 The perfect set for your baby or toddler
This Ali+Oli Wavy Suction Bowl & Spoon is the perfect companion for you and your little one aged six months and up. This mealtime dinnerware set is great for your
baby or toddler learning
to self-feed. 
Simple, soft color your family will love
Features you will love:
No sliding around
The toddler bowl has a solid, non-slip suction base & a unique raised scooping lip that helps build your baby's confidence.
Includes a bowl with a matching spoon
The suction base keeps the
baby bowl
from sliding around while the baby is feeding during mealtime. The matching spoon is soft and pliable.
Can be hand-washed easily
The suction bowl is microwave and top-rack dishwasher-safe and can be hand-washed using warm, soapy water.
Sizing information & details
The bowl measures 4.5" x 4.5" round x 2.25" tall and easily fits 8oz of food. The spoon measures 5.75" x 1.25" wide.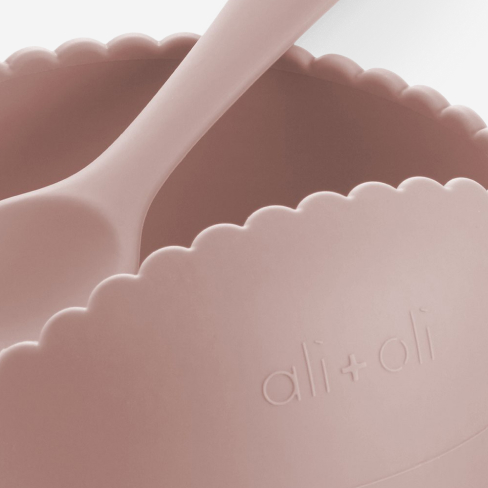 100% safe silicone
This cute set is made from 100% food-grade silicone, BPA-free, phthalate-free & lead-free. Safe for your baby!
Before first use
Hand wash in warm, soapy water before first use. Always clean & rinse this set thoroughly after each use.
Must-have for parents

It's a top-of-the-line baby product.
Anytime you need to increase suction strength, add some water below the bowl's suction part and ensure you are using a clean, flat surface. They are designed to fit on the most minuscule highchair trays. Warning: this is not a
toy
! Always supervise children while eating. Please inspect utensils before each use.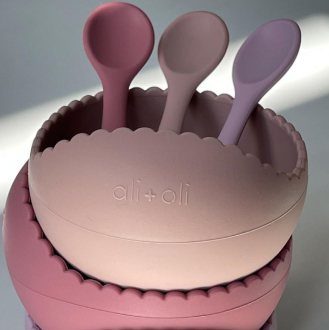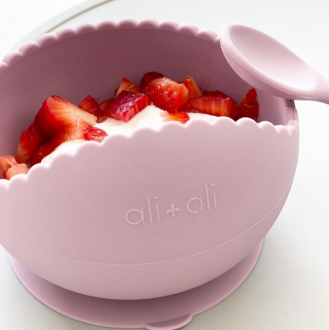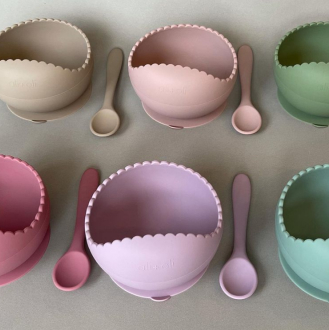 Benefits of Baby Bowl and Spoon Set:




Mess-Free Feeding: The Baby Suction Bowl and Spoon Set features a strong suction base that keeps the bowl firmly in place, reducing spills and mess during mealtime.

Easy Self-Feeding: The accompanying spoon is designed for tiny hands, allowing your baby to develop self-feeding skills and gain independence.

Safe and Non-Toxic: Crafted from BPA-free, food-grade silicone, this set is safe for your child's health and well-being.

Versatile Use: Suitable for hot and cold foods, making it perfect for various meals and temperatures.

Compact and Travel-Friendly: The compact size and convenient design make it an excellent addition to your diaper bag for meals on the go.

Simple Cleanup: The bowl and spoon are both dishwasher-safe, saving you time and effort when it comes to cleaning.

Stylish and Attractive Design: This set enhances your baby's dining experience with appealing colors and a modern design.

Durable and Long-Lasting: Built to withstand daily use and rough handling, ensuring it lasts throughout your child's early years.

Promotes Healthy Eating Habits: The portion size encourages appropriate food servings for your baby, fostering healthy eating habits.

Parent-Baby Bonding: The set creates quality bonding time during meal preparations and feeding.

FAQ (Frequently Asked Questions):

Q1: Is the Baby Suction Bowl and Spoon Set safe for my child?
A1: The bowl and spoon are made from BPA-free, food-grade silicone, ensuring your child's safety.

Q2: How does the suction base work on the bowl?
A2: The strong suction base securely adheres to most flat surfaces, minimizing the chances of the bowl being tipped during mealtime.

Q3: Can I use the spoon for both hot and cold foods?
A3: Yes, the spoon is suitable for hot and cold foods, making it versatile for various meals.

Q4: What is the recommended age for using this set?
A4: This set is designed for babies and toddlers, typically around 6 months and up.

Q5: How do I remove the bowl from the table or highchair?
A5: Gently lift the edge of the suction base to release the bowl, allowing for easy removal.

Q6: Can I take this set with me when we travel?
A6: Yes, it's compact and travel-friendly, making it an excellent choice for meals on the go.

Q7: What is the size of the bowl, and is it suitable for my baby's portion?
A7: The bowl is designed with an appropriate portion size for little ones, making it perfect for their smaller appetites.

Q8: Is the spoon designed for self-feeding by babies?
A8: Yes, the spoon's design is ideal for tiny hands, encouraging self-feeding skills and independence.

Q9: Can I sterilize these items?
A9: Yes, the bowl and spoon are dishwasher-safe and can be sterilized for added cleanliness.

Q10: Does this set promote parent-baby bonding during mealtimes?
A10: Absolutely; preparing and sharing meals using this set provides quality bonding opportunities during mealtimes, creating lasting memories.
Reviews
Our reviews are verified for authenticity
I liked the blush color and material

Great suction! My toddler has hard time lifting this bowl compared to other bowls and plates from other manufacturers we've used.

So far so good! Love the color. My son is still at the age where i feed him, so the real test of the suction will be when he's able to feed himself.

Design and quality are great! Love the color

This bowl is so cute and I love the color. I use it for my baby's food. I love it!

The suction is way better then other one out there

The shape is great and the suction is too. I just wish it was larger as I'm using it for a dish for someone who has Alzheimers and is losing control. The high sides make scooping out much easier for them to eat. A plate with one high side would also be nice to have.

Sticks to the table almost to well & a breeze to clean.

Her favorite bowl and spoon. She especially loves the spoon. It doesn't move around once on the tray and food doesn't end up on the floor lol

Use the bowl and spoon for my four month old's first puree feeding. I love the color and smooth texture of the pieces. Easy to clean and sterilize. Size of spoon was not too large for baby's mouth. Would definitely purchase again.

I bought several bowls to feed our baby and I had a couple of hits and misses until we decided to give these bowls a try. The are very well made and you can feel the difference in quality right out of the bag. The spoon is the best part as it is not very soft and you can use it to help baby open his mouth and then rest the food against the upper palate of the baby for easy delivery (feed little amounts always). The suction is pretty strong and we have had no issues so far with that as well. Great quality product. Highly recommended.
View full details
Enjoy Free Shipping on Every Order
Experience the ultimate convenience with our free 3-day shipping service available to all customers throughout the United States.
24 x 7 Customer Support at Your Service
We offer customer support through live chat, email, or phone, making it easy for customers to get assistance with their inquiries.
Crafted with American Pride: All Our Products Are Made in the USA
Experience the assurance of exceptional quality and support local industries with our wide selection of products, all proudly made in the USA.
Peace of Mind: Our 14-Day Return Policy Has You Covered
We want you to love your purchases, which is why we offer a hassle-free 14-day return policy. If you're not completely satisfied with your order, simply return it within 14 days for a full refund or exchange.
Explore Our Diverse Range of Products
Our store offers a vast selection of products, giving customers the convenience of finding everything they need in one place.
Our Customers Award Us 5 Stars
We are thrilled to share that our products has received widespread acclaim from our valued customers, with an abundance of 5-star customer reviews pouring in.
Your Choice, Your Security: Explore Our Multiple Payment Options
We offer secure payment options, giving customers peace of mind when making transactions.
Track Your Orders at Every Step
Customers can track their orders in real-time and receive updates on their delivery status.