.
Regular price
$49.90
Sale price
$21.97
Unit price
per
Sale
Sold out
If you order within
Arrives by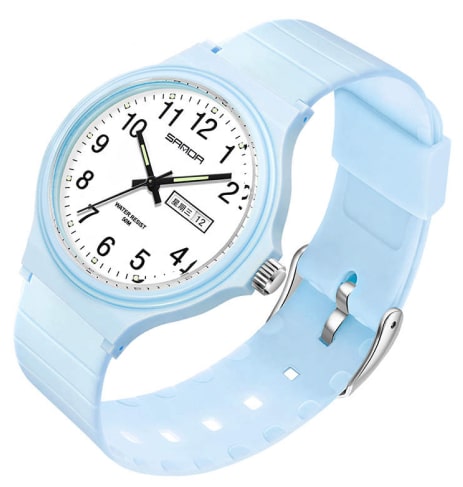 Young wristwatch for children

Great, light, and casual for everyday use
An excellent fashion wristwatch with a clean design that will inspire and instill new breaths of joy into your children's lives. It perfectly matches any outfit your child decides to wear.
Watch specifications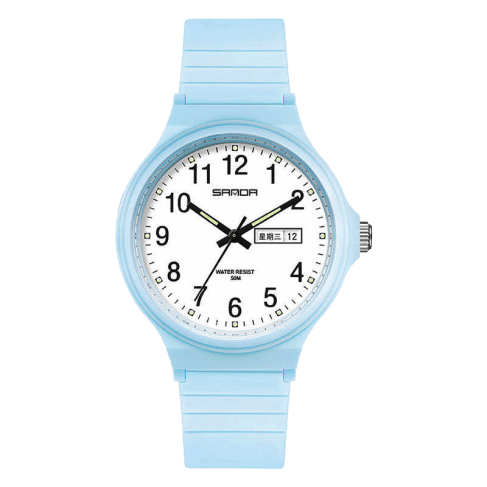 Watch details
Movement: quartz. Case materials: ABS. Weight: 0.85 ounces. Dial width: 1.6". Dial length: 1.67". The strap width is 0.7". The Watch thickness is 0.4". Total length: 9.3". Color: blue.
Watch features
Stores sunlight energy and releases luminous light energy at night. Waterproof, which makes it great for handwashing, a cold bath, and walking in the rain. Stable and shockproof. Improved dual calendar movement.
Elegant design with clean lines
Provide your child with an elegant timepiece they can wear anytime, anywhere. Designed with precision and made from high-quality materials, our watches are perfect for your
kids
' everyday adventures. With this stylish timepiece, you can teach your child to easily keep track of time and stand out from the crowd of other
kids
!
Are you searching for an excellent and reliable wristwatch for your child?


Explore the Blue Children's Wristwatch! This vibrant timepiece is designed to teach your child time management while adding color to their style.

Here's why you'll love the Blue Children's Wristwatch:


Time-Telling Made Simple: This wristwatch makes learning to tell time easy and fun, playfully promoting punctuality and responsibility.
Stylish in Blue: With its striking blue design, it's perfect for kids who want to express their unique style while keeping track of time.
Built to Last: Crafted with high-quality materials, it's durable and reliable, ideal for active young lives.
Parent-Approved: Join the parents who have seen their kids develop essential time-telling skills while looking fashionable.

Help your child master time-telling with the Blue Children's Wristwatch. Click now to add this stylish and educational timepiece to your child's collection.


FAQ (Frequently Asked Questions):

Q1: What is the Blue Children's Wristwatch?
A1: The Blue Children's Wristwatch is a stylish and functional wristwatch designed to help children learn to tell time.
Q2: Is this watch suitable for a specific age range?
A2: Yes, it's designed for children, typically aged 5 and older, who are learning to tell time.
Q3: How does this watch make learning to tell time fun?
A3: The watch features a clear analog display with easy-to-read numbers and hands, making it an engaging tool for learning time-telling skills.
Q4: Is the watch durable and suitable for active kids?
A4: Absolutely! It is crafted with high-quality materials, ensuring durability and reliability even in the active lives of children.
Q5: Is it easy to adjust the time on this watch?
A5: Yes, the watch typically has a user-friendly design, making it easy for parents and kids to set and adjust the time.
Q6: Does the watch come in different colors or styles? A6: The availability of colors and styles may vary, so you can choose the one that appeals to your child's taste.
Q7: Is the watch water-resistant?
A7: The water resistance of the watch may vary, so it's essential to check the product details for specific information.
Q8: How can I purchase the Blue Children's Wristwatch?
A8: You can buy the Blue Children's Wristwatch online through our website. Click on the product, add it to your cart, and follow the checkout process to make it yours.
View full details
Enjoy Free Shipping on Every Order
Experience the ultimate convenience with our free 3-day shipping service available to all customers throughout the United States.
24 x 7 Customer Support at Your Service
We offer customer support through live chat, email, or phone, making it easy for customers to get assistance with their inquiries.
Crafted with American Pride: All Our Products Are Made in the USA
Experience the assurance of exceptional quality and support local industries with our wide selection of products, all proudly made in the USA.
Peace of Mind: Our 14-Day Return Policy Has You Covered
We want you to love your purchases, which is why we offer a hassle-free 14-day return policy. If you're not completely satisfied with your order, simply return it within 14 days for a full refund or exchange.
Explore Our Diverse Range of Products
Our store offers a vast selection of products, giving customers the convenience of finding everything they need in one place.
Our Customers Award Us 5 Stars
We are thrilled to share that our products has received widespread acclaim from our valued customers, with an abundance of 5-star customer reviews pouring in.
Your Choice, Your Security: Explore Our Multiple Payment Options
We offer secure payment options, giving customers peace of mind when making transactions.
Track Your Orders at Every Step
Customers can track their orders in real-time and receive updates on their delivery status.