If you order within
Arrives by
Regular price
$111.00 USD
Sale price
$39.99 USD
Unit price
per
Sale
Sold out
If you order within
Arrives by
A fresh take on a time-honored Montessori toy
The incredible Interlocking Disk toy is made from 100% plant-based materials (not recycled plastic) and designed to promote learning and coordination in babies.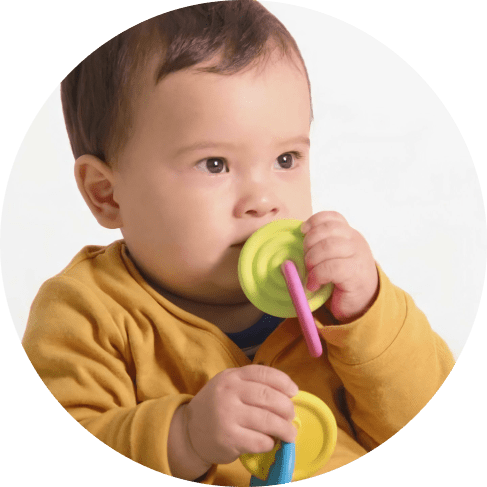 Use during playtime or tummy time.
Let your baby explore the disks' colors and textures.
Great to motivate your baby
When your baby plays with Bioserie Interlocking Disks, he or she practices manipulating objects and hones motor skills.
Easy to grab and hold
The contrasting colors get the baby's attention, and the alternated textures feel exciting to the fingertips' touch.
For your peace of mind
Made with 100% plant-based materials, this eco-friendly toy is safe for babies to chew on to their hearts' content.
Best helper for your baby's development
It has dimples to stimulate gums and teeth. Stimulates crawling by rolling when pushed on a flat surface.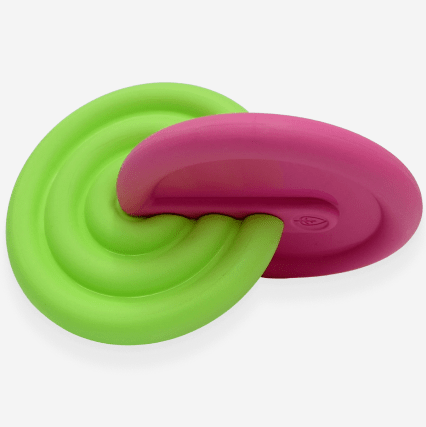 Made with your baby's development in mind
The contrasting pink and green colors of the disks are pleasant to your baby's eyes. The toy is sized just right for a baby's hands to manipulate. The toy can be chilled in the refrigerator. When necessary, wash it by hand or put it in the dishwasher.
Reviews
Our reviews are verified for authenticity
Good, solid product. Easy for baby to grab. So far he just puts everything in his mouth, but it's withstanding all the slobber. This toy is good for passing objects from hand to hand.

Gave it 4 stars out of 5 only because the size is a little bit bigger than I thought, but the width is good for children to chew on. Overall the quality is good just on the wider size.

This is a good toy for fine motor skills, eye hand coordination. My 5 month old baby can move it from one hand to the other. She seems to love playing with it.

Grandbaby loves this toy. When he drops it and it tumbles away, he wiggles and jiggles to get it back. He likes to turn it around in his hands. Great for Montessori approach and hand dexterity.

Interlocking Discs not very heavy, perfect for baby's hands, improves hand-eye coordination, concentration, grasping and exploring skills.Minimalistic and great for parents who don't want their baby to chew on plastic all day.These were perfect!!

I absolutely love this product. I have a 10 month old who is teething, a toddler with autism and a 7 year old with severe ADHD and I gave them each one of this toy. My toddler didn't care much for it, but my 10 month old and 7 year old love them and always have to have them with.

Unlike so many other toys, this simple Montessori toy requires some great wrist rotation, therefore it is perfect for babies to learn to transfer an object from one hand to another. that the interlocking disks are not meant to be separated. When you tap it, it rolls forward and shakes, which will motivate babies to move.
View full details
Featured store in media
Homekartz has been constantly featured on top media sites like Fox, USA Today, Market watch and others
13,452+ Positive Reviews
So many positive reviews and happy customers cannot be wrong!
Free 3 day shipping
We provide free first class USPS and FedEx shipping on all orders.
24 x 7 support
We won't leave you alone! Every one gets 24 x 7 priority support.
90 Day Money Back Gurantee
We offer 90 days risk free trial with 100% satisfaction guarantee.
You help someone today
When you buy from us, we donate 10% of each sale to a child in need in the USA.
Made with Love
"Each product is made with not only the best material but a little bit of happiness and kindness too."
What customers say
*****

My 5 year old grand son loves the products that we bought from homekartz. They provide a high quality product.

*****

My daughter loves the toys that I purchased for her and we keep buying more toys for her from time to time.

*****

My kid loves the clothes that i got for him. Home kartz has really great clothes for different occassion.