If you order within
Arrives by
Regular price
$111.00 USD
Sale price
$62.99 USD
Unit price
per
Sale
Sold out
If you order within
Arrives by
This colorful chameleon is bilingual
Meet the chameleon that's just too cool and colorful to camouflage! The Counting Chameleon Puzzle from BeginAgain for toddlers is a rainbow of counting fun that teaches more than what meets the eye. The beautifully crafted pieces are perfect for little ones working on developing fine motor skills. It's a toy to help encourage imagination and creativity!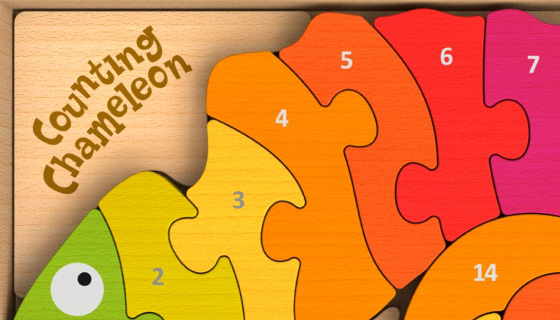 Vibrant, fun, eco-friendly
Let your child play & learn
Bilingual English - Spanish numbers
Each piece has a number from one to fifteen on one side, and the number words spelled out in English and Spanish on the other side!
Bright, inviting colors
Each chunky, double-sided piece fits sequentially for a rainbow of counting fun. It is eye-catching, and each piece complements the adjacent pieces.
Nice, fun & educational
This chameleon puzzle teaches problem-solving, number identification, and number sequence while also inspiring your child's imagination.
Сomes with a wooden storage tray
This durable rubberwood puzzle can be solved either standing up or sitting in its wooden storage tray. Easy cleaning and storage.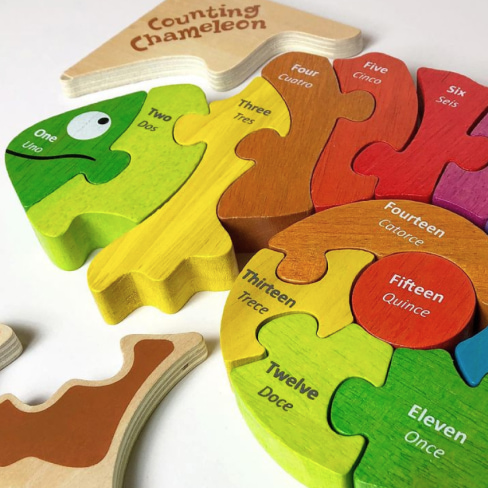 Sizing info & details
The Counting Chameleon Puzzle from BeginAgain measures approximately 7" wide x 10" long. This adorable playset is intended for ages 3 and up.
Makes a wonderful gift
A great gift for your own child that also makes an excellent birthday or baby shower gift! Great for every child, no matter the age or the occasion!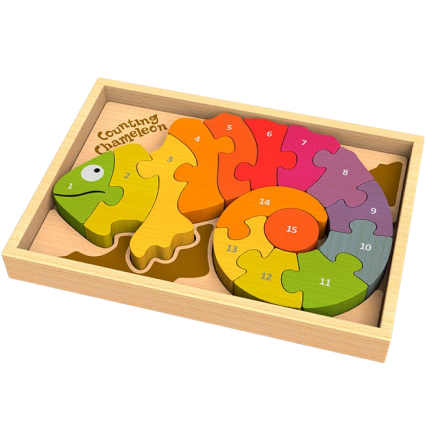 Educational & eco-friendly
The Counting Chameleon Puzzle is a natural wooden toy, handcrafted from plantation-grown rubberwood, and stained with child-safe, non-toxic dyes. By making children's puzzles out of plants, not plastic, BeginAgain is contributing to a healthier planet and healthier kids.
Reviews
Our reviews are verified for authenticity
My granddaughter and her big brother love building the puzzle together. I love watching big brother guide his little sister as she learns to count and identify numbers. She is also learning to problem-solve through puzzle building. Like to see it in other languages...

This is so cute & fun! The picture does fade or chip some which sucks.

love this.. its reversible has Spanish numeros as well and the other direction helps the kids recognize the spelling of the numbers:) very cool.

Love this puzzle, as does my 2 1/2 year old granddaughter. It's not the easiest puzzle to put together for a young child, but the chameleon is intriguing and the colors are gorgeous enough to hold a child's interest. Very happy with this purchase.

Excellent puzzle! Very nice wooden pieces that fit together very well. Numbers on one side of the pieces and written numbers in english and spanish on the other side. My 2 year old loves it.

My granddaughters, who are 2 and 3 years old absolutely love this puzzle. The older one recognizes the numbers so it easy for her to put the pieces in the correct order. The younger one uses the colors to put it together. They love puzzles and it didn't take them long to be able to do it successfully.

BeginAgain puzzles are great--colorful, well-made, and designed to teach. This one may look complex, but your child can follow the numbers to put it together. The background pieces create negative space, and the whole thing reverses (the obverse shows number names written out in English and Spanish). I predict years of play with this one, if the dog doesn't eat it.

We got this for our 1 year old; and although it is way too advanced for him, he loves the colors. I love putting it together with/for him and look forward to using it for years as he learns colors and numbers (and numbers in spanish!). The quality is awesome and I think this would make a great gift! We also have the BeginAgain Animal Parade puzzle which I highly recommend as well!
View full details
Featured store in media
Homekartz has been constantly featured on top media sites like Fox, USA Today, Market watch and others
13,452+ Positive Reviews
So many positive reviews and happy customers cannot be wrong!
Free 3 day shipping
We provide free first class USPS and FedEx shipping on all orders.
24 x 7 support
We won't leave you alone! Every one gets 24 x 7 priority support.
90 Day Money Back Gurantee
We offer 90 days risk free trial with 100% satisfaction guarantee.
You help someone today
When you buy from us, we donate 10% of each sale to a child in need in the USA.
Made with Love
"Each product is made with not only the best material but a little bit of happiness and kindness too."
What customers say
*****

My 5 year old grand son loves the products that we bought from homekartz. They provide a high quality product.

*****

My daughter loves the toys that I purchased for her and we keep buying more toys for her from time to time.

*****

My kid loves the clothes that i got for him. Home kartz has really great clothes for different occassion.