.
Regular price
$124.90
Sale price
$44.47
Unit price
per
Sale
Sold out
If you order within
Arrives by
Bamboo Suction Classic Plate + Spoon

Designed to make mealtimes easier

Figuring out how to store your baby's food and keep it from getting all over the floor is almost as challenging as getting those first tiny bites into their mouth. Thankfully, our Bamboo Suction Classic Plate and Spoon set are designed with these obstacles in mind. The removable silicone suction ring sticks firmly to any hard surface to prevent accidental — or intentional! — spills and throws. Enjoy the flexibility that this undivided plate offers!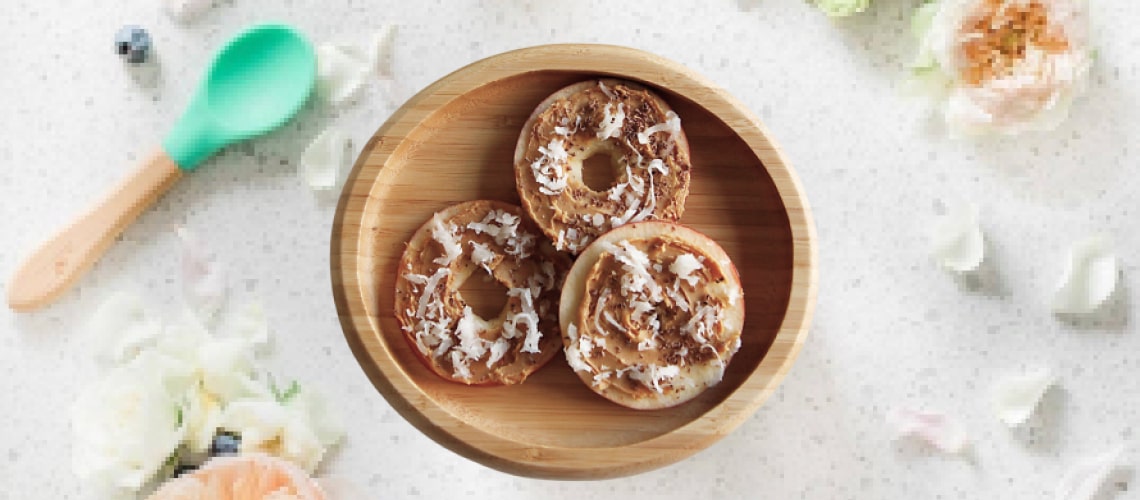 An essential for your messy eater
About the Bamboo Suction Classic Plate and Spoon set
How to use
Set your bamboo suction bowl so that the easy-release tab faces away from your little one. Activate the Airtight-Lock mechanism by firmly pressing your suction bowl onto a flat surface until you hear all the air come out. To release, pull the release tab.
The ideal
baby
-led weaning companion
This classic suction plate is a versatile wooden
baby
for infant feeding, baby-led weaning (BLW), or toddler self-feeding. It is designed to fit most high-chair trays. These bamboo plates are suitable for children aged 4 months to 72 months.
Complementary spoon
The bamboo
baby
spoon features the color scheme of the silicone suction for a simple aesthetic. Our wide bamboo-silicone spoon fit makes self-feeding easy for babies (with adult help), with a soft tip for tender gums.
Safely sourced
This set is made of organic bamboo and silicone, free of plastic, BPA, PVC, lead, phthalate, and other harmful chemicals. It is hypoallergenic, antibacterial, and non-toxic, so your little one has a safer mealtime.
Details and care
Dimensions: 7 3/4 in. L × 7 1/2 in. W × 2 1/4 in. H. Item weight: 14.4 ounces. Care: Hand wash. Remove the silicone ring for deep cleaning as desired. Materials: organic bamboo and silicone Bamboo is 100% biodegradable, environmentally friendly, non-toxic, and coated with an FDA-approved, food-grade varnish.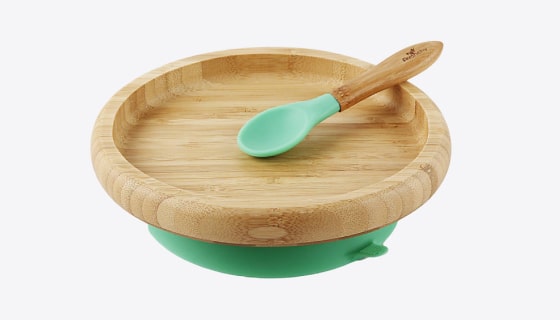 FAQ for Bamboo Suction Classic Plate 
Q1: What is the Bamboo Suction Classic Plate + Spoon set?
A1: The Bamboo Suction Classic Plate + Spoon is a sustainable mealtime set for children. It includes a classic plate and a spoon made from eco-friendly bamboo materials.
Q2: Is this set safe for children to use?
A2: Absolutely. The Bamboo Suction Classic Plate + Spoon is crafted from natural bamboo, which is non-toxic and safe for kids. It's free from harmful chemicals and dyes.
Q3: How does the suction feature work on the plate?
A3: The plate comes with a built-in suction base that attaches firmly to the surface of most high chairs and tables. This feature helps prevent accidental spills and messes during mealtimes.
Q4: What age group is this set suitable for?
A4: The Bamboo Suction Classic Plate + Spoon is ideal for babies and toddlers transitioning to solid foods. It's generally recommended for children aged 6 months and up.
Q5: Can I use the spoon for hot foods?
A5: Yes, the bamboo spoon is safe for serving warm foods. However, always test the temperature of the food before feeding it to your child to ensure it's at a safe, comfortable level.
Q6: Is the plate easy to clean?
A6: Yes, the plate and spoon are easy to clean. They can be hand-washed with mild soap and warm water. Avoid using the dishwasher or microwave.
Q7: Does the set come in different colors or designs?
A7: Yes, some variations of the Bamboo Suction Classic Plate + Spoon set may feature different colors or designs. Be sure to check the product details for the available options.
Q8: Is bamboo a durable material for children's tableware?
A8: Yes, bamboo is known for its durability and is a sustainable choice for children's tableware. It can withstand everyday use and is an eco-friendly alternative to plastic.
Q9: Can I trust the suction to hold the plate in place during mealtimes?
A9: The suction base is designed to be reliable, but keep in mind that its effectiveness may vary depending on the surface type and how well it's attached. Always supervise your child during meals.
Q10: Is the Bamboo Suction Classic Plate + Spoon set an excellent gift for baby showers or birthdays?
A10: Yes, it makes a thoughtful and eco-friendly gift for parents of infants and toddlers. It's a practical choice that promotes sustainable living and encourages healthy eating habits in children.
Reviews
Our reviews are verified for authenticity
Brilliant product. My daughter fed herself so well using the plate and spoon. I'm going to buy her a bowl too.

Our baby loves using this type of plate and the suction works well in the high chair

Love these plates and bowls! Ordered a couple sets and they're so nice.

The wood is very good for children's health, so it is easy to use, and the children themselves love it

I am obsessed with these products, I had to get them all!

Worth it! Great quality & product.

Awesome quality product, love it! Definitely recommend it. Well made and classy 👍

Bought this for my 1yr old girl who loves eating from her own plate. Good size with the security of the suction part at the bottom. Fits well on a high chair tray. Strong sturdy design and very easy to clean. The Delivery was quicker than expected. Very well packaged. Would recommend it.

Wonderful product! I have this for when my nephew comes to visit. It stays in place, is easy to use and wash. Looks wonderful! It's eco friendly! What's not to love?

This is a really nice looking plate. The bamboo gives it a cool, modern vibe, and the suction cup on the bottom really sticks well to a high chair or other smooth surface. The soft-tipped spoon is gentle on the baby's gums.

Love this dish!! Suction works awesome! My baby is strong, and she can't get this plate off thankfully.

This is a good compliment to the bowl I already have. My daughter loves this so much and the spoon is great for easy food to mouth.

This plate has super suction on it. I have a lot of kid friendly places that don't quite stick as well as I'd like. It's like a kid makes it his mission to detach a plate if it has a suction cup. This one ain't moving. Awesome little set though and I love it.

It's a well made product. It looks very nice. Will make a good gift too. So as far as the product goes - it's functional. Easy to use :) and once attached will stay that way - so pretty stable. As with every product made of natural fibers - bamboo in this case - hand wash only, soapy water and make sure that it thoroughly dries - especially where the silicone part connects to wood. I'd recommend it as a gift or for use at home.

Why didn't they make products like this when my kids were little? This bamboo plate is so well made and nice looking. The little spoon has a silicon covering on the handle that matches the suction ring on the plate. The plate can be stuck down on your table simply by just pushing down on both sides. Once suctioned onto the table, it does not move! It is amazing how strong of a seal it creates. Even more amazing, is that to release the suction you just give the little tab a slight tug and the plate pops up and loose! I hand wash my dishes, so this gets washed by hand also. The plate is a generous size for your little one with a good size lip to hold everything in and to push food up against to aid in feeding. The bamboo is beautiful looking. Totally love this set and recommend it!

I already had the bowl version which we got from Pottery Barn, and it worked great through the first solids and puree stage, and once our kid hit 14 months she was regularly popping it off. Got this plate version which fits perfectly on her high chair. Due to the larger surface area, she can't pop it off and has more space to learn how to use her fork! We use this for most of her meals, but since it's so easy to clean, we'll also use it in between for snacks. Love that it's easy to clean, and the silicone bottom comes off so you can get into the crevices below. Having a child that eats 3 meals + 2 snacks a day while I'm working from home is already difficult enough, and it sounds silly, but having beautiful, functional, easy-to-clean items in the kitchen adds a magical spark to each day!

Love everything about this plate! Very good quality and looks good. Suction power works very well! My baby is only 11 months old and I find the spoon a bit big, but I'm pretty sure it will work well later on.

The best suction power among all suction bowls and plates I've ever purchased. Eco friendly and good looking. The only thing I could complain about is hand washing only. But since it is made of bamboo, it's totally acceptable.
View full details
Enjoy Free Shipping on Every Order
Experience the ultimate convenience with our free 3-day shipping service available to all customers throughout the United States.
24 x 7 Customer Support at Your Service
We offer customer support through live chat, email, or phone, making it easy for customers to get assistance with their inquiries.
Crafted with American Pride: All Our Products Are Made in the USA
Experience the assurance of exceptional quality and support local industries with our wide selection of products, all proudly made in the USA.
Peace of Mind: Our 14-Day Return Policy Has You Covered
We want you to love your purchases, which is why we offer a hassle-free 14-day return policy. If you're not completely satisfied with your order, simply return it within 14 days for a full refund or exchange.
Explore Our Diverse Range of Products
Our store offers a vast selection of products, giving customers the convenience of finding everything they need in one place.
Our Customers Award Us 5 Stars
We are thrilled to share that our products has received widespread acclaim from our valued customers, with an abundance of 5-star customer reviews pouring in.
Your Choice, Your Security: Explore Our Multiple Payment Options
We offer secure payment options, giving customers peace of mind when making transactions.
Track Your Orders at Every Step
Customers can track their orders in real-time and receive updates on their delivery status.