.
Regular price
$144.90
Sale price
$50.47
Unit price
per
Sale
Sold out
If you order within
Arrives by
Bamboo Suction Baby Plate and Spoon Set

From starting solids to full portions and beyond

We get it - food flying from your baby's thrown plate is no fun. This bamboo plate sits atop a silicone ring that suctions to the table, so you can relax and use this bamboo plate for easy eating and even easier cleanup!
Besides, the bamboo plate is sectioned into 3 compartments, so you can balance meals and control portions by filling each compartment with wholesome food. Comes with a matching bamboo-silicone spoon with a soft tip for tender gums.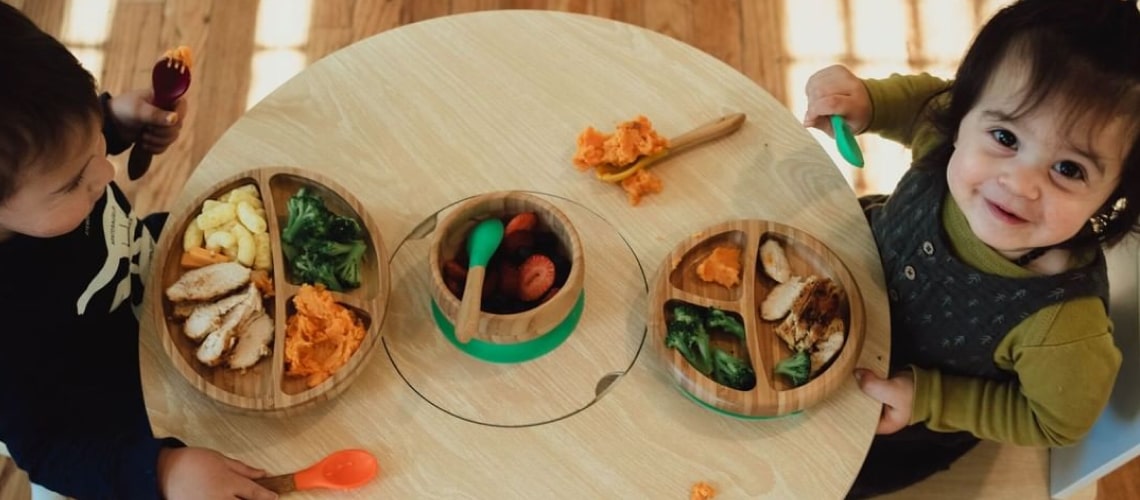 The no-slip solution to cleaner, happier meals.
About the Bamboo Suction Baby Plate and Spoon Set
How to use
Set your bamboo suction bowl so that the easy-release tab faces away from your little one. Activate the Airtight-Lock mechanism by firmly pressing your suction bowl onto a flat surface until you hear all the air come out. To release, pull the release tab.
Wholesome and balanced portion control
This beautifully crafted small bamboo plate set highlights 3 plate sections: Large for veggies, Top left for proteins, and Top suitable for healthy carbs. Teach your little one to learn healthy eating early on!
The ideal
baby
-led weaning companion
Our bamboo suction
baby
plate is a versatile wooden plate for infant feeding, baby-led weaning (BLW), or toddler self-feeding. This bamboo plate is suitable for children aged 4 to 72 months and fits most high-chair trays.
100% safe for
baby
feeding
This set is made of organic bamboo and silicone, free of plastic, BPA, PVC, lead, phthalate, and other harmful chemicals. It is hypoallergenic, antibacterial, and non-toxic, so your little one has a safer mealtime.
Details and care
Dimensions: 7 in. round × 2 in. tall. Weight: 8.8 ounces. Care: Hand wash. Remove the silicone ring for deep cleaning as desired. Materials: organic bamboo and silicone. Bamboo is 100% biodegradable, environmentally friendly, non-toxic, and coated with an FDA-approved, food-grade varnish.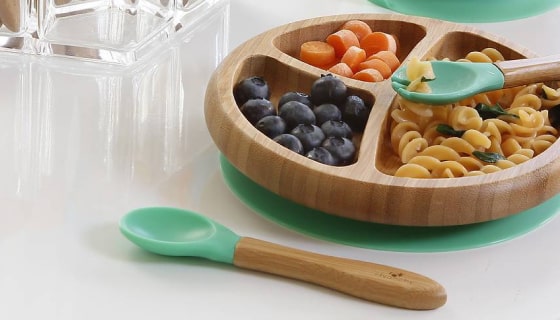 Seeking a practical and eco-friendly mealtime solution for your baby?

Discover the Bamboo Suction Baby Plate and Spoon! This innovative set is designed to make mealtime enjoyable and mess-free, all while being kind to the environment.


Here's why you'll love the Bamboo Suction Baby Plate and Spoon:



Simplify mealtime and make it eco-friendly with the Bamboo Suction Baby Plate and Spoon. Click now to add this practical and planet-conscious set to your baby's dining experience.


FAQ (Frequently Asked Questions):


Q1: What is the Bamboo Suction Baby Plate and Spoon?
A1: The Bamboo Suction Baby Plate and Spoon is a mealtime set designed for babies, featuring a plate with a suction base and a matching spoon.
Q2: What age range is this set suitable for?
A2: This set is typically designed for babies transitioning to solid foods, typically around 6 months and older.
Q3: How does the suction base work on the plate?
A3: The suction base creates a firm grip on the high chair or table, preventing the plate from being easily lifted or tipped during mealtime.
Q4: Is the Bamboo Suction Baby Plate and Spoon easy to clean?
A4: Yes, it is designed for easy cleaning, making mealtime clean-up a breeze for busy parents.
Q5: Is this set made from safe materials for my baby?
A5: Absolutely! It's made from BPA-free and baby-friendly materials, ensuring your baby's safety during mealtime.
Q6: Can the plate and spoon be used for hot and cold foods?
A6: Yes, the set is typically safe for both hot and cold foods, making it versatile for various meal types.
Q7: Is the bamboo used in this set sustainable and eco-friendly?
A7: Yes, the bamboo used is typically sustainable and eco-friendly, making it an excellent choice for environmentally conscious parents.
Q8: How can I purchase the Bamboo Suction Baby Plate and Spoon?
A8: You can buy the Bamboo Suction Baby Plate and Spoon online through our website. Click on the product, add it to your cart, and follow the checkout process to make it yours.
Reviews
Our reviews are verified for authenticity
It's a beautiful baby gift ...Truly gender neutral and they absolutely loved it

Great reusable product. Stylish. Love the bamboo.

It works great. My baby learnt how to eat clean using this plate

Just gorgeous! Suction is super powerful and it's beautifully crafted

This is our 4th set of these dishes. Great for kids and as gifts for newborns.

Bought this for my son at 6 months. He is now 2 and we still use it. He definitely was able to pull it up a while ago but usually he leaves it stuck to the table. We tried several different toddler suctioning plates and this was our favorite

This is so cute. And it really sticks to the high chair..I was not expecting it to work that well.

A great plate for my little one. The suction cup is super strong and works wonders! It's easy to clean and store. And it's stylish :) A great purchase!

This is the only baby plate we use! I wash it after each meal and use it for the next one! It sticks to the table well and looks so cute!

I am so happy with this purchase for my 1 year old. Great suction, as she always tries to lift her plate - she can't get this one up. I also love the colors, durability, and the food sections. The size is also perfect for her high chair table, not too big like others I've tried.

Great for a baby. I use it daily for my 6 month old. He can't usually detach it. Nice size. Easy to clean by hand. I use it with my stokke tripp trapp which has a small tray and it fits just right.

Loving this plate. Suction is absolutely strong. I asked my husband to try to lift it, but he couldn't 👌 that's what I was looking for. Easy to clean too and odor does not stay on bamboo. Strong material and love the green color.

When it arrived I thought it was too small for my 12 months old but when I served food it was the perfect portion size! So easy to clean and the suction power is amazing. I've seen some reviews of kids figuring out how to take out the plate, but I just tuck in the tab that sticks out and it's out of sight!

Quality of this dish is outstanding. I bought two dishes for my grandson. One for him at home and one for my home. It has worked beautifully for us. The suction cup on the bottom works very well. It's nice using a healthy dish. I would give it 5 stars.

I love this product! High quality bamboo. Suction works awesomely! Beautiful product as well! Spoon is of great quality too! The suction is releasable by the handle. Perfect for baby or toddler feeding without accidental drops or baby throws lol!

I was reeeeally hesitant to buy this because it is pricey. However, I really like it. I like its simplicity, the bamboo is very very nice. The suction ring is actually quite strong, my son hasn't been able to yank it off his table yet. I am definitely going to be buying at least one more!

Excellent plate! This sticks onto the IKEA table like super glue, my 15 month toddler takes it as a personal challenge to pull out every stick plate she experienced but this time she just gave up and concentrated on the food. There is just no compromise with this plate- wood crafted plate means no plastic microbeads, and suction is really strong.

Perfect size and truly impressive suction. They easily suction onto any surface and even if I yank on them they don't unstick. They have a small tab on the side that loosens the suction for when you need it to. They are easy to clean, portable and easily stored as well. I like that both pieces came with spoons. The spoons looked large at first but they are actually a great size for my 4 month old and she can also grow into them. I would buy this again in a heartbeat.

I love this bowl and spoon! The bowl perfectly suctions to a plastic high chair tray and my 8 month old cannot remove it! I love the little compartments for separating foods. The spoon's silicone is perfectly soft for little mouths. The only downside is that it is not dishwasher safe since it is made of wood, but that's perfectly expected when you want to minimize the use of plastic for your little ones!

Very good. I love this plate, so I ordered green for my daughter. If you use it gently it will last forever. The only thing I don't really like is that the spoon is a little wide.
View full details
Enjoy Free Shipping on Every Order
Experience the ultimate convenience with our free 3-day shipping service available to all customers throughout the United States.
24 x 7 Customer Support at Your Service
We offer customer support through live chat, email, or phone, making it easy for customers to get assistance with their inquiries.
Crafted with American Pride: All Our Products Are Made in the USA
Experience the assurance of exceptional quality and support local industries with our wide selection of products, all proudly made in the USA.
Peace of Mind: Our 14-Day Return Policy Has You Covered
We want you to love your purchases, which is why we offer a hassle-free 14-day return policy. If you're not completely satisfied with your order, simply return it within 14 days for a full refund or exchange.
Explore Our Diverse Range of Products
Our store offers a vast selection of products, giving customers the convenience of finding everything they need in one place.
Our Customers Award Us 5 Stars
We are thrilled to share that our products has received widespread acclaim from our valued customers, with an abundance of 5-star customer reviews pouring in.
Your Choice, Your Security: Explore Our Multiple Payment Options
We offer secure payment options, giving customers peace of mind when making transactions.
Track Your Orders at Every Step
Customers can track their orders in real-time and receive updates on their delivery status.