.
Regular price
$144.90
Sale price
$50.47
Unit price
per
Sale
Sold out
If you order within
Arrives by
Bamboo Suction Baby Bowl + Spoon

No more tipping, spills, and splats!
Less mess and no tears at mealtimes are possible with the vital baby Bamboo Suction Baby Bowl. Crafted from organic bamboo atop a silicone ring, this bamboo bowl with suction sticks firmly to the table for easy eating and cleanup.
The suction is removable. We created this sustainable approach to ensure that your Avanchy dishes will grow with your little one.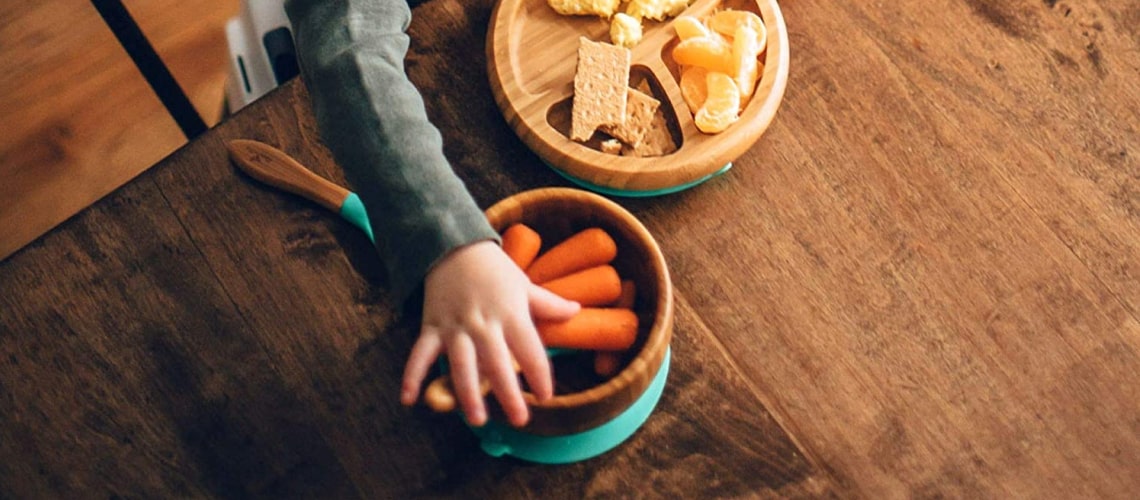 No mess, less stress

About the Bamboo Suction Baby Bowl and Spoon set
How to use
Set your bamboo suction bowl so that the easy-release tab faces away from your little one. Activate the Airtight-Lock mechanism by firmly pressing your suction bowl onto a flat surface until you hear all the air come out. To release, pull the release tab.
Ideal for baby-led weaning
Our suction cup bamboo bowl is a versatile wooden baby bowl for infant feeding, baby-led weaning (BLW), or toddler self-feeding. These 10 oz. Bamboo bowls are suitable for children aged 4 months to 72 months.
Complementary spoon
The bamboo baby spoon features the complementary color scheme of the silicone suction for a cute and straightforward aesthetic. Our silicone spoon fits adult hands and makes self-feeding easy for
babies
thanks to a soft tip for tender gums.
Safely sourced
This Avanchy set is made of organic bamboo and silicone, free of plastic, BPA, PVC, lead, phthalate, and other harmful chemicals. It is hypoallergenic, antibacterial, and non-toxic, so your little one has a safer mealtime.
Details and care
Dimensions: 5 in. round × 3 in. tall. Capacity: 10 oz. Materials: organic bamboo and silicone Bamboo is 100% biodegradable, environmentally friendly, non-toxic, and coated with an FDA-approved food grade varnish. Care: Hand wash. Remove the silicone ring for deep cleaning as desired.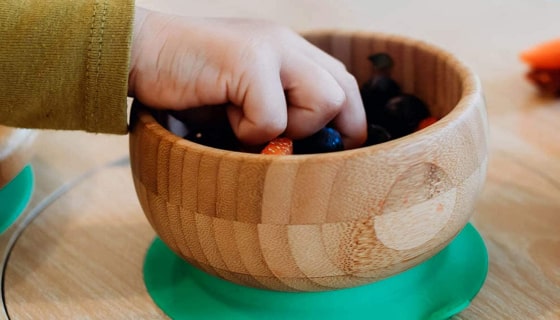 Seeking a hassle-free way to make mealtime enjoyable for your baby?

Explore the Bamboo Suction Baby Bowl + Spoon! This mealtime set is designed to bring joy and convenience to your baby's dining experience.

Here's why you'll love the Bamboo Suction Baby Bowl + Spoon:


Enhance your baby's mealtime experience with the Bamboo Suction Baby Bowl + Spoon. Click now to add this eco-friendly and convenient mealtime set to your baby's feeding routine.

FAQ (Frequently Asked Questions):


Q1: What is the Bamboo Suction Baby Bowl + Spoon?
A1: The Bamboo Suction Baby Bowl + Spoon is a mealtime set designed to make feeding your baby convenient, mess-free, and eco-friendly.
Q2: What age range is this mealtime set suitable for?
A2: It's typically designed for infants and toddlers transitioning to self-feeding, making it suitable for a broad age range.
Q3: How does the suction base work to prevent spills?
A3: The suction base adheres to flat surfaces, keeping the bowl in place during mealtime and preventing accidental spills.
Q4: Is the Bamboo Suction Baby Bowl made from sustainable materials?
A4: Yes, it's typically crafted from eco-friendly and sustainable bamboo, making it safe for your baby and the environment.
Q5: Is the accompanying spoon suitable for self-feeding?
A5: Yes, the spoon is designed for little hands and is ideal for encouraging self-feeding skills in your baby.
Q6: Can the mealtime set be cleaned easily?
A6: Yes, it's typically easy to clean, making it convenient for busy parents. Be sure to check the product details for specific cleaning instructions.
Q7: Is the Bamboo Suction Baby Bowl available in different colors or styles?
A7: The availability of colors and styles may vary, offering options for personalizing your baby's mealtime experience.
Q8: How can I purchase the Bamboo Suction Baby Bowl and spoon?
A8: You can buy the Bamboo Suction Baby Bowl + Spoon online through our website. Simply click on the product, add it to your cart, and follow the checkout process to make it yours.
Reviews
Our reviews are verified for authenticity
Our son and daughter-in-law got a set for their first child. The second is here and we now have a set for when they visit. Suction works great, they look good, are well made and easy to clean!

This is a really good quality bowl. I really like it so far. The suction works and the spoon is nice and soft.

I haven't used them yet but they are beautiful and I feel like they will hold good, the suction is pretty good and the bamboo material is good too. I think it's worth the money.

This is a very well made set. I use it myself! I can't help it... it's just so smooth... and soft and nice. Oh and the suction on the bottom seems to work better than many of the other kid dishes I have. So for me, it was worth it.

best baby product! We have four young kids and I just bought this for our last baby. I wish I had bought this for our others when they were young. It is such a nice looking product, I think this would make a great gift!

I keep ordering these bowls for my toddler. I like that they aren't plastic. They clean easily (I handwash them). The suction bottom adheres well, but not so much that it is a pain to remove. I started by ordering one to check it out, and I now own four for my toddler.

Love this bowl and spoon! Beautiful, well-made, perfect for every eco-conscious mom. I would absolutely purchase this product again and recommend it to friends.

Absolutely love this bowl! The bowl itself is smooth and sturdy. The suction on it is fantastic, I even tried it on my car and fridge! I definitely will be ordering more!

My grandson, practicing to be two, recently became a big fan of throwing his plate in the air when he was done eating. This bowl solved the problem. Add to that the fact that it is pretty and it is a big win! We put the tab on the back side and, although he certainly tries, he has not been able to toss it in the air (or move it off the counter) yet. The dog is disappointed, but his grandparents aren't!

Pretty good product. I was looking for something that my 18 month old wouldn't be able to throw. Suctions pretty well, although once I'm not sure if maybe I didn't push it down well enough and my son was holding it up, but I saw him before any mess happened. Would definitely buy it again.

Best bowl ever!! Works wonderfully and what a GENIUS idea to make the bowl out of beautiful bamboo, so that when the baby is done using it, the bottom suction portion can be taken off and the bowl can be used as a stylish serving bowl at parties for salsa, guacamole or whatever you want to put in it! I want to buy more just for that reason. worth every cent since it can be used forever!

I would give this bowl 10 stars if I could. My daughter is 9 months old now and we have been using this bowl for the last 3 months. This is a high quality bamboo product. Beautifully designed, excellent suction, and very safe utensil. I am totally ok with putting a bunch of raspberries in it in front of her and it stays put! I love it! She loves it! Thank you for a great product.

This bowl and spoon set is great! It's as cute as it looks in the picture and the bowl has a very strong suction. Much better than any other plastic suction bowls I've bought. Perhaps because it's a little heavier? It was easy to clean the first time. The silicone spoon is durable but will be gentle enough for babies to chew on and use while teething. The spoon scoop is larger than many other baby spoons which eases my worries about choking/gagging. My 14 month old has been pretty uninterested in using a utensil and the first time I gave him this spoon he ate a whole bowl of yogurt on his own (although very messy!). I think he likes chewing on the soft spoon. All around a great product!

Wow, this is going to be my gift for anyone with a baby from now on. This is the best bowl for the following reasons: 1. Aesthetics. No crappy looking, crazy colored, patterned, character covered bowl here. This is beautiful, and makes my child feel like part of the family since we also have bamboo salad bowls. 2. The suction works great. If it's wet, my baby can slide this toward himself and undo it. But if I dry the spot, he no longer can do this. 3. The silicon suction piece is removable = better cleaning and I can use the bowl on its own when the baby is done with it. Again, because it is beautiful. 4. The spoon is Ah-maze-ing. I bought an additional four pack as well. Best baby spoon we have ever used. Here's why - it's wider than most baby spoons which is easier for babies. He doesn't choke himself, sticking it down his throat like with the skinny spoons. It doubles as a teether while they're eating. The handle is so much easier for the baby to use. 5. Baby has thrown this on the floor multiple times and there's not a mark on it yet. Best baby feeding products we have used yet. Great job.

I don't usually write reviews on baby products, because a baby's mind changes so fast, one minute they'd love the product so I remind myself to write a review then a day later she'd cry if she's anywhere near her "yesterday's favourite toy" ... so it's hard to have a truthful review. Anyways, this is not a review on if the baby likes it -- well she doesn't love it nor hates it, when she sees the bowl she knows it's meal time. My husband and I love it ... we can finally have 1 or 2 min of peace when we eat, the bowl is not baby proof -- in a way our strong baby will eventually lift it up her tray, but the suction is much stronger than anything we've tried in the past, baby hates it because she has to try really hard to lift it up and oh she does, but at least it buys us a little time to eat. We've been using the bowl to teach her to self-feed since she's nine month, now 11 and half. she can pretty much make peace with the fact that THE BOWL will stay on the tray during meal time. To sum it up, will the baby start learning to eat with it?... take's time and a lot of patience. Will they try to take the bowl off and throw it? YES all the time! and she is getting stronger by the day. But even that we found the suction to be much better than most.

I was looking for a nontoxic, non-plastic bowl and spoon option for starting solids. I love that this bowl and spoon are made from bamboo and silicone only. The silicone part of the spoon is very soft and easy on the baby's gums. It's a little big for first starting solids (they also sell a smaller spoon separately) but my baby's been doing great with it. You do have to hand wash these and can't microwave them. The silicone bottom on the bowl helps it stay put. You can easily remove it to wash both.
View full details
Enjoy Free Shipping on Every Order
Experience the ultimate convenience with our free 3-day shipping service available to all customers throughout the United States.
24 x 7 Customer Support at Your Service
We offer customer support through live chat, email, or phone, making it easy for customers to get assistance with their inquiries.
Crafted with American Pride: All Our Products Are Made in the USA
Experience the assurance of exceptional quality and support local industries with our wide selection of products, all proudly made in the USA.
Peace of Mind: Our 14-Day Return Policy Has You Covered
We want you to love your purchases, which is why we offer a hassle-free 14-day return policy. If you're not completely satisfied with your order, simply return it within 14 days for a full refund or exchange.
Explore Our Diverse Range of Products
Our store offers a vast selection of products, giving customers the convenience of finding everything they need in one place.
Our Customers Award Us 5 Stars
We are thrilled to share that our products has received widespread acclaim from our valued customers, with an abundance of 5-star customer reviews pouring in.
Your Choice, Your Security: Explore Our Multiple Payment Options
We offer secure payment options, giving customers peace of mind when making transactions.
Track Your Orders at Every Step
Customers can track their orders in real-time and receive updates on their delivery status.