If you order within
Arrives by
Regular price
$111.00 USD
Sale price
$39.99 USD
Unit price
per
Sale
Sold out
If you order within
Arrives by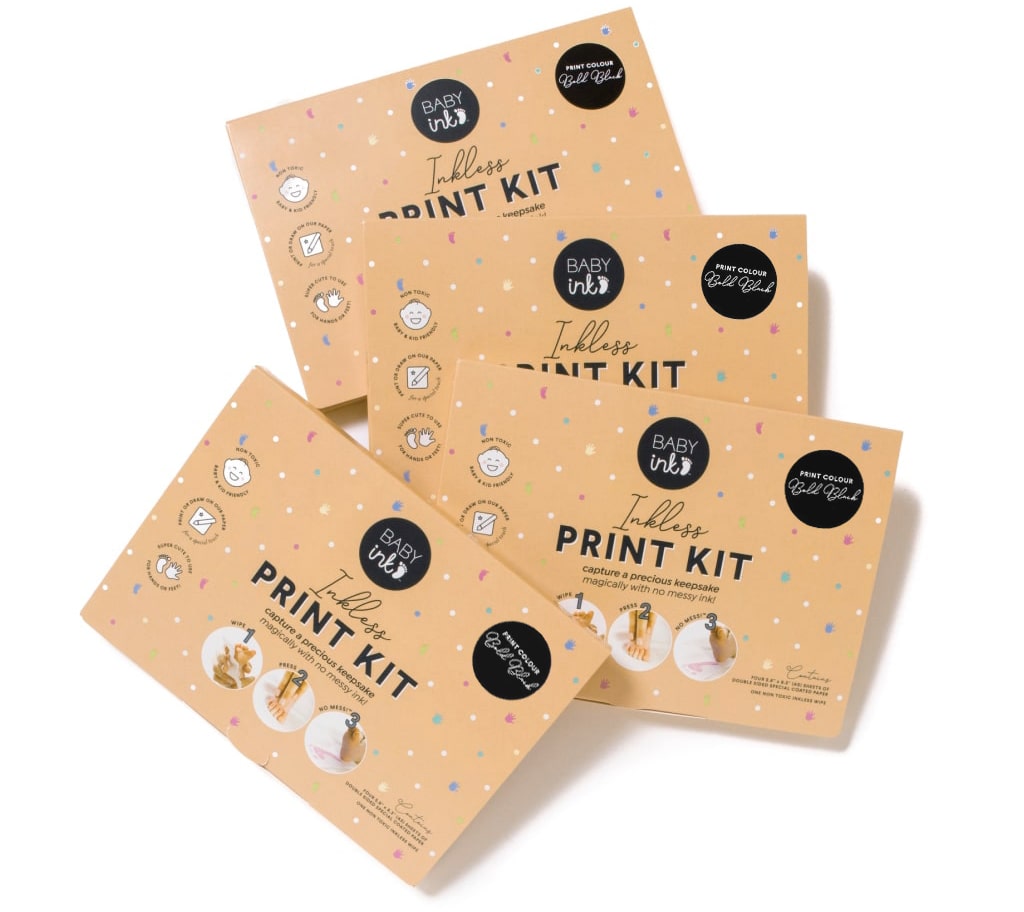 BABYInk: an inkless baby print kit
Taking your little one's footprints has never been this easy! No ink or paint, mess or fuss – just the perfect prints of your baby in seconds.

Wipe the baby's feet or palms with the magic cloth and press them onto the magic paper. Their handprint or footprint will appear within seconds while your baby's skin stays clean and dry. Truly amazing!
Celebrate your baby's earliest days!
BabyInk: features and details
Save your treasured memories
One wipe will achieve at least 4-8 prints depending on the size of the subject. Your precious print is permanent and can be digitally scanned for thank you cards, scrapbooking – ideal mementos for your precious baby book.
What's included:
1 non-toxic inkless wipe / towelette; 4 x sheets of special coated paper measuring 5.8" x 8.3" or A5 size (fits even adult size feet and hands); Detailed instructions
A great gift for new parents
It couldn't be easier to capture those treasured tiny hands and feet with our inkless baby print kit. It is an adorable baby keepsake gift for moms and dads.
Made in the USA. Certified non-toxic
The Inkless Print System is safe and easy to use from birth and is used in maternity hospitals across the USA for newborn identification. The paper is clean without any watermarks or logos.
Tried, tested & recommended by parents!
Made for Mums Awards | 2019 – Shortlisted Baby Gift / Keepsake & Innovation of the year 'Brilliant Bronze' Color Platinum Winner – Best Baby Keepsake | 2018 Loved by Parents Awards (UK) Platinum Winner – Best Baby Print | 2018 Loved by Parents Awards (UK) Winner – Favorite Keepsake | 2018 My Child Magazine Excellence Awards (AU)
Benefits of the Baby Ink Pad 
1. Easy-to-use: The Baby Ink Pad and Print Kit is designed with simplicity, so it is easy to use and can be done by anyone.
2. Fun Crafts: The kit includes pre-cut paper and ink pads and can be used to make fun crafts such as hand and footprint art, cards, and scrapbooks.
3. Safe for Kids: The ink pads and paper are non-toxic and safe for kids.
4. Long-Lasting: The ink pads are long-lasting and can be used for multiple crafts and art projects.
5. Affordable: The Baby Ink Pad and Print Kit are affordable for parents and caregivers.
6. Versatile: The kit can be used for various projects, from simple hand and footprint art to more complex crafts like cards and scrapbooks.
This Baby Ink Pad and Print Kit For Babies, Toddlers, and Kids are perfect for forever preserving your little one's handprints and footprint memories. The kit includes a non-toxic, mess-free, ink-free ink pad and five sheets of paper to capture your child's prints.
The ink pad is designed to be easy to use, and the results are clear, clean, and permanent. Plus, the paper is acid-free and archival quality, so you can be sure your memories will last a lifetime.
This kit is great for keeping special memories, making baby showers or birthday gifts, or even creating artwork. With this Baby Ink Pad and Print Kit, you can create a unique and memorable keepsake for your little one.
Commonly Asked Questions.
1. What is included in the Baby Ink Pad and Print Kit?
The Baby Ink Pad and Print Kit include an ink pad, a set of five double-sided cards, and baby prints.
2. How easy is it to use the kit?
The kit is designed to be user-friendly and easy to use. It includes comprehensive instructions, an online support system, and various tools to help you get started quickly. Additionally, the kit comes with a 60-day money-back guarantee to ensure you are happy with the results.
3. What age is this kit suitable for?
This kit is suitable for ages three and up.
4. How long will the ink last?
The longevity of ink depends on the type of ink, type of printer, and type of paper used. Generally, inkjet prints can last up to 100 years, while laser prints can last up to 200 years.
5. Is the ink non-toxic and safe for babies and toddlers?
Yes, the ink used in these books is non-toxic and safe for babies and toddlers.
6. How do I clean the ink pad after use?
You can use a soft cloth or paper towel dampened with warm water and mild detergent to clean an ink pad. Make sure to wipe away any excess liquid, as this can damage the ink pad. You can also use a baby wipe to clean the pad.
7. What types of paper can I use with the kit?
Use any paper or cardboard between 0.1 mm and 1.0 mm thick. This includes card stock, bristol, watercolor paper, and more.
8. Can I use the kit more than once?
Yes, you can use the kit multiple times. The kit includes reusable components so that it can be used multiple times.
9. Are instructions included for using the kit?
Yes, instructions are usually included in the kit.
10. Does the kit come with a storage box?
No, the kit does not come with a storage box.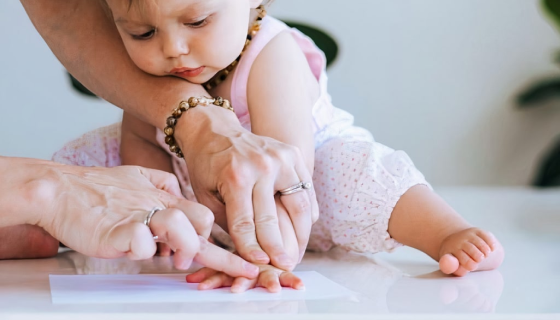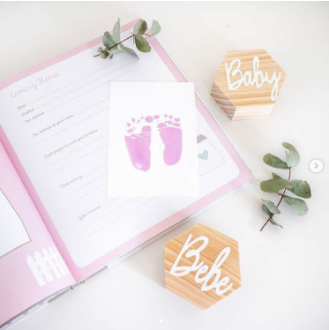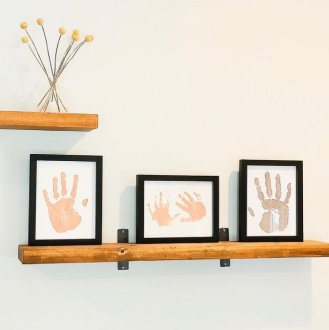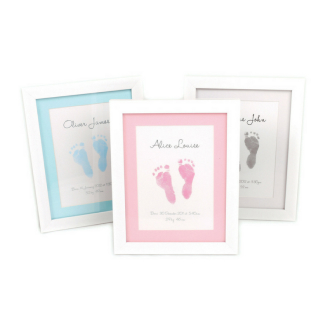 Reviews
Our reviews are verified for authenticity
This is an amazing product and was a great bonding experience for my husband and daughter! We all thoroughly enjoyed it! It shipped fast! It was easy to use and oh so cute! Customer service is also great! Thank you for our beautiful memories!

We got sooo many prints! Company claims you can get a couple prints from each pad, but I just kept rotating the pad to find another ink spot. I held the pad up to the light to be able to see where ink remained on its surface then placed her hand or foot in that spot. I did this when she was sleeping in her swing. I recommend using a small book behind the paper and area that you are trying to stamp for better support as you press their foot or hand on to that spot.

My best friend had her first baby and she loved it! There is something special about creating memories that will stay with you for years! Came in a nice box, everything was organised. I love the fact the kit includes different supplies that everyone can create the one that will fit them. It's good for boys and girls.

Let me start with the packaging, very presentable and well organized box, every piece is so easy to find! Quality of the materials: great! Nothing feels cheap! The ink didn't leave any stains and the provided tools are easy to use. I would highly recommend it as a gift or for self use.

My daughter's (2.5 yr old) hand and foot prints were perfectly captured. I am very satisfied with this product. Bought this to get a stamp of our triplets girls feet and hands. This product was very easy to use.

Excellent products. It was super easy to figure out. My only issue is that I wish the color was darker. I wouldn't call this black but more of a grey print.
View full details
Featured store in media
Homekartz has been constantly featured on top media sites like Fox, USA Today, Market watch and others
13,452+ Positive Reviews
So many positive reviews and happy customers cannot be wrong!
Free 3 day shipping
We provide free first class USPS and FedEx shipping on all orders.
24 x 7 support
We won't leave you alone! Every one gets 24 x 7 priority support.
90 Day Money Back Gurantee
We offer 90 days risk free trial with 100% satisfaction guarantee.
You help someone today
When you buy from us, we donate 10% of each sale to a child in need in the USA.
Made with Love
"Each product is made with not only the best material but a little bit of happiness and kindness too."
What customers say
*****

My 5 year old grand son loves the products that we bought from homekartz. They provide a high quality product.

*****

My daughter loves the toys that I purchased for her and we keep buying more toys for her from time to time.

*****

My kid loves the clothes that i got for him. Home kartz has really great clothes for different occassion.