.
Regular price
$69.90
Sale price
$27.97
Unit price
per
Sale
Sold out
If you order within
Arrives by
Baby Suction Bowl in meadow color

Your little one's ideal weaning companion
No more dropped bowls! The Baby Suction Bowl is designed to be easy to use and clean while ensuring food stays in the bowl.
It features a unique, super-strong suction base design to prevent your baby from removing the bowl from a highchair or tabletop surface.
An airtight storage lid is included, making the bowl perfect for traveling and storing.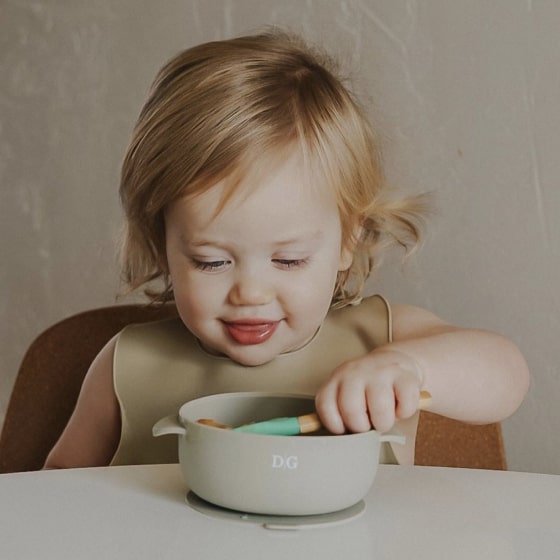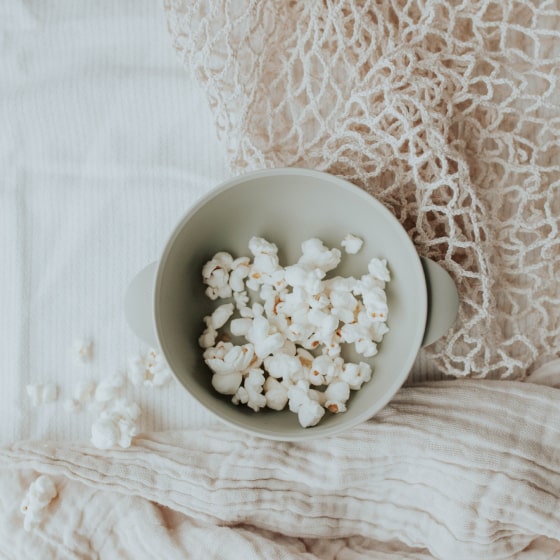 Baby Suction Bowl: features and details

Effortlessly introduce your baby to the world of independent eating!
A perfect baby's first bowl
With the perfect portion size, this Baby Suction Bowl is the right choice when it's time for your baby to learn to eat. Perfect for ages 4mo+. It features a stylish meadow color, easily fitting into your house decor.
How to use
Place the bowl on a surface & either press down on the handles or push down in the middle of the bowl. If you try to stick the bowl to an unfinished surface, the bowl won't stick. If the bottom of the suction is dirty, please wipe it off so the suction is at its full potential.
Food and baby-safe material
You can rest assured that baby bowls surpass all safety testing. They are FDA approved, CPSIA compliant, CPSC tested, and CPSC certified. These baby bowls are made with the highest quality 100% food-grade silicone and are free of BPA, PVC, and phthalate.
Ideal for lunches on the go
This bowl fits perfectly at the bottom of your diaper bag, and it has a lid, so bringing snacks on the go has always been challenging. The lid is airtight, keeping food fresh and creating less waste.
Details and care
Dimensions: 5" l x 5" w x 2.5" h. Weight: 0.36 lb. The dishwasher and microwave (including the lid) are safe. Please note: this is not a
toy
; adult supervision is required.
Benefits of the Baby Suction Bowl:


Mess-Free Meals: The Meadow Baby Suction Bowl minimizes mealtime mess by firmly adhering to the highchair tray or table.


Safe and Non-Toxic: Crafted from BPA-free, food-grade silicone, it's safe for your child and the environment.


Stress-Free Feeding: The strong suction base prevents accidental spills and allows your child to feed themselves independently.


Stylish Design: With attractive colors and a sleek design, it complements your kitchen decor and makes mealtime more enjoyable.


Easy Cleanup: The dishwasher-safe feature ensures hassle-free cleaning, leaving you more quality time with your child.


Durable and Long-Lasting: This bowl can withstand the rigors of daily use, making it an excellent investment for your child's early years.


Perfect Portion Control: The size is just right for little tummies, helping you serve the right food.


Temperature-Safe: Suitable for hot and cold foods, giving you the flexibility to serve various meals.


Travel-Friendly: The compact design and secure suction make it perfect for on-the-go adventures.


Encourages Independence: The Meadow Baby Suction Bowl promotes self-feeding skills and fine motor development.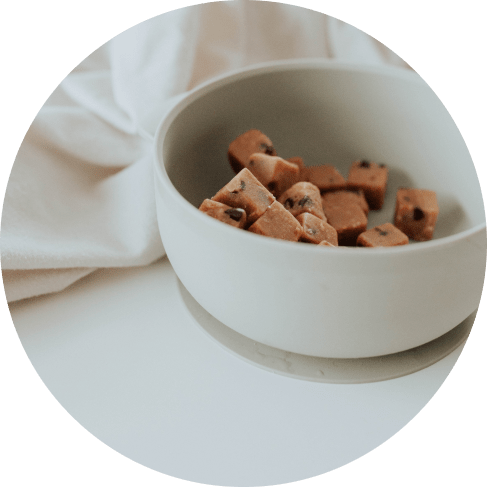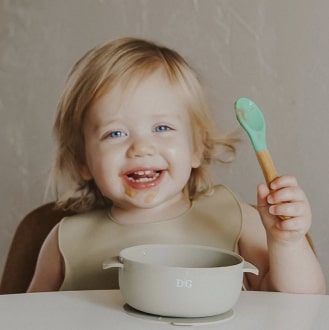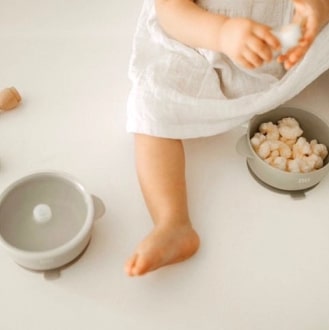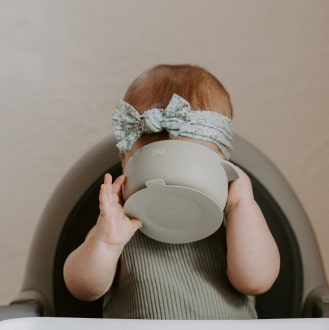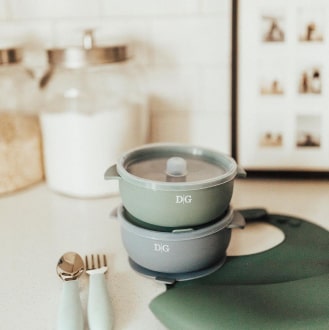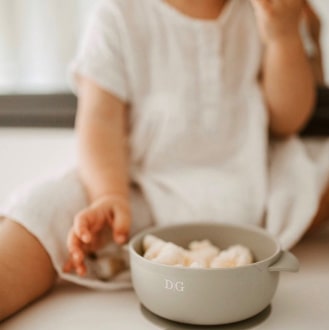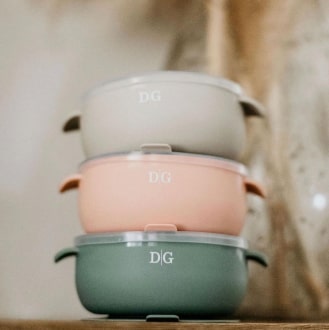 FAQ (Frequently Asked Questions):

Q1: Is the Meadow Baby Suction Bowl safe for my child?
A1: Absolutely! It's made from BPA-free, food-grade silicone, ensuring it's safe for your little one.

Q2: How does the suction base work?
A2: The strong suction base firmly attaches to most flat surfaces, making it difficult for your child to tip over the bowl.

Q3: Is it easy to clean?
A3: Yes, it's dishwasher-safe, which makes cleaning up after meals a breeze.

Q4: What is the recommended age for using this bowl?
A4: It's suitable for babies and toddlers, typically around 6 months and up.

Q5: Can it hold both hot and cold foods?
A5: The Meadow Baby Suction Bowl is temperature-safe and can hold hot and cold foods.

Q6: How do I remove the bowl after use?
A6: Gently lift the edge of the suction base to release the bowl, making it easy to remove.

Q7: Does it work on all highchair trays and tables?
A7: It adheres well to most smooth, flat surfaces, but please ensure the surface is clean and dry for optimal suction.

Q8: Can I take this bowl with me when we travel?
A8: Absolutely, it's compact and travel-friendly, making it perfect for meals on the go.

Q9: What is the size of the bowl?
A9: The Meadow Baby Suction Bowl is designed with the perfect portion size for little ones, making it ideal for their smaller appetites.

Q10: How does this bowl promote independence in children?
A10: The strong suction base allows children to self-feed and develop fine motor skills by eating independently. 
Reviews
Our reviews are verified for authenticity
This bowl is wonderful. Great suction and pretty look at. :)

Absolutely love these bowls! The perfect size and the suction actually stays put! Love the color! Will definitely be purchasing more!

These are by far my favorite bowls! My daughter loves to throw things so these are a must-have. The colors are so beautiful too!

Amazing product! We have loved everything we've ordered!! These bowls are so easy to clean and once they're suctioned down they do not come up! Such an awesome product! Will definitely be ordering again!!!

Great suction, looks cute, easy to clean! Love that this came with a lid to preserve leftovers. So hard to find baby silicone bowls with lids. Slightly pricey but worth it!

This is my 4th (!) bowl I have purchased and I cannot say enough about how amazing this product is! It stays suctioned on the table or high chair tray. I even had my toddler try to pull it off the table and he couldn't! The lid that comes with the bowl stays on and little hands can't take it off (total mom win!).

Can't wait for my baby girl to start using this bowl! I love the color, awesome suction, and that it comes with a lid! Wish I had this for my son years ago!

These bowls are seriously amazing! They are the best suction bowls I've ever used! You can't compare other suction bowls to these at all, Their suction is incredible! I love that they come with a lid as well, which is also completely leak proof!

The bowls are perfect. So ideal for our little, the suction and the seal of the lid is AMAZING!!!

These bowls are fantastic! They are absolutely beautiful and most importantly functional. The transparent lid helps to see the food inside and I can easily store it in my refrigerator. I not only use for my babies, but is also a great bowl for adults too, it's just the right size to bring to the couch and snack on!! Getting more of them soon!

This bowl is great for toddlers. It sticks well to FLAT surfaces. I like that it comes with a lid and cleans easily in the dishwasher. The color is so pretty.

Love this bowl. The lid DOES NOT COME OFF. If you have it pressed on correctly it is amazing. The actual bowl itself won't stick quite as well if your high chair doesn't have a smooth tray but our tray is textured and it still sticks VERY WELL. Much better than other silicone bowls/mats we have bought. It's very easy to clean and it's a good size for older babies and toddlers.

These are AMAZING! They suction SO well to practically any flat surface. The color is true to the pictures. Well made and the colors are so much nicer than a lot of baby things.

Hands down, best bowl ever; for babies and bigger kids. This is my new go to gift for mamas/babies. These bowls make me want to throw out all my other kids bowls and just have one of these for each of my kids! The quality is amazing and suction makes it so I can give my kids cereal WITH MILK (along with lots of other messy foods i would avoid) because i know they flip it or knock it off the table. 100% recommend!

The bowl is nice looking, and while I tend to use glass bowls for reheating food, it's great that it's made from silicone, vs. some of the other (less food and heat safe) types of plastic. I've found that this needs to be rinsed immediately after using, as it's a bit textured, and food will dry and stick to the surface of the bowl and lid. Most importantly, it does not stick to the white Tripp Trapp tray, which defeats the purpose of purchasing it for me.
View full details
Enjoy Free Shipping on Every Order
Experience the ultimate convenience with our free 3-day shipping service available to all customers throughout the United States.
24 x 7 Customer Support at Your Service
We offer customer support through live chat, email, or phone, making it easy for customers to get assistance with their inquiries.
Crafted with American Pride: All Our Products Are Made in the USA
Experience the assurance of exceptional quality and support local industries with our wide selection of products, all proudly made in the USA.
Peace of Mind: Our 14-Day Return Policy Has You Covered
We want you to love your purchases, which is why we offer a hassle-free 14-day return policy. If you're not completely satisfied with your order, simply return it within 14 days for a full refund or exchange.
Explore Our Diverse Range of Products
Our store offers a vast selection of products, giving customers the convenience of finding everything they need in one place.
Our Customers Award Us 5 Stars
We are thrilled to share that our products has received widespread acclaim from our valued customers, with an abundance of 5-star customer reviews pouring in.
Your Choice, Your Security: Explore Our Multiple Payment Options
We offer secure payment options, giving customers peace of mind when making transactions.
Track Your Orders at Every Step
Customers can track their orders in real-time and receive updates on their delivery status.