If you order within
Arrives by
Regular price
$111.00 USD
Sale price
$36.99 USD
Unit price
per
Sale
Sold out
If you order within
Arrives by
Bath time = no time for fuss or tears
Parents and caretakers would agree that getting a fussy baby to get through a bath or shower without throwing a tantrum is a dream. But often, babies are unhappy with water and shampoo getting all over their faces. Now, with our Baby Shower Cap, you can make bath time a much faster and more pleasant experience for you and your little one.
Are you looking for a fun way to keep your baby's head safe in the shower?
Our baby shower cap is the perfect solution for protecting your little one. It's made of a soft, comfortable material that won't irritate your baby's skin and has an adjustable strap for a snug fit.
This shower cap ensures your baby's hair is kept safe from water and soap. Plus, it's stylish and colorful, so your baby can look cute while they bathe!
Buy our baby shower cap today and make bath time fun and safe for your little one!
This baby shower cap is perfect for keeping your little one's head and ears warm and dry during bath time. Made from soft material, the cap is comfortable and cozy for your baby's delicate skin.
The adjustable velcro straps make it easy to adjust the size to fit your baby's head perfectly. The cute and colorful design adds a fun touch to bath time and ensures your baby looks their best. The baby shower cap is a must-have for any new parent!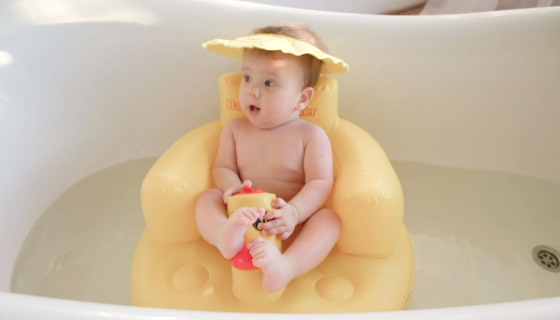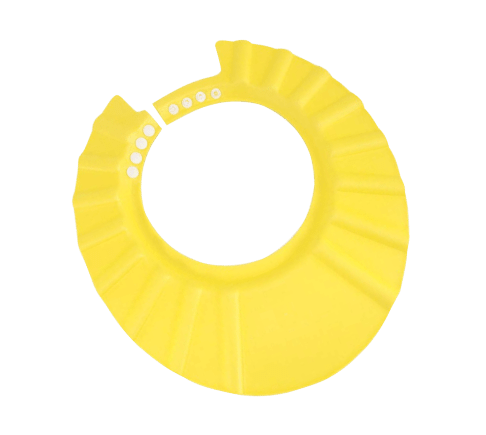 Works outside of the shower too
If your child is okay with getting their hair wet in the shower, you can multipurpose this shower cap as a cap for at-home haircuts (no hair all over the face or in the eyes) or use it as a sun visor to block UV rays.
Like an adorable flower
Our flower-esque shower cap is constructed of soft, environmentally-friendly EVA resin for a flexible, rubber-like feel and hold. The flower-petal grooves help drain water quickly when wet. The cap layer is 0.12 inches thick and measures 12.6 x 11.8 inches (L x W).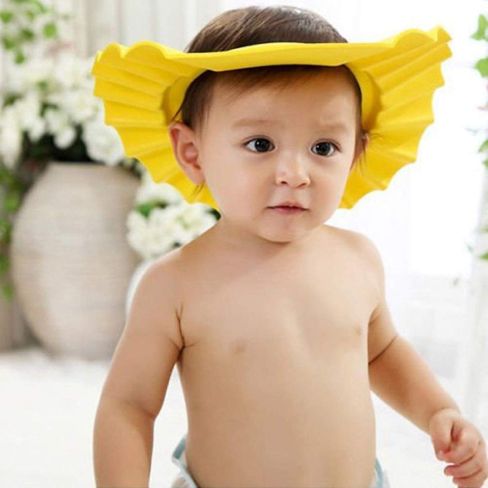 Adjustable and comfortable to wear
Our Baby Shower Cap is adjustable from 11.2 to 20.9 inches in diameter, with four easy-snap adjustable buttons to fit your child's head as he or she grows. Our cap is recommended for newborns to kids up to six years of age.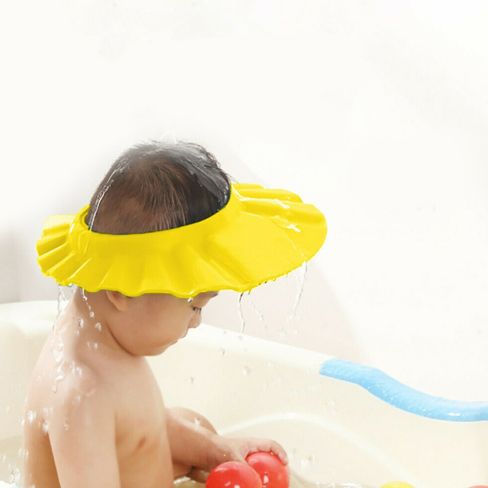 Bright like sunshine
Our vibrant yellow color makes your little one shine like the sun, whether in the shower, outside, or inside. It's a multi-use cap that's sure to be appreciated.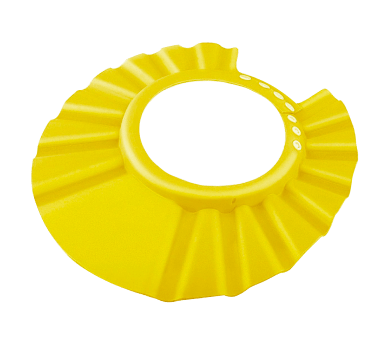 Waterproof and quick-drying
Yes, you read that right. Even in the shower, this cap repels water so the resin doesn't weigh down with water and renders itself useless. Plus, even when wet, droplets dry off quickly. Easy to use and store in a flash.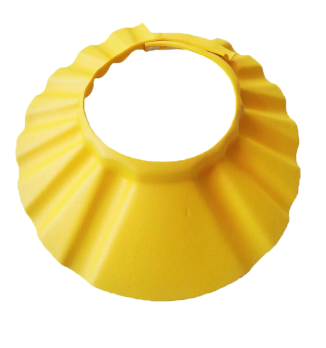 Reviews
Our reviews are verified for authenticity
Does exactly what I need it to and especially great for the price. My 19 month old twins would fuss about having to lay on the counter to get their hair washed every week. This product came in a pack of 3 which is great so I have an extra In case one breaks. It's not made of hard plastic which I think is great so that it fits comfortably ! When you adjust the hat on properly water doesn't get in their ears or eyes. Nor does it go down their little faces. The girls love watching the water fall down off of the top of the hat when I'm rinsing their hair. Perfect for bath time/washday

My 8 month old granddaughter was hating having her hair washed. I had an inflatable ducky hat for my daughter when she was a baby that kept the water out of her eyes. I found this product and ordered it. It works like a charm and the ear flaps are an added bonus as the water stays out of babies eyes and ears as well. She now loves being in the bath and hair washing is a breeze.

It works but my granddaughter just kept pulling it off she did not like it on her

do not understand how to use it

I LOVE THESE LITTLE SHOWER CAPS. My youngest daughter HATES water on/around her ears. Washing her hair was an absolute nightmare! She would scream and fight me and we would both just be frustrated at the end of the night. :( I ordered this and didn't have much faith because stuff like this usually doesn't work as well as it says it does...BUT THIS THING IS FREAKIN AMAZING. I pull my daughters hair up in a high bun, put the cap on right above her ears and let her hair down to wash. She doesn't even WHINE when washing her hair now!!! Shower time was all smiles and giggles thanks to these!! I will say there is a bit of a learning curve when it comes to washing and conditioning with it on, since you can't really move your hands as freely without bumping the cap. But it's worth every penny!!

Very light material. fasteners are correct.

if your kid will tolerate something in their head- it works

We enjoy using the baby shower cap and feel that it does a great job of keeping water away from face. Only negative is that it tends to slide down from time to time.

The product corresponds to the description

These hats are easy to use. Adjustable snaps. However if you don't fit the hat tight to the head and it isn't perfectly snug, water can still run down in their face and ears. Took me a few try's to get it right.

I bought this for my 2 little girls, they're a little big for my newborn but for my 2 year old it works fantastic

These hats are easy to use.

It is exactly what I ordered keeps water out of babies face

I LOVE THESE LITTLE SHOWER CAPS

THis helps my daughter gums very much she just loves to suck on it.

Love the colors and how easy it is to use

It works well but my baby just yanks it off anyways lol. They are a little thinner then I was expecting but overall they are good.

This cap actually works really good. She was playing the whole time and didn't mind the new thing on her head. It's pretty amazing. This cap actually works really good. She was playing the whole time and didn't mind the new thing on her head. It's pretty amazing.

She really puts up a fight when it comes to hair washing. She just hates any water on her face and this solved our issue. No tears!

I like the soft yet stable material of the hat. It keeps soapy water off eye and ear which is the major challenge when you're bathing an infant or a toddler. The adjustment works well for most kids. My kids loves this. Wonderful design, now infant and toddler can enjoy bathing without soap getting into the eye.

Great to bath baby. Helps water not fall into baby's face and ears. It is definitely a must!

It makes bath time SO much easier for my 6 year old who is crazy weird about water getting in her face!

The difference this cap made in our bath time routine has been ASTOUNDING! We went from hysterics the likes of which I've only seen on daytime soap operas, to blissfully calm and quite bathing. He even giggles when he sees the water running down in front of (but never touching) his face. Highly recommend

I bought this for my 2 little girls, they're a little big for my newborn but for my 2 year old it works fantastic. She loves putting it on for bath time and it makes my life easier not fighting her to wash her hair. I have one to my friend who has 2 boys and loves it as well. Great product.

it dresses well, the regulator for a double on p.50, there are two more buttons in stock. My son liked that the water drains with a waterfall, even upset when filmed.

The appearance is very beautiful, the color is beautiful, it is very suitable for the little baby, effectively preventing the water from flowing into the ear, allowing the baby to relax and enjoy the bathing process, and the bathing fun.

I love these I buy them alot to keep water outta my baby's eyes during baths!

I loved the fact that it has snaps that can be used to adjust to the circumstance of the child's head.

We always have issues with my son not liking the water and soap in his eyes while taking a bath. this product works perfect, I will have to say it eliminates about 90% of the water flow. it was also nice that it came in three different colors. the quality is ok and it does what is made for.

Excellent cap for keeping water off child's face. I bought these for our 4 year old who kept screaming in the bath or shower when we'd wash her hair and water got on her face. I had low expectations of this product as it's just a flimsy piece of foam. BUT it absolutely WORKS!!! My daughter is pleased and doesn't scream any more. I snap it on the second to the last button and voila it's magical. It looks silly but works perfectly. I definitely recommend this product to any parent with a child that struggles with water on their face while washing in the tub or shower.
View full details
Featured store in media
Homekartz has been constantly featured on top media sites like Fox, USA Today, Market watch and others
13,452+ Positive Reviews
So many positive reviews and happy customers cannot be wrong!
Free 3 day shipping
We provide free first class USPS and FedEx shipping on all orders.
24 x 7 support
We won't leave you alone! Every one gets 24 x 7 priority support.
90 Day Money Back Gurantee
We offer 90 days risk free trial with 100% satisfaction guarantee.
You help someone today
When you buy from us, we donate 10% of each sale to a child in need in the USA.
Made with Love
"Each product is made with not only the best material but a little bit of happiness and kindness too."
What customers say
*****

My 5 year old grand son loves the products that we bought from homekartz. They provide a high quality product.

*****

My daughter loves the toys that I purchased for her and we keep buying more toys for her from time to time.

*****

My kid loves the clothes that i got for him. Home kartz has really great clothes for different occassion.