.
Regular price
$24.90
Sale price
$14.47
Unit price
per
Sale
Sold out
If you order within
Arrives by
Let the bear handle snack time.
Like a mini lunch box, our Baby Powder Container helps secure all your baby's fruit, crackers, and formula powders in one sleek, bulk-free container.
A cute bear-face cap with a convenient carrying handle makes the case extra cute and easy to find with all your other baby gear.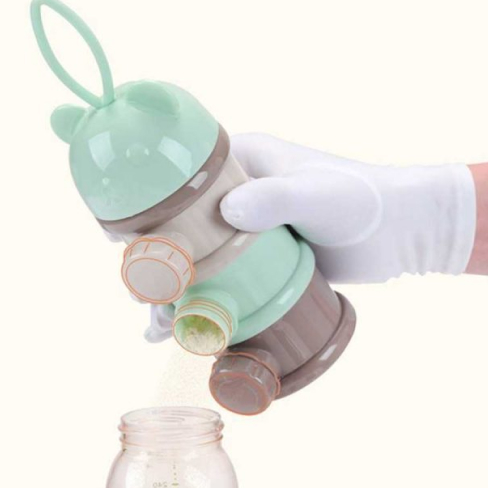 House three snacks or powders
Each Baby Powder Container from us features three easy-to-use containers for prepping snacks and formula powder for your little one. No more mess or bulk, whether on the kitchen counter or in the backseat of a car.
Each layer carries 60 grams of whatever you need and features a lid-screwed side dispenser, making it perfect for dispensing formula or powders—no fussy spoons or lids.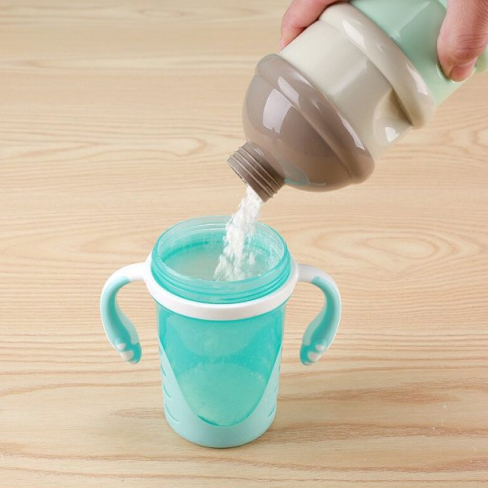 Durable and reliable
Constructed of polypropylene plastic, our container is built to last use after use, trip after trip. Its handle on the cap makes it easy to carry or clip to a backpack or
baby
bag with ease.
The container is 2.8 inches in width and 6.7 inches in height, and the handle is 2.3 inches in height. Each container layer and the cap wash easily with liquid soap and water. Use this storage solution repeatedly and save money -- and the environment -- in the long run.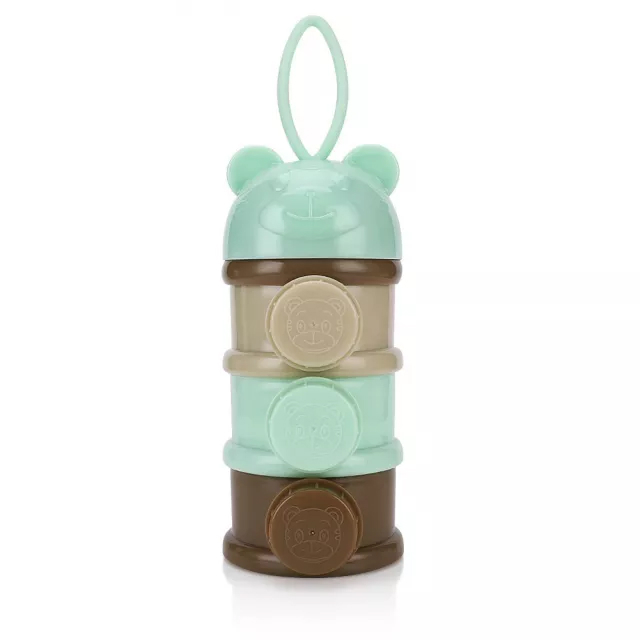 A great gift that'll be appreciated
It gives convenience for caretakers, first-time parents, and anyone looking after a child but is always on the go. Our
Baby
Powder Container delivers seal-tight convenience for snacks, mini meal portions, and formula powder for fuss-free, mess-free, on-the-go feeding to your little one.
Seeking an efficient and mess-free way to care for your baby?

Explore the Baby Powder Container! This essential tool is designed to make baby care more convenient, keeping your baby comfortable and dry.

Here's why you'll love the Baby Powder Container:


Mess-Free Dispensing: Say goodbye to spills and messes with this well-designed container that ensures precise powder application.
Easy-to-Use: Its user-friendly design makes it simple to apply baby powder evenly and without fuss.
Safe and Hygienic: Made with baby-safe materials, it helps keep your baby's skin dry and irritation-free.
Parent-Approved: Join the parents who have experienced hassle-free baby care with the Baby Powder Container.

Simplify baby care with the mess-free Baby Powder Container. Click now to add this essential tool to your baby's care routine.

FAQ (Frequently Asked Questions):


Q1: What is the Baby Powder Container?
A1: The Baby Powder Container is a specially designed dispenser for baby powder, making it easier and mess-free to apply to your baby's skin.
Q2: Is this container suitable for all types of baby powder?
A2: Yes, it is typically compatible with most types and brands of baby powder, allowing you to choose your preferred product.
Q3: How does the Baby Powder Container prevent spills and messes? A3: The container has a controlled dispensing mechanism, allowing you to apply the powder precisely without excess spillage.
Q4: Is the container easy to use for parents and caregivers?
A4: Yes, it is designed for user-friendliness, making it easy for parents and caregivers to apply baby powder evenly and efficiently.
Q5: Is the Baby Powder Container made from safe materials for babies? A5: Absolutely! It is typically made from baby-safe materials, ensuring your baby's skin remains dry and comfortable.
Q6: Can I sterilize the container for hygiene?
A6: The ease of sterilization may vary depending on the specific product, so it's essential to check the product details for cleaning and maintenance instructions.
Q7: Is the container portable for on-the-go baby care?
A7: Depending on the design, some containers are designed to be portable, making them convenient for on-the-go baby care needs.
Q8: How can I purchase the Baby Powder Container?
A8: You can buy the Baby Powder Container online through our website. Click on the product, add it to your cart, and follow the checkout process to make it yours.
Reviews
Our reviews are verified for authenticity
Nothing to say is exactly what I expected! Thank you

Looks exactly like the picture. No smell. Hard plastic.

great store ! Very good quality. 10 stars. Thank you

So this item was good for it's price. Its very large so I don't like putting it in the diaper bag. But it gets the job done.

Super quality,delivery,it took only two weeks to israel, recommeded thanks to the store will order more

Nice good quality and as in the picture

Easy convenient, a bit bulky and not easy to fit into side bottle pickets

Perfect, functional as in the photos

I highly recommend this product!! At 2am, you will never mess up the formula in the plastic bag again! I have been looking for something to keep formula milk beside the bed, and when my little guy wakes up in the middle of the night, it is easy to pour it into the bottle. I had been using plastic bags before, which was very inconvenient to operate, and I ended up sprinkling the formula on the bedside table and the floor. The wee hours are very frustrating! This container is exactly what I want. Easy to pour, you can easily get 99% of our formula. The top fits the bottle just right, no need to worry about spilling. This really completely solves our troubles of waking up in the early morning, and I will never have the same dilemma as before.

Originally I thought I would only use it during travel, but it turns out that I use it almost every day. The design of the top knob makes it easy to pour out the milk powder. The bottom can also be opened so that I can put milk powder into the bottle easily. With this design, milk powder is not easy to leak, and it is convenient for daily cleaning. I take them anywhere, but they are used to the greatest extent in the room near the sink, so I can make a fresh bottle every night without having to go to the kitchen.

These are cute, it's why I got them

I decided to purchase this formula dispense because i wanted to use it as a snack stackable container. I always let my baby have both yogis and puffs after meal, and it was a hassle to keep them crunchy after opening. Therefore, I decided to get a formula dispenser to store multiple opened snacks. I like this container in general because it seals pretty well. I also like the color very much! I don't see this color on a formula dispenser that much so it makes mine very distinguish from other moms'.

Super easy to use and put cereal and milk on the go the quality of the product is great

Cute but not super easy to get formula out of...

Perfect for my son snacks and it fits nicely in my diaper bag

too big but worth it not much of a problem.

Very useful and easy to close, fill and dispense.

I struggled with the formula container for a long time and finally chose this container. I was very pleasantly surprised when I received it, and it was better and cheaper than I expected. I will order another set so that I can have two sets, one for powdered milk and one for small snacks. The top cap comes off and fits perfectly inside the bottle, so you won't spill the formula everywhere. They snap together tightly, so you can keep them in one place and stay connected.

The dad thought this was a waste of money UNTIL WE USED IT. So worth it. We love it.

So cute. Does great in diaper bag. Don't have to search for containers just look for one object and you find

Nothing more to say here cant see any reason why it will not get 5 ⭐.

It is really good for traveling and easy to use. The design is so so so cute. Love it.

It's not so easy to use but still so cute dough

It gets the job done! but a little difficult to screw and unscrew them together but that's also a good thing so they don't come open in your bag.

Great for diaper bag organization! Includes a funnel under the top piece to makes bottles on the go easy! I haven't tested it but I'm sure 3 scoops will fit not problem if not more. Someday I can use for snacks etc!

Very useful and easy to use. I like that they're individual containers and cannot spill into each other messing up the measurements.

This is the cutest and most useful thing I've bought when it comes to my baby's feedings. Love how it fits perfectly in my diaper bag, and love the cuteness of it

Great product! It's very pretty and true to color. My daughters loves it and knows it's snack time! When she sees it!

I love this. I use it every time I take my little one out. I also fill it for when he is at his babysitters and it's measured out for her and easy to pour into a bottle.

For babies, it was almost perfect, and I was looking forward to it after I bought it, and it didn't disappoint me, the quality of the plastic was great, the size was just right, and most importantly, it was really sooo cute. It has three containersThe bottoms and tops of each individual container are threaded and completely interchangeable, I tested all of them.I have washed them in the dishwasher and by hand and I don't think they are very difficult to wash at all.

It's all right. No smell. i like it
View full details
Enjoy Free Shipping on Every Order
Experience the ultimate convenience with our free 3-day shipping service available to all customers throughout the United States.
24 x 7 Customer Support at Your Service
We offer customer support through live chat, email, or phone, making it easy for customers to get assistance with their inquiries.
Crafted with American Pride: All Our Products Are Made in the USA
Experience the assurance of exceptional quality and support local industries with our wide selection of products, all proudly made in the USA.
Peace of Mind: Our 14-Day Return Policy Has You Covered
We want you to love your purchases, which is why we offer a hassle-free 14-day return policy. If you're not completely satisfied with your order, simply return it within 14 days for a full refund or exchange.
Explore Our Diverse Range of Products
Our store offers a vast selection of products, giving customers the convenience of finding everything they need in one place.
Our Customers Award Us 5 Stars
We are thrilled to share that our products has received widespread acclaim from our valued customers, with an abundance of 5-star customer reviews pouring in.
Your Choice, Your Security: Explore Our Multiple Payment Options
We offer secure payment options, giving customers peace of mind when making transactions.
Track Your Orders at Every Step
Customers can track their orders in real-time and receive updates on their delivery status.