If you order within
Arrives by
If you order within
Arrives by
Let the bear handle snack time
Like a mini lunch box, our Baby Powder Container helps secure all your baby's fruit, crackers, and formula powders in one sleek, bulk-free container. A cute bear-face cap with a convenient carrying handle makes the case extra cute and easy to find with all your other baby gear.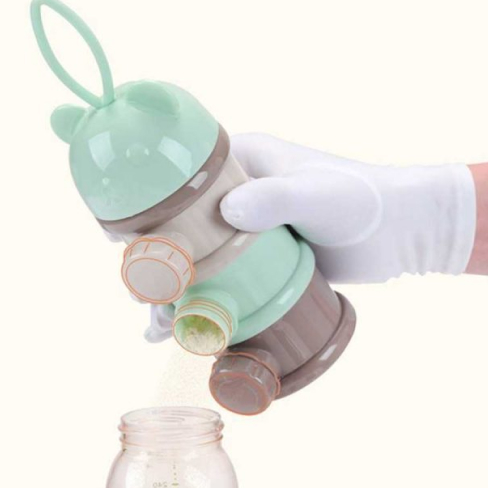 House three snacks or powders
Each Baby Formula Container from us features three easy-to-use containers for prepping snacks and formula powder for your little one. No more mess or bulk, whether on the kitchen counter or in the backseat of a car.

Each layer carries 60 grams of whatever you need and features a lid-screwed side dispenser, making it perfect for dispensing formula or powders. No fussy spoons or lids.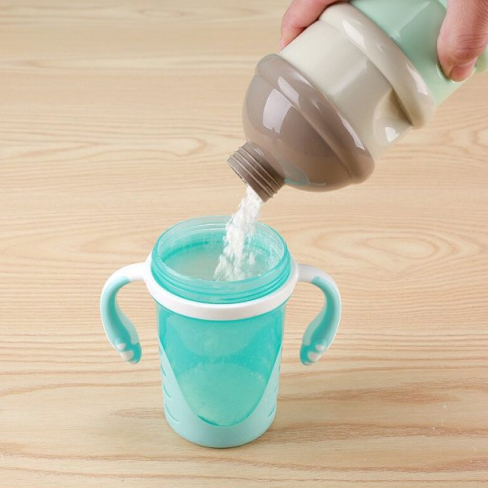 Durable and reliable
Constructed of polypropylene plastic, our container is built to last use after use, trip after trip. Its handle on the cap makes it easy to carry or clip to a backpack or baby bag.

The container is 2.8 inches in width and 6.7 inches in height, and the handle is 2.3 inches in height.

Each baby formula container layer and the cap wash easily with liquid soap and water. Use this storage solution over and over again and save money -- and the environment -- in the long run.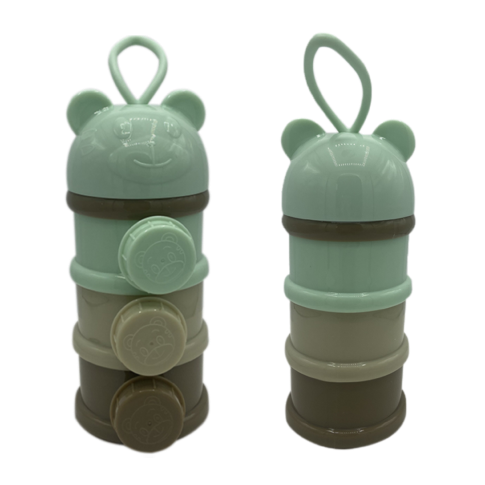 A great gift that'll be appreciated
Give convenience for caretakers, first-time parents, and anyone looking after a child but is always on the go.

Our Baby Powder Container delivers seal-tight convenience for snacks, mini meal portions, and formula powder for fuss-free, mess-free on-the-go feeding to your little one.
Reviews
Our reviews are verified for authenticity
Nothing to say is exactly what I expected! Thank you

Looks exactly like the picture. No smell. Hard plastic.

great store ! Very good quality. 10 stars. Thank you

So this item was good for it's price. Its very large so I don't like putting it in the diaper bag. But it gets the job done.

Super quality,delivery,it took only two weeks to israel, recommeded thanks to the store will order more

Nice good quality and as in the picture

Easy convenient, a bit bulky and not easy to fit into side bottle pickets

Perfect, functional as in the photos

I highly recommend this product!! At 2am, you will never mess up the formula in the plastic bag again! I have been looking for something to keep formula milk beside the bed, and when my little guy wakes up in the middle of the night, it is easy to pour it into the bottle. I had been using plastic bags before, which was very inconvenient to operate, and I ended up sprinkling the formula on the bedside table and the floor. The wee hours are very frustrating! This container is exactly what I want. Easy to pour, you can easily get 99% of our formula. The top fits the bottle just right, no need to worry about spilling. This really completely solves our troubles of waking up in the early morning, and I will never have the same dilemma as before.

Originally I thought I would only use it during travel, but it turns out that I use it almost every day. The design of the top knob makes it easy to pour out the milk powder. The bottom can also be opened so that I can put milk powder into the bottle easily. With this design, milk powder is not easy to leak, and it is convenient for daily cleaning. I take them anywhere, but they are used to the greatest extent in the room near the sink, so I can make a fresh bottle every night without having to go to the kitchen.

These are cute, it's why I got them

I decided to purchase this formula dispense because i wanted to use it as a snack stackable container. I always let my baby have both yogis and puffs after meal, and it was a hassle to keep them crunchy after opening. Therefore, I decided to get a formula dispenser to store multiple opened snacks. I like this container in general because it seals pretty well. I also like the color very much! I don't see this color on a formula dispenser that much so it makes mine very distinguish from other moms'.

Super easy to use and put cereal and milk on the go the quality of the product is great

Cute but not super easy to get formula out of...

Perfect for my son snacks and it fits nicely in my diaper bag

too big but worth it not much of a problem.

Very useful and easy to close, fill and dispense.

I struggled with the formula container for a long time and finally chose this container. I was very pleasantly surprised when I received it, and it was better and cheaper than I expected. I will order another set so that I can have two sets, one for powdered milk and one for small snacks. The top cap comes off and fits perfectly inside the bottle, so you won't spill the formula everywhere. They snap together tightly, so you can keep them in one place and stay connected.

The dad thought this was a waste of money UNTIL WE USED IT. So worth it. We love it.

So cute. Does great in diaper bag. Don't have to search for containers just look for one object and you find

Nothing more to say here cant see any reason why it will not get 5 ⭐.

It is really good for traveling and easy to use. The design is so so so cute. Love it.

It's not so easy to use but still so cute dough

It gets the job done! but a little difficult to screw and unscrew them together but that's also a good thing so they don't come open in your bag.

Great for diaper bag organization! Includes a funnel under the top piece to makes bottles on the go easy! I haven't tested it but I'm sure 3 scoops will fit not problem if not more. Someday I can use for snacks etc!

Very useful and easy to use. I like that they're individual containers and cannot spill into each other messing up the measurements.

This is the cutest and most useful thing I've bought when it comes to my baby's feedings. Love how it fits perfectly in my diaper bag, and love the cuteness of it

Great product! It's very pretty and true to color. My daughters loves it and knows it's snack time! When she sees it!

I love this. I use it every time I take my little one out. I also fill it for when he is at his babysitters and it's measured out for her and easy to pour into a bottle.

For babies, it was almost perfect, and I was looking forward to it after I bought it, and it didn't disappoint me, the quality of the plastic was great, the size was just right, and most importantly, it was really sooo cute. It has three containersThe bottoms and tops of each individual container are threaded and completely interchangeable, I tested all of them.I have washed them in the dishwasher and by hand and I don't think they are very difficult to wash at all.

It's all right. No smell. i like it
View full details
Featured store in media
Homekartz has been constantly featured on top media sites like Fox, USA Today, Market watch and others
13,452+ Positive Reviews
So many positive reviews and happy customers cannot be wrong!
Free 3 day shipping
We provide free first class USPS and FedEx shipping on all orders.
24 x 7 support
We won't leave you alone! Every one gets 24 x 7 priority support.
90 Day Money Back Gurantee
We offer 90 days risk free trial with 100% satisfaction guarantee.
You help someone today
When you buy from us, we donate 10% of each sale to a child in need in the USA.
Made with Love
"Each product is made with not only the best material but a little bit of happiness and kindness too."
What customers say
*****

My 5 year old grand son loves the products that we bought from homekartz. They provide a high quality product.

*****

My daughter loves the toys that I purchased for her and we keep buying more toys for her from time to time.

*****

My kid loves the clothes that i got for him. Home kartz has really great clothes for different occassion.