If you order within
Arrives by
Regular price
$111.00 USD
Sale price
$39.99 USD
Unit price
per
Sale
Sold out
If you order within
Arrives by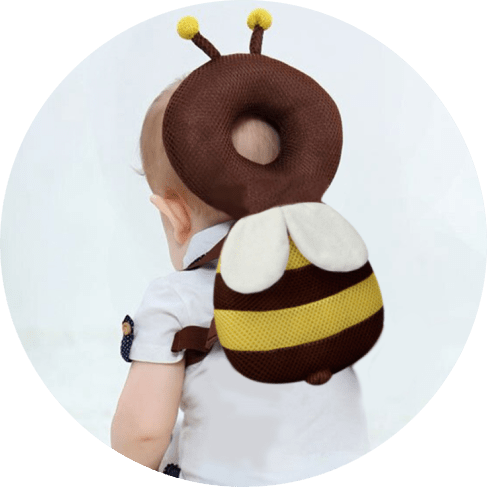 The protective bee
to the rescue
Keep your little one safe and comfortable with this soft and comfortable baby head bump protector and pillow!
Our unique design is made with lightweight and breathable fabric that will provide maximum comfort and protection for your baby.
The pillow is filled with plush foam padding that will keep your baby's head and neck supported. Its adjustable strap can be easily secured onto any car seat, stroller, or crib.
Experience the ultimate peace of mind and comfort with our baby head bump protector and pillow!
Your child will love putting on this bee pillow, which is almost like a costume.
With fun wing and antennae detailing, this cute pillow delivers cushy impact protection from falls and accidental trips.
All-around protection
Our busy bee is more than a cute cushion -- it's a safety device that protects your child's head, shoulders, neck, and back in the event of a fall. A donut-style head cushion and plush, wide-body help absorb impact and sharp corners.

Don't compromise on safety with this uniquely-designed, made-for-safety cushion that wears just like a backpack for impact protection where it matters most.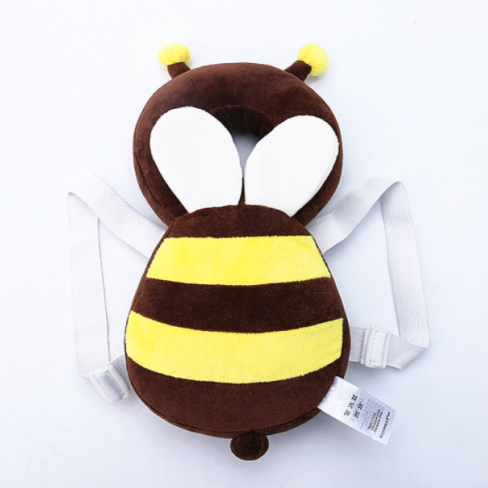 100% comfort and fit
Let your little one run around like a wild bee while wearing this nearly weightless pillow made of velvet and cotton stuffed with 100% cotton polypropylene cotton that is breathable and fluffy.

To your kid, this Baby Head Protection Pillow (8 x 3 x 14 inches (L x W x H) will be a wearable toy they can fly around in; to you, it's a safety device for greater peace of mind.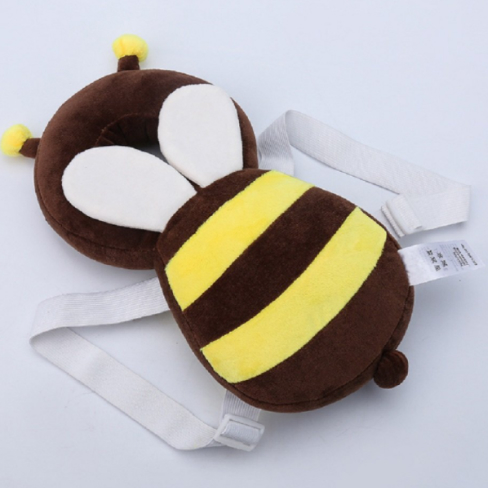 Easy to put on
Like backpack straps, our bee cushion features adjustable straps to fit comfortably to your child.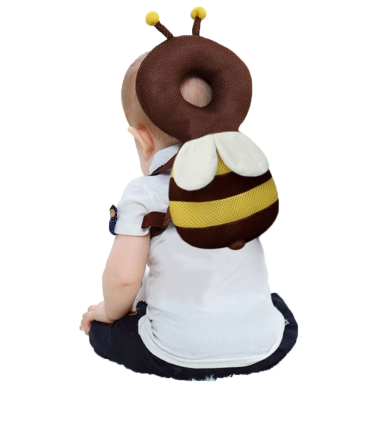 Like a snuggle buddy
Your baby can still hold or lie on the plush for supportive comfort when not worn.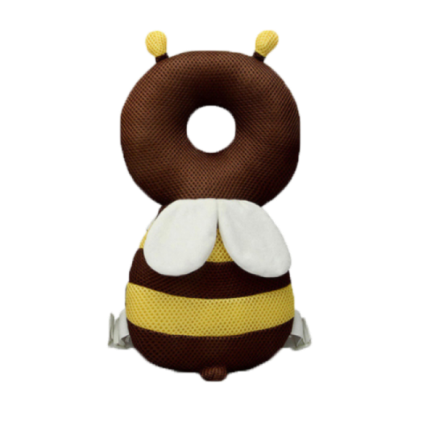 What are the advantages of the Baby Head Bump Protector?
1. Protects a baby's delicate head: A Baby Head Bump Protector is essential safety equipment for any parent. It protects a baby's delicate head from bumps, bruises, and abrasions.
2. Prevents serious head injuries: This type of headgear is designed to absorb the impact of a fall, so it can help prevent serious head injuries.
3. Easy to use: Baby Head Bump Protectors are typically easy to use, as they are designed to fit comfortably and securely on a baby's head.
4. Affordable: Most Baby Head Bump Protectors are affordable, so it is an affordable way to ensure your baby's safety.
5. Lightweight and comfortable: It is also lightweight and comfortable for a baby.
Commonly Asked Asked
What is a baby head bump protector?
A baby head bump protector is a type of protective gear designed to minimize the risk of an infant or young child sustaining a head injury due to accidental bumps or falls. Typically, the protector is made of soft material and provides cushioning for the child's head.
What age range is a baby head bump protector suitable for?
A baby head bump protector is generally suitable for babies up to 24 months of age.
What materials are baby head bump protectors made from?
Baby head bump protectors are made from soft foam.
How do I care for and maintain a baby head bump protector?
To care for and maintain a baby head bump protector, you should always follow the manufacturer's instructions and instructions on the product packaging. Depending on the type of protector, you may need to hand wash or machine wash it, air dry it or tumble dry it on a low setting, and avoid using harsh detergents or bleach. It's also essential to inspect the product regularly to ensure there are no rips, tears, or loose stitching that could cause the protector to become ineffective. Additionally, you should replace the protector if it becomes worn or filthy.
Is a baby head bump protector adjustable?
Yes, many baby head bump protectors are adjustable. They usually feature adjustable straps that can be tightened or loosened to provide a snug fit.
Does a baby head bump protector protect against falls?
No, a baby head bump protector is designed to cushion against minor bumps and jolts while in the car or stroller and is not designed to protect against falls.
How do I install a baby head bump protector?
Following the manufacturer's instructions for installing a baby head bump protector is essential. Generally, the protector should be placed securely around the baby's head, making sure not to leave any loose material. Ensure the protector is snug but not too tight and does not cause discomfort to the baby. Secure the protector in place using the adjustable straps. Finally, use the adhesive strips or clips to fasten the protector to the baby's clothing.
Are baby head bump protectors comfortable?
Generally, head bump protectors made from soft, breathable materials are the most comfortable.
Reviews
Our reviews are verified for authenticity
Not full proof protect. But my baby does not like the helmet shaped protector as he keeps on removing and playing. This one however he keeps without any issue and also looks good. :)

Cool thing! They ordered another helmet, or then the kid with this protection-the eye is managed by the forehead, then the side of the fall...

I fell in love with this bee and looked forward to it! It went great. Soft, no smell. Qualitatively made product.. Happy with the purchase. Thank you store!

This has saved my sons in his falls plenty of times, I only gave a 4 because I think they should improve the design to also cover the sides of the head as it only protects against back falls, babies fall forward and sideways more often than not.

So I bought this thinking that my daughter would have it on 24/7 while learning to sit up... wrong. We used it once, took a picture and it's been in the toy box since. It's really cute and my daughter didn't seem uncomfortable when she had it on, just not really a need.

This butterfly cushion backpack is both cute and functional! My baby doesn't fuss having this on since it doesn't really weigh down on her nor restrict her movement. Honestly, other than when I clip it on and off her, I don't know if she notices it's on. On that note, it's not that hard to adjust the straps and clip it on her so it's secure. We "crash tested" this backpack by letting her fall back while she was trying to sit up and she just smiled when she landed back on top of the cushion. The backpack does a good job of breaking the fall backwards when sitting and cushioning her head, which is most important!

very good quality. satisfied with product. shipped to USA fine.

Very comfortable thing. I'm buying my third niece. Suitable from the moment when children try to sit down (or get up, who has what before)

I bought this for my little one to avoid using piles and piles of cushions everytime we put him to play. Never expected much but this product is really good. While it doesn't protect him much when falling on his side, it does manage to reduce the impact and slow him down (because of the back part), however, it does protect the back of his head perfectly when falling on his back and that what concerns me the most. He actually enjoys falling on his back knowing that it won't hurt.

The protector is easily adjustable and most importantly doesn't bother my child while playing, which means he is comfortable wearing it.

Cute little protector. Only issue is the elastic strap are already unraveling a bit

It's wonderful quality, fits perfectly, and it doesn't seem to bother my baby at all.

I like the strap it has cloth sown..It wont hurt baby's shoulders.Its very soft product.I just wish there is no hole and it has eyes.I would look more cute

This little bee backpack has literally been a life saver. My 10 month old has been wearing it consistently for the past month and a half and it has saved him from smacking the back of his head on our tile floors too many times to count. He was a little interested in trying to pull it off when we first put it on, but now he wears it all the time and doesn't seem to even notice it is there. Such a simple, cheap, and effective solution for a common baby issue.

I used this product for my 8 month old that is in her crawling/ walking furniture clumsy stage. She busts her head on a daily like clock work. This has really reduced the amount of ouches and tears. I wish there was a way to secure the clips on better Because they have been pulled off a few times. They are easy to put back on though. Other than that this has been great.

This is super cute and does work for when they fall backwards now sideways is another story LOL

Has saved my baby's head from tiled floors many times!

This is probably one of the best things I have purchased for my child.

It does a great job to project baby heads. It did a great job to protect my 10 month son.

This is prefect for our little one who is learning how to walk. It helps prevent from hurting her back & head in case she falls.

I love these little wings.

My baby doesn't feel it when wearing it.

Ar first my baby was crying and doesnot want it. After 20 mines he seems use to it and never cried again. So cute and look very protective

The first day it arrived, I placed it on my son. He's just beginning to pull himself onto things and was pulling himself up on the couch and fell back and luckily had this backpack on and landed his head softly on it. I love it!

We use it everyday! Have saved my baby from many head bumps. We bought for when she was learning to sit up but use it now months later for her learning to walk!

I love this product and its one of the best things i have gotten. My daughter throws herself back when shes crying so she would hit her head or she loves to play with the super heavy carpet and she would end up falling back so this was a HEAD SAVER LOL. Its super comfy and it doesnt bother her at all and she looks super cute. I would recommend its thick enough to protect baby.

Bought it for my 6 month old who had trouble sitting by himself and I always had to put pillows around in case he falls back. No more pillows, thanks to this product.

Thus is just what we needed, we live in a place with wood floors so we got this for our 2nd one, it is super soft and fits our 10 month old great, it doesn't stay place very well all the time, but the chest strap definitely helps with that
View full details
Featured store in media
Homekartz has been constantly featured on top media sites like Fox, USA Today, Market watch and others
13,452+ Positive Reviews
So many positive reviews and happy customers cannot be wrong!
Free 3 day shipping
We provide free first class USPS and FedEx shipping on all orders.
24 x 7 support
We won't leave you alone! Every one gets 24 x 7 priority support.
90 Day Money Back Gurantee
We offer 90 days risk free trial with 100% satisfaction guarantee.
You help someone today
When you buy from us, we donate 10% of each sale to a child in need in the USA.
Made with Love
"Each product is made with not only the best material but a little bit of happiness and kindness too."
What customers say
*****

My 5 year old grand son loves the products that we bought from homekartz. They provide a high quality product.

*****

My daughter loves the toys that I purchased for her and we keep buying more toys for her from time to time.

*****

My kid loves the clothes that i got for him. Home kartz has really great clothes for different occassion.