If you order within
Arrives by
Regular price
$111.00 USD
Sale price
$42.99 USD
Unit price
per
Sale
Sold out
If you order within
Arrives by
Baby Bottom Buddy Cream Applicator
Mess-free diaper cream application
Tired of hands and clothes covered in diaper cream? Or that smell that lingers for hours on end? The Baby Bottom Buddy makes the messy process of applying diaper cream simple, quick, and clean. Use the included Type-B adapter and attach the Baby Bottom Head directly to prefilled tubes of diaper cream or fill the applicator with your favorite diaper cream or paste.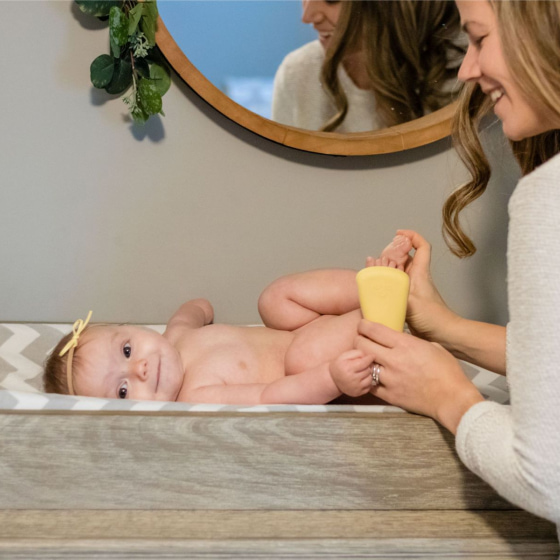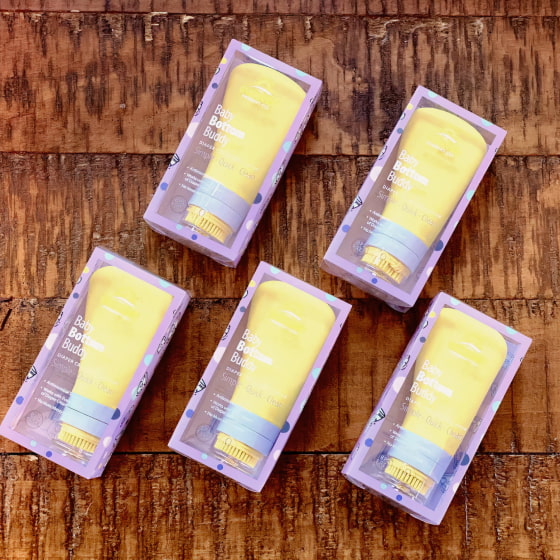 Squeeze - Swipe - Done!
Tackle messy diaper changes with the Baby Bottom Buddy
Ultra soft bristles
When your baby has a diaper rash, even the smallest of touches can be painful. Baby Bottom Buddy is designed to gently apply ointment to your baby's bottom. You no longer have to worry about accidentally scraping your baby's bum with your nails.
BPA free and antimicrobial silicone
Made from FDA approved BPA free food-grade silicone. The material is naturally antimicrobial, providing a bacteria-resistance surface while remaining sensitive on all skin types. It acts as a barrier between your hands and your baby to keep both of you cleaner and happier.
Travel necessity
This is the diaper bag necessity that makes on-the-go diaper changes fast and easy. It's also TSA-approved! The applicator is also leakproof which means you will never waste your expensive lotion, cream, or paste inside of your diaper bag or purse.
Works with any diaper cream
You can apply ointment, lotion, butt paste, and more with this useful tool. It's an all-in-one solution for applying and spreading diaper creams.
Details and care
The applicator can be wiped clean, boiled in hot water, wiped with a disinfecting wipe, and is even dishwasher safe! The Baby Bottom Buddy is the perfect shower gift for a new parent.
Diaper rash is a common problem for babies and toddlers. Various things, including sensitivity to wetness and irritation from diaper chemicals, soaps, and detergents, can cause it. If your little one has a diaper rash, there are several steps you can take to help treat it.

First, the most important thing you can do is to keep your baby's skin clean and dry. Change diapers frequently, and if possible, let your baby go without a diaper for a while during the day. Use mild soap and warm water when cleaning your baby's bottom, and completely dry the baby's skin afterward.

You can also use an over-the-counter diaper rash cream or ointment to help soothe and protect the affected area. Be sure to choose one that does not have any fragrances or dyes.

Why you should get a butt paste cream applicator

1. Soothes and relieves skin irritation and inflammation caused by diaper rash.
2. Forms a protective barrier on the skin to keep moisture out and prevent further irritation.
3. It Contains natural ingredients such as calendula and chamomile to help soothe the skin.
4. Helps to reduce redness and discomfort associated with diaper rash.
5. It Can be used to treat and prevent diaper rash.
6. It Is easy to apply and remove, making it convenient for parents and caregivers.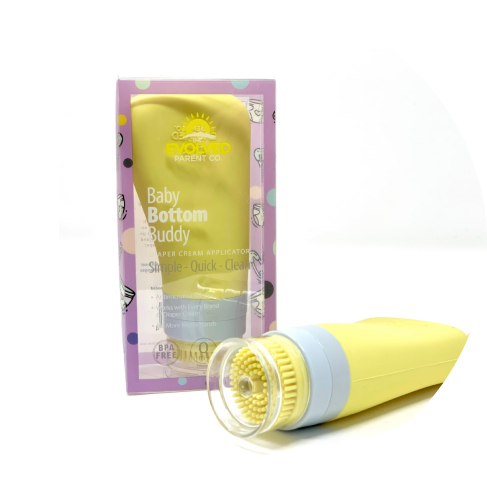 Reviews
Our reviews are verified for authenticity
Love this product! So easy to use and clean. You can put any of your favorite diaper rash creams in it. Perfect for on the go! I had a large tub of diaper rash cream and wanted something easy and small in the diaper bag for going out.

This applicator is a dream! I actually use it for my kids' lotions so they can apply the lotion themselves with ease. They love using this to rub their lotion in their skin without any messy application.

This product works really well to apply any diaper rash cream product. It is easy to fill and disperse the right amount. The applicator is soft, my baby doesn't seem to mind it when I'm applying her cream with it. It saves time not having to wash the cream off your hands and to me, is more hygienic. I also like the fact that the applicator can be cleaned. I like it so much I bought one for my sister to use with her baby and one for my daughter's daycare to have on hand.

We love this product! It's great for easy diaper changes with a busy toddler and also great for my newborn as well. Very soft and durable. I wouldn't do a diaper change without it!

My mother-in-law got this for me and at first I was skeptical, but wow this thing is amazing. Now it goes everywhere with me and baby Ben.

I saw their post on instagram about the new adapter working with desitin, and decided to give it a try as i hate the smell that lingers. I first tried the included tube that it comes with, which does work, but using the adapter with desitin is life changing. Will be ordering this as shower gifts for any friends or family that are having a baby.

This product is made of thick soft material that allows a solid application of diaper rash cream of one's choice without the mess getting it all over your hands to complete the diaper change. It's also a good size that can be easily packed in the travel bag and good on the go!

This is a great little product to help with applying lotion to a wiggling baby. Only downside is when it gets a little low it's a little hard to squeeze and use and whole baby at the same time.
View full details
Featured store in media
Homekartz has been constantly featured on top media sites like Fox, USA Today, Market watch and others
13,452+ Positive Reviews
So many positive reviews and happy customers cannot be wrong!
Free 3 day shipping
We provide free first class USPS and FedEx shipping on all orders.
24 x 7 support
We won't leave you alone! Every one gets 24 x 7 priority support.
90 Day Money Back Gurantee
We offer 90 days risk free trial with 100% satisfaction guarantee.
You help someone today
When you buy from us, we donate 10% of each sale to a child in need in the USA.
Made with Love
"Each product is made with not only the best material but a little bit of happiness and kindness too."
What customers say
*****

My 5 year old grand son loves the products that we bought from homekartz. They provide a high quality product.

*****

My daughter loves the toys that I purchased for her and we keep buying more toys for her from time to time.

*****

My kid loves the clothes that i got for him. Home kartz has really great clothes for different occassion.