.
Regular price
$124.90
Sale price
$44.47
Unit price
per
Sale
Sold out
If you order within
Arrives by
Looking for the perfect way to keep your baby cozy and comfortable during naptime and bedtime?

Introducing the Baby Bear Sleeping Bag! This adorable and practical sleeping bag is designed to provide your baby warmth and security, ensuring a peaceful night's sleep. It's not just a sleeping bag; it's a dreamy cocoon for your little one.
Imagine the comfort and serenity of knowing your baby is snug and safe, all while embracing the cuteness of a baby bear. Picture your baby drifting off to dreamland effortlessly, giving you the peace of mind you deserve. This isn't just a sleeping bag; it's the key to blissful nights for you and your baby. 
Don't let sleepless nights become the norm. Click "Add to Cart" now and make the Baby Bear Sleeping Bag an essential part of your baby's bedtime routine. Experience the joy of uninterrupted sleep and the heart-melting sight of your baby in this cozy cocoon. Order now and create dreamy nights for your little one!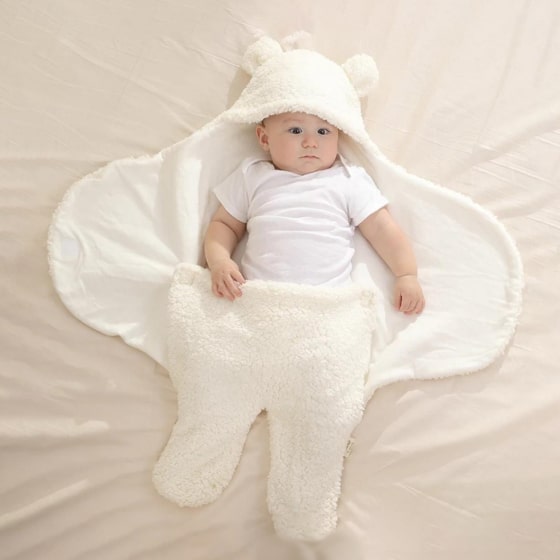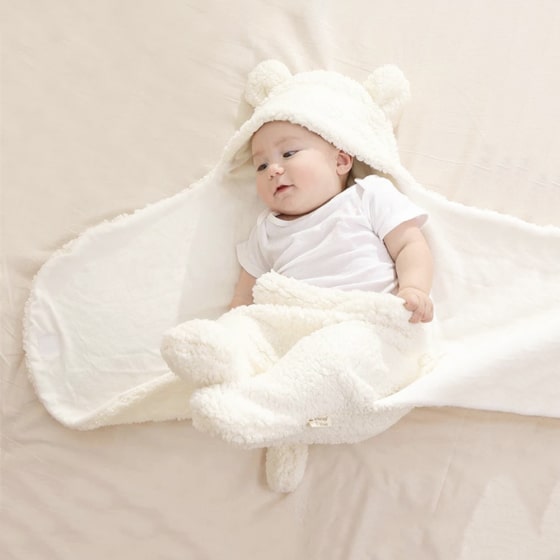 Perfect for newborns and toddlers
Soft, lightweight, and breathable
The swaddle wraps are made of
baby
-safe and natural cotton, which can keep your newborn perfectly wrapped and sleeping peacefully. The lightweight fabric prevents overheating and keeps your newborn comfortable.
Suitable for infants and toddlers
The swaddles come in gender-neutral designs and fit babies from 0 to 12 months. Comes at a size of 27.6" x 23.6".
This blanket can be used as a stroller blanket, for the nursery, a multipurpose blanket, or as a sleeping sack for your toddler to feel secure and warm.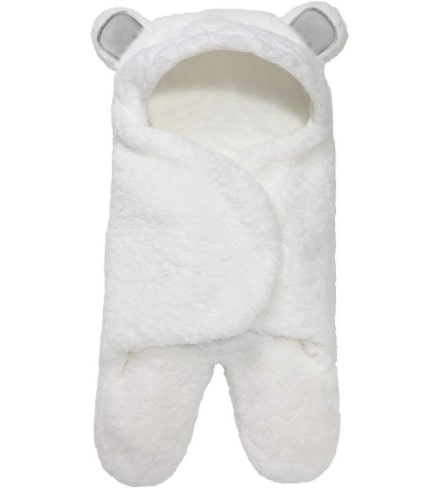 A great
baby
sleeping bag
Made of quality plush sustainable fabrics that are breathable and very gentle on
baby
's delicate skin. Super soft, smooth, and comfortable, it is an excellent blanket for babies, which will wrap your little one with warmth and care.

Benefits of the Baby Bear Sleeping Bag:

Cozy Comfort: Provides a warm and secure environment for your baby to sleep peacefully.
Adorable Design: Features an irresistible baby bear design that adds charm to bedtime.
Safety First: Eliminates the need for loose blankets, reducing the risk of suffocation. 
Easy Diaper Changes: Zipper closure allows for quick and convenient diaper changes.
Versatile Use: Suitable for both naptime and nighttime sleep.
Soft and Breathable: Made from soft, breathable, and gentle materials for your baby's comfort.
Adjustable Size: Often designed to grow with your baby, providing a snug fit. 
Premium Quality: Crafted with attention to detail and durability for long-lasting use. 
Travel-Friendly: Compact and easy to carry, making it great for travel or visits to family and friends.
Machine-Washable: Easy to clean and maintain, ensuring freshness for your baby.
Perfect Gift: Makes a thoughtful and adorable gift for new parents.
Uninterrupted Sleep: Helps your baby sleep better, leading to more restful nights for both of you. 
Gender-Neutral: Suitable for both baby boys and baby girls.
Temperature-Safe: Appropriate for various seasons and room temperatures.
Happiness Guaranteed: Provides peace of mind knowing your baby is snug and secure.

Frequently Asked Questions (FAQ) 

1. Is the Baby Bear Sleeping Bag safe for my baby?
It's designed to provide infants with a safe and secure sleeping environment.
2. What age range is this sleeping bag suitable for?
The sleeping bag is typically designed for newborns up to a certain age, but sizing may vary by manufacturer.
3. How do I clean the Baby Bear Sleeping Bag?
Most sleeping bags are machine-washable; check the care instructions for specific details.
4. Can I use this sleeping bag in a crib or bassinet?
Yes, it's often designed for use in cribs or bassinets.
5. Does the sleeping bag have a zipper or buttons for closure?
Most sleeping bags feature a zipper closure for easy access.
6. Is the sleeping bag suitable for colder seasons?
Many sleeping bags are designed to provide warmth in cooler temperatures.
7. Can I use this sleeping bag for travel or on-the-go naps?
It's compact and travel-friendly, making it perfect for naps away from home.
Reviews
Our reviews are verified for authenticity
It's a little bigger than I would have expected but I'm surprised how extra soft it is!!! Recommend!

It's very soft, nice quality, affordable..

This was very cute. Seems to be warm enough. Was given as a gift.

Came very fast and was very soft and snuggly. Ordered this for my cousin who lives in Alaska and I think it will be a great cozy cover/ wrap for her little one!

This is a must have for every Baby. It is a lightweight warm blanket. You can use it indoors and out. Indoors especially if you want to put an AC on while the baby is in room with you during the summer or hot weather.

This is the MOST AMAZING soft swaddle. The second I put my baby in this he closes his eyes. Nothing else worked! This is super soft, just the right amount of hugging . Everyone should have one! Thank you!!!!

This thing is amazing if you have a baby in the Winter time in a cold climate this is excellent to put in your car seat! It was absolutely perfect to keep him warm as the flaps open. Instead of having sleeves I was able to get the straps nice and close to his chest so he would be safe but then folded the flaps right over him and he was nice and snug and warm. Would recommend this to everyone!
View full details
Enjoy Free Shipping on Every Order
Experience the ultimate convenience with our free 3-day shipping service available to all customers throughout the United States.
24 x 7 Customer Support at Your Service
We offer customer support through live chat, email, or phone, making it easy for customers to get assistance with their inquiries.
Crafted with American Pride: All Our Products Are Made in the USA
Experience the assurance of exceptional quality and support local industries with our wide selection of products, all proudly made in the USA.
Peace of Mind: Our 14-Day Return Policy Has You Covered
We want you to love your purchases, which is why we offer a hassle-free 14-day return policy. If you're not completely satisfied with your order, simply return it within 14 days for a full refund or exchange.
Explore Our Diverse Range of Products
Our store offers a vast selection of products, giving customers the convenience of finding everything they need in one place.
Our Customers Award Us 5 Stars
We are thrilled to share that our products has received widespread acclaim from our valued customers, with an abundance of 5-star customer reviews pouring in.
Your Choice, Your Security: Explore Our Multiple Payment Options
We offer secure payment options, giving customers peace of mind when making transactions.
Track Your Orders at Every Step
Customers can track their orders in real-time and receive updates on their delivery status.