If you order within
Arrives by
Regular price
$111.00 USD
Sale price
$60.99 USD
Unit price
per
Sale
Sold out
If you order within
Arrives by
A cute warm blanket for your baby
Tuck in your little one and keep him/her safe, warm and comfortable in this absolutely adorable plush bear baby blanket. A great way to make your baby even cuter and keep him/her safe and warm.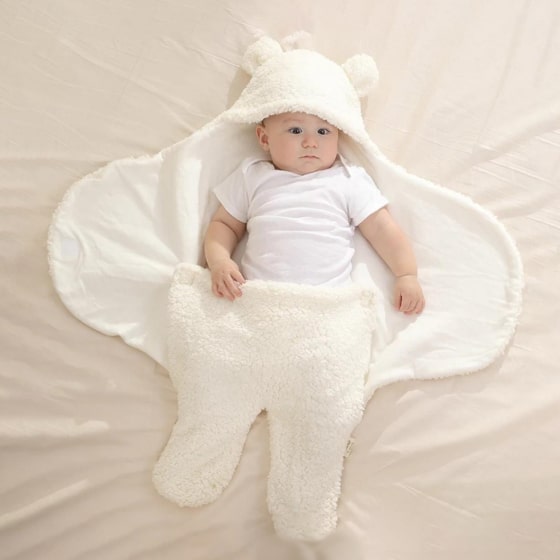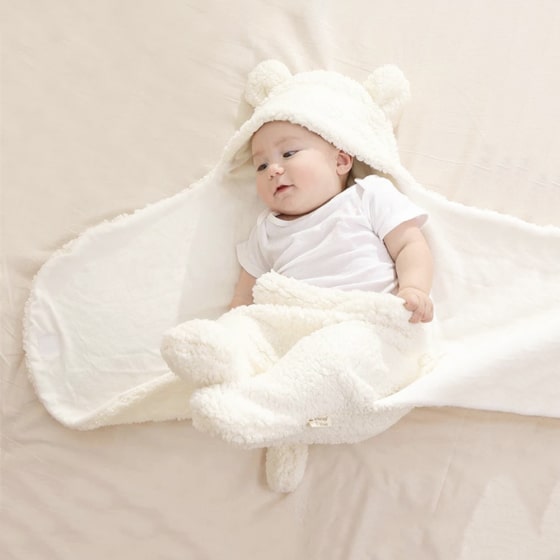 Baby bear blanket
Perfect for newborns and toddlers
Soft, lightweight and breathable
The swaddle wraps are made of baby-safe and natural cotton which can keep your newborn perfectly wrapped and sleeping peacefully. The lightweight fabric prevents overheating and keeps your newborn comfortable.
Charming design
The cute white bear hoodie with a windproof cap design protecting the baby's ears and keeping them warm stays warm all night. Designed with separate feet, it allows a baby to kick, but cannot be kicked off.
Suitable for infants and toddlers
The swaddles come in gender-neutral designs and are excellently fit for babies from 0-12 months. Comes at a size of 27.6" x 23.6".
Ideal Baby Shower Gift
This blanket can be used as a stroller blanket, for the nursery, as a multipurpose blanket or a sleeping sack for your toddler to feel secure and warm in.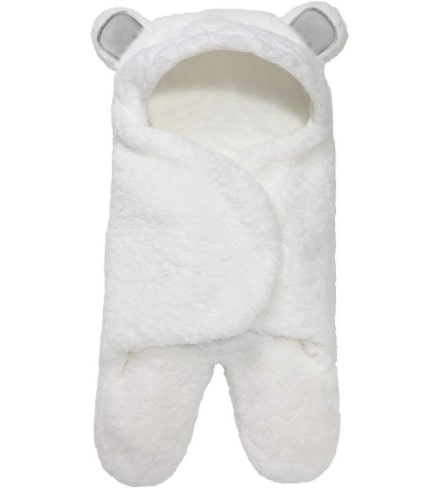 A great baby sleeping bag
Made of quality plush sustainable fabrics that are breathable and very gentle on baby's delicate skin. Super soft, smooth, and comfortable, it is a great blanket for babies, which will wrap your little one with warmth and care.
Reviews
Our reviews are verified for authenticity
It's a little bigger than I would have expected but I'm surprised how extra soft it is!!! Recommend!

It's very soft, nice quality, affordable..

This was very cute. Seems to be warm enough. Was given as a gift.

Came very fast and was very soft and snuggly. Ordered this for my cousin who lives in Alaska and I think it will be a great cozy cover/ wrap for her little one!

This is a must have for every Baby. It is a lightweight warm blanket. You can use it indoors and out. Indoors especially if you want to put an AC on while the baby is in room with you during the summer or hot weather.

This is the MOST AMAZING soft swaddle. The second I put my baby in this he closes his eyes. Nothing else worked! This is super soft, just the right amount of hugging . Everyone should have one! Thank you!!!!

This thing is amazing if you have a baby in the Winter time in a cold climate this is excellent to put in your car seat! It was absolutely perfect to keep him warm as the flaps open. Instead of having sleeves I was able to get the straps nice and close to his chest so he would be safe but then folded the flaps right over him and he was nice and snug and warm. Would recommend this to everyone!
View full details
Featured store in media
Homekartz has been constantly featured on top media sites like Fox, USA Today, Market watch and others
13,452+ Positive Reviews
So many positive reviews and happy customers cannot be wrong!
Free 3 day shipping
We provide free first class USPS and FedEx shipping on all orders.
24 x 7 support
We won't leave you alone! Every one gets 24 x 7 priority support.
90 Day Money Back Gurantee
We offer 90 days risk free trial with 100% satisfaction guarantee.
You help someone today
When you buy from us, we donate 10% of each sale to a child in need in the USA.
Made with Love
"Each product is made with not only the best material but a little bit of happiness and kindness too."
What customers say
*****

My 5 year old grand son loves the products that we bought from homekartz. They provide a high quality product.

*****

My daughter loves the toys that I purchased for her and we keep buying more toys for her from time to time.

*****

My kid loves the clothes that i got for him. Home kartz has really great clothes for different occassion.