.
Regular price
$39.90
Sale price
$18.97
Unit price
per
Sale
Sold out
If you order within
Arrives by
Baby net for bathtubs
The perfect support net will allow you to wash your baby comfortably and safely while they happily enjoy their time in the water. Very easy and convenient to install.
Are you looking for a safer and more comfortable way to bathe your baby?

Introducing the Baby Bathing Pillow, a soft and supportive solution for stress-free baby bath times. This isn't just a pillow; it's your key to ensuring a secure and enjoyable bathing experience for your little one.

Imagine your babies' contented smiles as they relax in the gentle embrace of this bathing pillow, floating comfortably in the water. Picture bath times becoming a cherished bonding experience, free from any worries. This isn't just a pillow; it's your assurance that your baby's bath times will be filled with joy and comfort.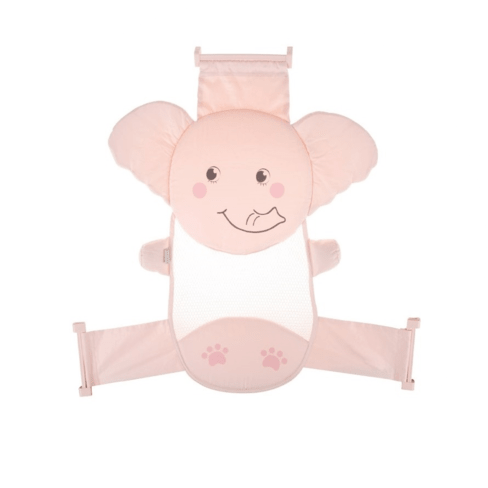 Bathing pillow specifications
Suitable for most bathtubs
The size
Size when set up: 24.4" x 25.9". The lower attachment width is 5.3". The upper attachment width is 7".
Materials
The bathing pillow's surface is made out of cotton. The stuffing: sponge. Support frame: polypropylene flectional clips.
Easy to regulate
Control the baby's distance to water by regulating the bath net length.
Effective support system
This pink bathing pillow has many impressive features that guarantee the baby's comfort. Comfortable anti-slip gridding cloth, bionic concept, supports and protects the baby's spine.
Durable, ventilation, and comfortable
Bathing your baby has never been easier! With this pink bathing baby pillow, bath times will be a joy ride and a walk in the park. Your baby can enjoy the warm water while relaxing on a comfortable pillow. What more can you ask for?

Benefits of the Baby Bathing Pillow:


Safe and Comfortable: Provides gentle support for your baby during baths, preventing slipping or sliding.
High-Quality Materials: Made from soft cotton fabric for a cozy feel against your baby's skin.
Sponge Stuffing: Offers comfortable cushioning and buoyancy for your baby's comfort.
Polypropylene Support Frame: Features durable and flexible clips to keep the pillow secure and in shape.
Easy to Clean: Designed for hassle-free cleaning and quick drying.
Versatile Use: Suitable for newborns and infants during bath times.
Practical Design: Allows your baby to enjoy a relaxing and safe bath experience. 
Hands-Free Bathing: Allows you to have both hands free to focus on bathing your baby.
Portable: Lightweight and easy to carry wherever you bathe your baby.
Promotes Bonding: This creates a soothing environment for you and your baby to connect during baths.
Hygienic: Reduces the risk of slipping accidents, ensuring a safer bathing experience.
Quality Assurance: Crafted with care to meet high safety and comfort standards. 
Saves Water: Requires less water for baby baths compared to traditional methods.
Perfect Gift: Makes a thoughtful and practical gift for new parents.
Peace of Mind: Ensure your baby is secure and content during baths.

Frequently Asked Questions (FAQ)

1. Is the Baby Bathing Pillow suitable for newborns?
Yes, it's typically designed to support and cradle newborns and infants during baths.
2. How do I clean the Baby Bathing Pillow?
Most pillows are designed for easy cleaning and quick drying. Check the care instructions provided.
3. Is the support frame made of safe materials?
The support frame is often made of polypropylene, a safe and durable material.
4. Can I use this pillow in different types of baby baths?
It's designed to fit most baby baths or standard tubs.
5. Does it prevent my baby from slipping in the water?
Yes, the pillow is designed to provide secure support, reducing the risk of slipping accidents. 
View full details
Enjoy Free Shipping on Every Order
Experience the ultimate convenience with our free 3-day shipping service available to all customers throughout the United States.
24 x 7 Customer Support at Your Service
We offer customer support through live chat, email, or phone, making it easy for customers to get assistance with their inquiries.
Crafted with American Pride: All Our Products Are Made in the USA
Experience the assurance of exceptional quality and support local industries with our wide selection of products, all proudly made in the USA.
Peace of Mind: Our 14-Day Return Policy Has You Covered
We want you to love your purchases, which is why we offer a hassle-free 14-day return policy. If you're not completely satisfied with your order, simply return it within 14 days for a full refund or exchange.
Explore Our Diverse Range of Products
Our store offers a vast selection of products, giving customers the convenience of finding everything they need in one place.
Our Customers Award Us 5 Stars
We are thrilled to share that our products has received widespread acclaim from our valued customers, with an abundance of 5-star customer reviews pouring in.
Your Choice, Your Security: Explore Our Multiple Payment Options
We offer secure payment options, giving customers peace of mind when making transactions.
Track Your Orders at Every Step
Customers can track their orders in real-time and receive updates on their delivery status.