If you order within
Arrives by
Regular price
$111.00 USD
Sale price
$35.99 USD
Unit price
per
Sale
Sold out
If you order within
Arrives by
An easy way to keep your baby safe
Ensure the safety of your baby
Every parent knows what it's like to lose sight of their child. Naughty and energetic children easily lose connection with adults, especially in crowded places. Say goodbye to this predicated situation with child safety links! These adjustable wristbands attach to your child's wrist with velcro straps, and the extra-thick steel cord makes sure they'll stay by your side.
Safety wrist specifications
Durable and safe for babies
Easy to use
All you need to do is connect the wristbands to adults' and kids' hands respectively. The shrinking chain can extend up to approximately 59" and the wrist strap circumference of the kid's hand side (the smaller side) can be adjusted up to 5.5". Weight: 3.5 ounces.
Soft & Comfortable
Soft double layers of hook and loop for kids' hands, not easy to take off by themselves. The size of the wrist strap can be adjusted according to your needs, the soft sponge pad in the wrist strap makes it comfortable to wear for both adults and kids.
Durable
The connecting rope is made of stainless steel and wrapped with plastic, never worry this safety harness will be cut by a knife. It is linked to the wrist straps with metal connectors that can freely rotate by 360 degrees.
Anti-lost
Only used to prevent children from losing when they go out, but does not prevent children from falling down and can't be used as walking training equipment.
A comfy and secure solution
Keep your little ones close to you and at the same time give them independence during indoor or outdoor activities. Protects the baby from twisting the wrist and does not hurt the baby's skin. Moreover, with the built-in steel wire, it won't break easily. These wrist links are perfect for use in stores, malls, amusement parks, and other crowded places where kids can get lost easily.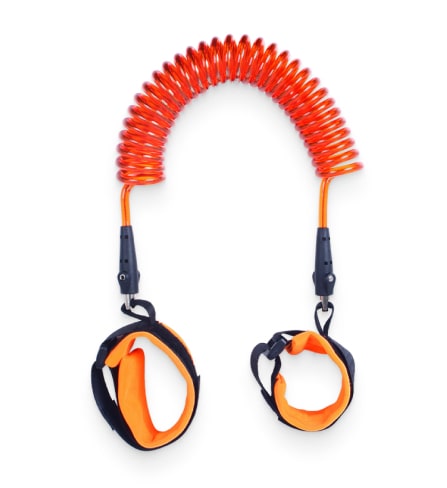 View full details
Featured store in media
Homekartz has been constantly featured on top media sites like Fox, USA Today, Market watch and others
13,452+ Positive Reviews
So many positive reviews and happy customers cannot be wrong!
Free 3 day shipping
We provide free first class USPS and FedEx shipping on all orders.
24 x 7 support
We won't leave you alone! Every one gets 24 x 7 priority support.
90 Day Money Back Gurantee
We offer 90 days risk free trial with 100% satisfaction guarantee.
You help someone today
When you buy from us, we donate 10% of each sale to a child in need in the USA.
Made with Love
"Each product is made with not only the best material but a little bit of happiness and kindness too."
What customers say
*****

My 5 year old grand son loves the products that we bought from homekartz. They provide a high quality product.

*****

My daughter loves the toys that I purchased for her and we keep buying more toys for her from time to time.

*****

My kid loves the clothes that i got for him. Home kartz has really great clothes for different occassion.