.
Regular price
$174.90
Sale price
$59.47
Unit price
per
Sale
Sold out
If you order within
Arrives by
Can these puzzles enhance my child's problem-solving skills and cognitive development?
From letters to colors to animal names to storytelling, the Animal Parade A-Z Puzzle game for toddlers is a wooden puzzle with a world of possibilities. It helps promote fine motor skills and improve cognitive functions to promote well-balanced child development.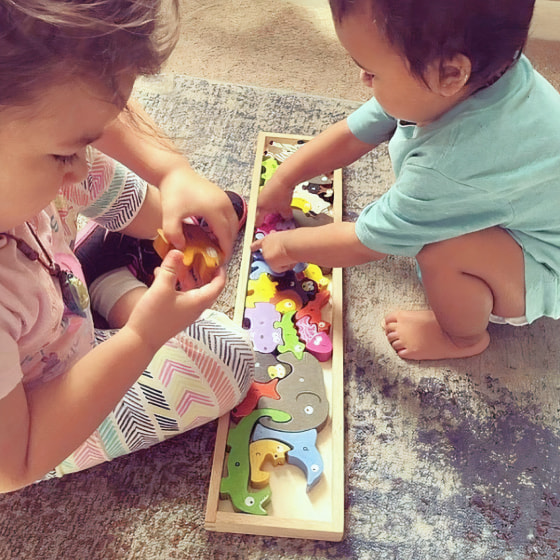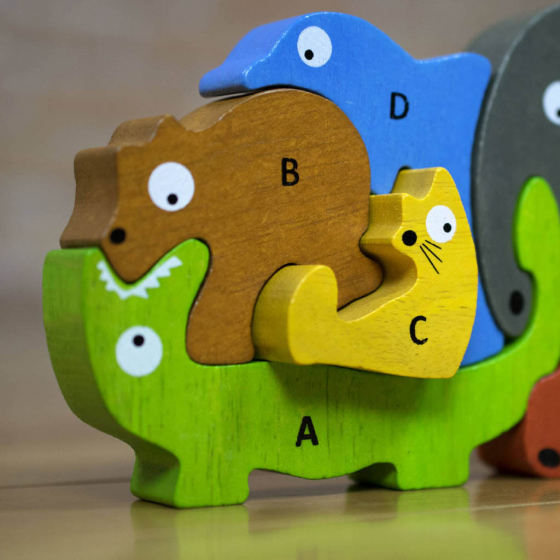 From alligator to zebra

Teach, challenge, and let kids explore
Build, experiment & learn.
Educational fun for your kid
The Animal Parade A to Z
Puzzle
and Playset encourages your little one to learn the alphabet, while playtime also improves problem-solving skills and creative thinking.
Eco-friendly materials
These wooden puzzles and games are made from sustainably grown rubberwood and finished with non-toxic water-based stains.
Kid-powered - no battery required
Kids have all the energy they need to play! These puzzles need no batteries; they are powered by imagination and curiosity.
Sizing information & details

The Animal Parade A-Z Puzzle measures 5" wide x 22.75" long and comes in a beech wood tray great for storage, travel, display, and gift wrapping! Intended for ages two and up.

Searching for Engaging and Educational Entertainment for Your Kids?


In a world filled with digital distractions, finding activities to entertain and educate your kids is challenging. Traditional toys often lack engagement, and educational apps can be overwhelming. How can you keep your kids entertained and learning in a fun way?
They are introducing Animal Parade A to Z Puzzles for Kids. These puzzles provide a delightful combination of entertainment and education. Your kids will have a blast assembling these colorful animal puzzles while learning about the alphabet. It's the perfect solution for engaging, entertaining, and educating your little ones.

FAQs (Frequently Asked Questions):

1. How do these puzzles educate kids about the alphabet?
Each puzzle piece features a letter from A to Z and an animal corresponding to that letter. Kids learn to associate letters with animals in an interactive way.

2. What age group is this product suitable for?
These puzzles are designed for kids aged 3 and up.

3. Are the puzzle pieces safe for young children?
Yes, the puzzle pieces are made of child-safe materials and are designed to be easy for little hands to manipulate.

4. How many puzzles are included in the set?
The set includes 26 puzzles, one for each letter of the alphabet.

5. What size are the puzzle pieces?
Each puzzle piece is appropriately sized for young children, making it easy for them to handle.

6. Can these puzzles be a group activity for kids?
They are perfect for solo or group play, encouraging social interaction and cooperation among children.

7. Are the puzzles durable for long-lasting use?
Yes, the puzzles are built to withstand the rigors of play and are designed for long-lasting enjoyment.

8. Do these puzzles come with a storage solution?
The set includes a storage box to keep all the pieces organized.

9. How do these puzzles benefit a child's development?
They entertainingly promote cognitive skills, hand-eye coordination, letter recognition, and early literacy.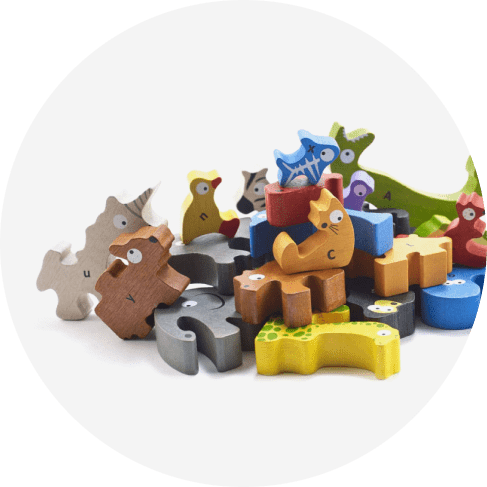 Reviews
Our reviews are verified for authenticity
4 year old grandson loved it. Needed a little help the first time but then could do it easily. Love the atudy colorful pieces.

Purchased for a holiday charity donation. Very sturdy and durable, but had to laugh at some of the animal choices. Nobody in my office could guess if F was a fish or fox and the duck as the "N for nightingale" was a hoot.

This is a great puzzle for kids! Its difficult to do but the wooden pieces which are different animals are fun to play with individually and in themselves are a fun way to learn about animals from A to Z. Putting the puzzle together isn't easy but a picture of the puzzle comes with it & that helps putting the pieces together.

Cute colors. Adorable animal shapes.

My 2 year old perfected this by 25 months.Bought him it for his 2 year birthday because he loves puzzles. Keeps him busy. He'll complete this over and over 5 times before bed. Keeps him occupied for me to get dishes done. Sturdy. Great quality.

This puzzle is very cute and very well made. I bought it for my 3yo granddaughter, who loves puzzles. When I gave it to her, she didn't like it as much as the traditional square type, but I jumped the gun a little. She just started pre-school! But she can still play with the animals, name them, and say what they "say." And I think she will grow into it and like the challenge of the different format when she does.

My toddler loves this puzzle! The pieces are brightly colored an letters are easy to read. They seem durable as well as the tray they sit in. My only complaint is that for N they used a nightengail. Most children would have no idea what that is so I feel it would be better if they used a narwhal instead. Over all this is a great puzzle for toddlers and preschoolers

Very high quality puzzle. It's big (almost the length of my arm) and the pieces are smooth wood (no splintering). They're sturdy and big enough that they can be played with individually almost like small blocks. I will say that it's not obvious how they fit together. My 4 year old cant do this by himself. And there's no picture printed on the tray so SAVE the packaging!

Adorable puzzle for kids and the adults here had to try it too. It was a little challenging, but we figured out you pick capital letters or lowercase letters on the animals. They have capital letters on 1 side and lowercase on the other. They fit together with all capitals or all lowercase. Each animal piece varies in size. There are a few animals that were so small we had to put aside so our little doesn't eat them. Most are not a choking hazard. Our toddler likes to hold each animal and make the noise the animal makes. Right now she prefers to take the puzzle apart after we put it together to put it away. We find animals from this puzzle in random places, like a dolphin in the cupboard or an elephant in the pantry. It arrived on time in a tall skinny box with ample cushioning.
View full details
Enjoy Free Shipping on Every Order
Experience the ultimate convenience with our free 3-day shipping service available to all customers throughout the United States.
24 x 7 Customer Support at Your Service
We offer customer support through live chat, email, or phone, making it easy for customers to get assistance with their inquiries.
Crafted with American Pride: All Our Products Are Made in the USA
Experience the assurance of exceptional quality and support local industries with our wide selection of products, all proudly made in the USA.
Peace of Mind: Our 14-Day Return Policy Has You Covered
We want you to love your purchases, which is why we offer a hassle-free 14-day return policy. If you're not completely satisfied with your order, simply return it within 14 days for a full refund or exchange.
Explore Our Diverse Range of Products
Our store offers a vast selection of products, giving customers the convenience of finding everything they need in one place.
Our Customers Award Us 5 Stars
We are thrilled to share that our products has received widespread acclaim from our valued customers, with an abundance of 5-star customer reviews pouring in.
Your Choice, Your Security: Explore Our Multiple Payment Options
We offer secure payment options, giving customers peace of mind when making transactions.
Track Your Orders at Every Step
Customers can track their orders in real-time and receive updates on their delivery status.