Home Kartz
Regular price
$0.00
Sale price
$60.99
Unit price
per
Sale
Sold out
If you order within
Arrives by
Parade your way to fun together
For a roaring good time with your child
When and where does a vulture ride a unicorn? In Animal Parade A to Z Puzzle by BeginAgain, of course! From letters to colors to animal names to storytelling, BeginAgain Animal Parade A-Z Puzzle game for toddlers is a wooden puzzle with a world of possibilities. It helps promote fine motor skills and improve cognitive functions to promote well-balanced child development.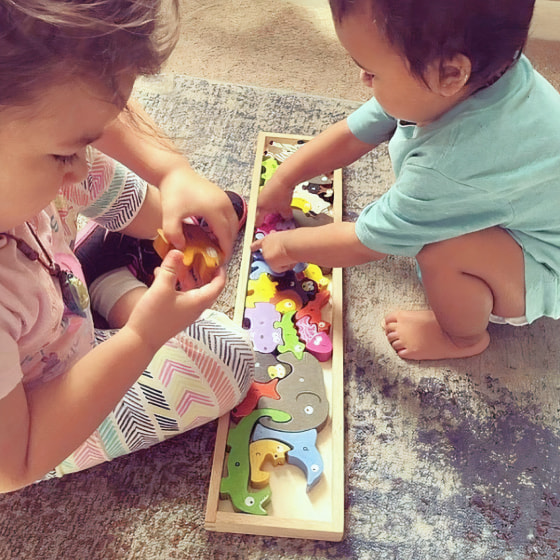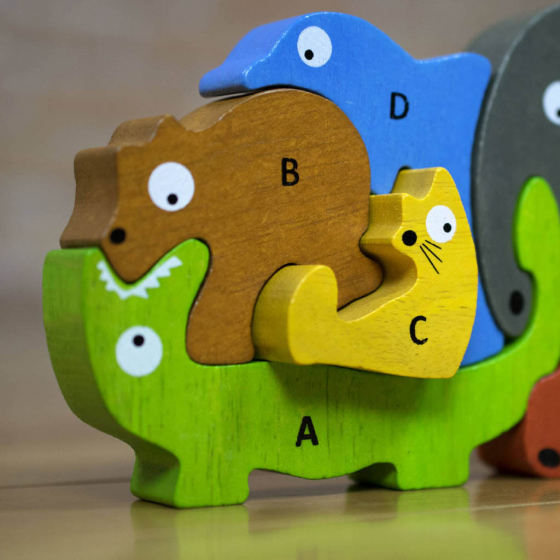 From alligator to zebra
Teach, challenge, and let kids explore
Build, experiment & learn
This wooden puzzle and ABC learning game features fun animal pieces that have a lowercase letter on one side, and an uppercase on the other.
Educational fun for your kid
The Animal Parade A to Z Puzzle and Playset encourages your little one to learn the alphabet while playtime that also improves problem-solving skills and creative thinking.
Eco-friendly materials
All of these wooden puzzles and games are made from sustainably grown rubberwood and finished with non-toxic water-based stains.
Kid-powered - no battery required
Kids have all the energy they need to play! These puzzles need no batteries, they're powered by imagination and curiosity.
Sizing information & details
The Animal Parade A-Z Puzzle measures 5" wide x 22.75" long and comes in a beech wood tray that's great for storage, travel, display, and gift wrapping! Intended for ages 2 and up.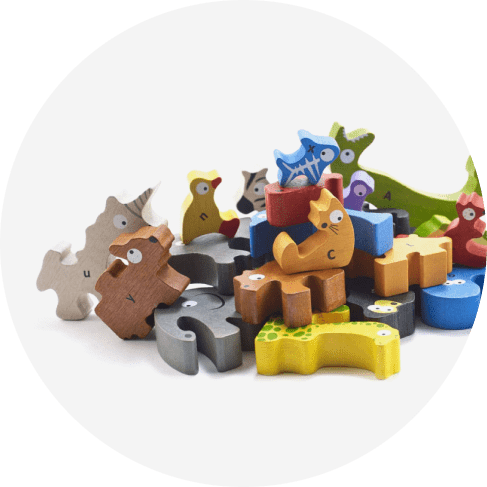 About BeginAgain
BeginAgain is an eco-conscious toy company based out of Fort Collins, CO, who specializes in toys for children 6 months to 6 years old. We design and market toys that are fun and develop the child across all stages of toddler and preschool life, both mentally and physically. Our products are made from 100% sustainable materials, so they are child safe and most importantly mom trusted! Our brand is seeing tremendous growth as a result of: 1. Our sustainability message is resonating with consumers & retailers. 2. We use rubberwood, water based stains & natural rubber for entire product line. 3. Parents are looking for toys that reduce screen time for their children. 4. The revolt against plastic is very real & parents are looking brands not using plastic. 5. BeginAgain has grown as a very authentic voice that parents, grandparents & educators really love.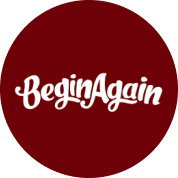 Designed In
Fort Collins, Colorado
Reviews
Our reviews are verified for authenticity
4 year old grandson loved it. Needed a little help the first time but then could do it easily. Love the atudy colorful pieces.

Purchased for a holiday charity donation. Very sturdy and durable, but had to laugh at some of the animal choices. Nobody in my office could guess if F was a fish or fox and the duck as the "N for nightingale" was a hoot.

This is a great puzzle for kids! Its difficult to do but the wooden pieces which are different animals are fun to play with individually and in themselves are a fun way to learn about animals from A to Z. Putting the puzzle together isn't easy but a picture of the puzzle comes with it & that helps putting the pieces together.

Cute colors. Adorable animal shapes.

My 2 year old perfected this by 25 months.Bought him it for his 2 year birthday because he loves puzzles. Keeps him busy. He'll complete this over and over 5 times before bed. Keeps him occupied for me to get dishes done. Sturdy. Great quality.

This puzzle is very cute and very well made. I bought it for my 3yo granddaughter, who loves puzzles. When I gave it to her, she didn't like it as much as the traditional square type, but I jumped the gun a little. She just started pre-school! But she can still play with the animals, name them, and say what they "say." And I think she will grow into it and like the challenge of the different format when she does.

My toddler loves this puzzle! The pieces are brightly colored an letters are easy to read. They seem durable as well as the tray they sit in. My only complaint is that for N they used a nightengail. Most children would have no idea what that is so I feel it would be better if they used a narwhal instead. Over all this is a great puzzle for toddlers and preschoolers

Very high quality puzzle. It's big (almost the length of my arm) and the pieces are smooth wood (no splintering). They're sturdy and big enough that they can be played with individually almost like small blocks. I will say that it's not obvious how they fit together. My 4 year old cant do this by himself. And there's no picture printed on the tray so SAVE the packaging!

Adorable puzzle for kids and the adults here had to try it too. It was a little challenging, but we figured out you pick capital letters or lowercase letters on the animals. They have capital letters on 1 side and lowercase on the other. They fit together with all capitals or all lowercase. Each animal piece varies in size. There are a few animals that were so small we had to put aside so our little doesn't eat them. Most are not a choking hazard. Our toddler likes to hold each animal and make the noise the animal makes. Right now she prefers to take the puzzle apart after we put it together to put it away. We find animals from this puzzle in random places, like a dolphin in the cupboard or an elephant in the pantry. It arrived on time in a tall skinny box with ample cushioning.
View full details
Frequently Asked Questions
What products do your store offer?
We offer many products for kids and babies, including clothing, accessories, toys, and nursery essentials.
Are the products in your store of high quality?
Yes, we take pride in offering products of the highest quality to ensure the safety and satisfaction of our customers and their little ones.
How long does shipping take for customers in the USA?
Our shipping time for customers in the USA is two to three days.
Do you ship internationally?
Currently, we only ship within the USA. We do not offer international shipping at the moment.
Can I track my order once it has been shipped?
Absolutely! Once your order has been shipped, we will provide you with a tracking number, which you can use to track your package's journey.
What payment methods do you accept?
We accept various payment methods, including major credit cards, debit cards, and online payment platforms like PayPal.
Do you offer any discounts or promotions?
Yes, we often have discounts and promotions available. Keep an eye on our website or subscribe to our newsletter to stay updated on the latest deals.
Are there any restrictions on returns or exchanges?
We have a hassle-free return and exchange policy, but please review our specific terms and conditions to ensure eligibility for returns or exchanges.
What is your return policy?
Our return policy allows you to return or exchange products within 90 days of purchase, provided they are unused and resalable. Please refer to our return policy page for detailed instructions.
Are there any additional fees or taxes I should be aware of?
Our prices are inclusive of any applicable taxes or fees. The total amount you see at checkout is the final amount you will be charged.
Do you offer gift-wrapping services?
Yes, we offer gift-wrapping services for a small additional fee. You can select this option during the checkout process.
Can I request personalized or customized products?
At the moment, we do not offer personalized or customized products. However, we are constantly expanding our product range, so keep an eye out for any updates in the future.
How can I contact your customer support team for further assistance?
You can reach our customer support team through the contact information provided on our website. Feel free to email us or call our dedicated helpline; we will gladly assist you.
Fast and Free: Enjoy 2 Day Shipping on All Orders in USA
Experience the ultimate convenience with our free 2-day shipping service available to all customers throughout the United States. Shop with ease and have your items delivered to your doorstep in no time, completely free of charge. Don't wait—start enjoying fast and efficient shipping today.
Quality Crafted, Locally Sourced: All Products Are Proudly Made in the USA
Experience the assurance of exceptional quality and support local industries with our wide selection of products, all proudly made in the USA. From clothing and electronics to home goods and more, explore our collection and take pride in supporting American craftsmanship and manufacturing.
Shop with Confidence: Enjoy a Generous 90-Day Return Policy on All Purchases
We want you to love your purchases, which is why we offer a hassle-free 90-day return policy. If you're not completely satisfied with your order, simply return it within 90 days for a full refund or exchange. Shop with confidence and peace of mind knowing that your satisfaction is our top priority.
Unleash the Magic of Playtime at Home
Step into the enchanting world of Home Kartz, where every corner of your home becomes a captivating wonderland for kids! We believe that the magic of playtime should extend beyond just a designated playroom, which is why we have curated an extraordinary collection of products designed to transform your entire home into a paradise for children.