.
Regular price
$49.90
Sale price
$21.97
Unit price
per
Sale
Sold out
If you order within
Arrives by
A cute accessory for girls
This cute cartoon doll toy watch designed for girls is suitable for everyday use and can be the perfect first watch for your little angel.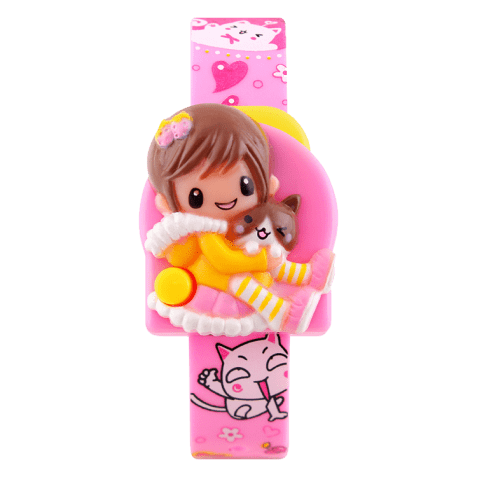 Watch specifications
Fun design appealing to kids
Watch details
Size (L x W x H): 8.1" x 1.3" x 0.4". Case diameter: 1.3". Movement: digital. Functionality: Time, Date.
Watch materials
The case material is ABS. The environmental non-toxic strap material is PVC plastic.
Special design
Shell-separated dial, easy to operate. The watch is designed as a fun doll
toy
with a cat; playability is exceptionally high.
Simple to use
This watch is straightforward to use. Simply press the top of the watch keys, and the dial automatically pops up. Teach your child to view time easily.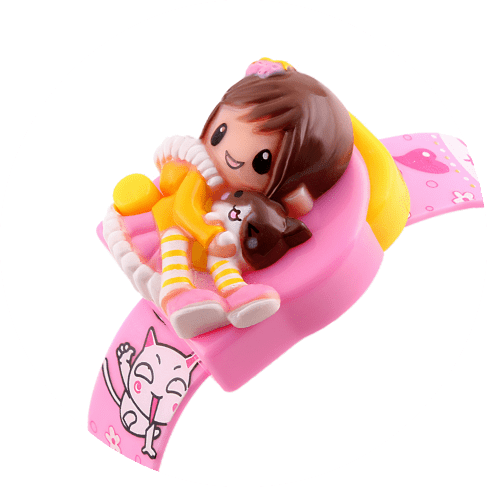 An outstanding accessory for your child
This cute cat and doll toy watch is the best choice for a birthday gift, festival gift, or visit gift that
kids
will love. With this pink watch, children can read the time quickly and precisely.

Want to find the perfect accessory for your little girl that's not only stylish but also functional?

It can be a challenge for young girls to discover an accessory that combines both fashion and utility.
You are introducing our Adorable Girls' Pink Digital Watch – the ideal blend of style and practicality that your daughter will adore, offering a delightful way to learn to tell time. 

Benefits of this Digital Watch:


Stylish Design: Featuring an adorable pink digital watch with a child-friendly, charming look.
Time Learning: Helps young girls learn to read and understand time in a fun way.
Durable Construction: Made to withstand the active lifestyle of children.
Easy to Read: Large, clear digits make it simple for kids to read the time.
Water-resistant: Can withstand splashes and play, ensuring it lasts longer.
Comfortable Fit: Designed with kids' comfort in mind, making it perfect for everyday wear.
Versatile Accessory: Complements a wide range of outfits for various occasions.
Parent-Approved: A practical way to teach kids about time management.
Gift-Worthy: Makes for an ideal gift for birthdays, special occasions, or just because.
Empowering Independence: Encourages girls to manage their own schedules.

FAQ ( Frequently Asked Questions ):


Q1: What is the Adorable Girls' Pink Digital Watch?
A1: It's a stylish and functional digital watch for girls featuring a charming pink design.
Q2: Is the watch suitable for young children?
A2: Yes, it's designed with children in mind, making it easy for young girls to learn to tell time.
Q3: How durable is the watch?
A3: The watch is constructed to withstand the active lifestyle of children and is water-resistant for added durability.
Q4: Is the time display easy for kids to read?
A4: Yes, it features significant, clear digits, making it simple for kids to read and understand the time.
Q5: Can the watch withstand water and splashes?
A5: Yes, it is water-resistant and can handle splashes and play, ensuring it lasts longer.
Q6: How comfortable is the watch for kids to wear daily?
A6: The watch is designed with kids' comfort in mind, making it perfect for everyday wear.
Q7: Can this watch be worn on different occasions?
A7: Yes, it's a versatile accessory that complements various outfits and occasions.
Q8: How does the watch help teach kids about time management? A8: It empowers young girls to learn about time and manage their own schedules in a fun and interactive way.
Q9: Is this watch a suitable gift for a special occasion?
A9: Absolutely! It makes for an ideal gift for birthdays, special occasions, or as a thoughtful surprise.
Q10: Can I rely on the watch's durability and functionality?
A10: The watch is designed to be both stylish and functional, making it a reliable accessory for young girls.
Reviews
Our reviews are verified for authenticity
This is an absolutely unique watch, I've never seen anything like it!!! It looks so cool and cute, I wish we had such watches when I was a kid lol. I got it for my 6 yr old and she adores it!!! The little girl and the cat are very nicely designed, the band is smooth and comfy. Amazing gift for little girls!!!

My daughter is 3 and she loves her watch but gets tired of wearing it. She will occasionally throw it and it is still intact and functioning. Definitely durable. The color is nice and bright, and the design is super cute. Worth every penny.

This was a win for us. Daughter loves it and wears it everywhere, we haven't gotten it wet other than rain and hand washing so I can't speak much on the water resistance but we've had this watch for a few months now and it's still in good/working condition

I was thinking hard about what to give for my little niece's birthday until I saw this watch. Can't even tell you how FAST I bought it haha. It looks cute and unique, I like that she can wear it just as a bracelet because you can 'hide' the display. 5/5 stars!!

Got it for my granddaughter, she's 5 and it's her first watch. I chose digital because it's still a bit hard for her to tell the time with hands… I think it's a perfect choice for little girls, the design is really lovely.

This watch is wonderful!!! Granddaughter loves it. She's 3.5 years old. Wears it everyday. The girl and the cat are adorable. She also likes how the display pops up. Having tons of fun!!! Highly recommend

This feels a bit bulky. Yes, it's cute and unique and stuff, but it's just too much for a kid's hand. Daughter loves it though

My 4 year old granddaughter LOVES it! She cannot tell time yet but is enchanted with the watch! And it is waterproof!

My 3 year old granddaughter has not taken this off since she put it on. Wears it in the shower and pool. Still working!

My twins each received one for their 6th bday. They love to check the time. Watch fits great!

My grandbaby loves it and she plays with it all the time. Thank you

My daughter loves it. Pretty pink and pretty girl and cat.
View full details
Enjoy Free Shipping on Every Order
Experience the ultimate convenience with our free 3-day shipping service available to all customers throughout the United States.
24 x 7 Customer Support at Your Service
We offer customer support through live chat, email, or phone, making it easy for customers to get assistance with their inquiries.
Crafted with American Pride: All Our Products Are Made in the USA
Experience the assurance of exceptional quality and support local industries with our wide selection of products, all proudly made in the USA.
Peace of Mind: Our 14-Day Return Policy Has You Covered
We want you to love your purchases, which is why we offer a hassle-free 14-day return policy. If you're not completely satisfied with your order, simply return it within 14 days for a full refund or exchange.
Explore Our Diverse Range of Products
Our store offers a vast selection of products, giving customers the convenience of finding everything they need in one place.
Our Customers Award Us 5 Stars
We are thrilled to share that our products has received widespread acclaim from our valued customers, with an abundance of 5-star customer reviews pouring in.
Your Choice, Your Security: Explore Our Multiple Payment Options
We offer secure payment options, giving customers peace of mind when making transactions.
Track Your Orders at Every Step
Customers can track their orders in real-time and receive updates on their delivery status.