If you order within
Arrives by
Regular price
$79.99 USD
Sale price
$30.99 USD
Unit price
per
Sale
Sold out
If you order within
Arrives by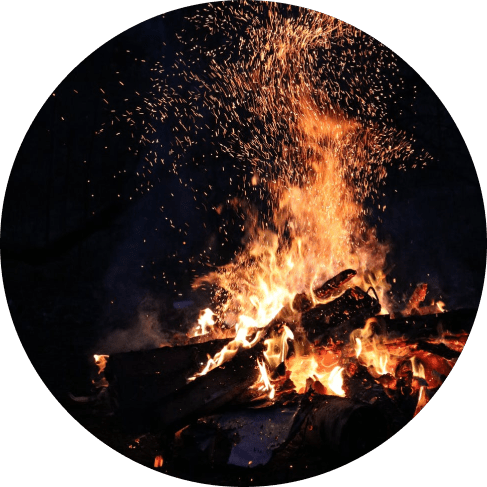 Light up and burn
Have our Ace Camp Flamesticks on hand to light campfires or candles with ease out under the stars and night sky. Get up to 100 hours of burn time with each box, which comes with 20 sticks. Each stick burns from six to eight minutes to meet all your fire-up needs.
Burn baby, burn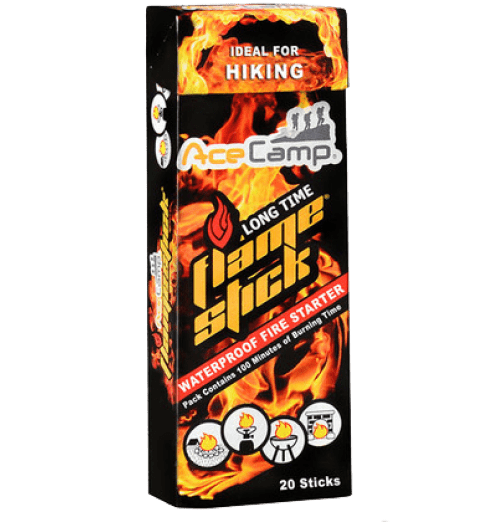 Clean + odorless
No harm here -- our flamesticks burn clean, are made of recycled material, and have no odor at all, for non-irritating fires and flames.
A reusable wonder
Ignite a spark, even if a match has been sitting in water. (Yes.) Just shake off the water and light up the match again -- only Ace Camp Flamesticks can do this.
Ace the outdoors game
At Ace Camp, we know what it means to be in the wilderness, exploring, hiking, camping -- and having a good time. That's why we made it our mission to sell all your outdoor essentials for safety and convenience for over two decades. Shop our selection gear today for your next big trip.
About AceCamp
It shouldn't be hard to answer the call of the wild, to become fully immersed in the outdoors and be prepared for whatever nature throws at you. Here at Ace Camp, our mission is to deliver outdoor enthusiasts the gear that becomes the catalyst that gets you out there.The experience is everything, and we're here to make it easier for you to have those unforgettable adventures. We understand that it's essential to trust your equipment. Quality has been our number-one priority since Ace Camp was established internationally in 2000. Since that time, we've been manufacturing high-quality products for reasonable prices for a broad range of outdoor activities. With over 200 products in our line of camping equipment and emergency preparedness gear, we outfit customers around the world for adventures close to home or far-away. Even when roughing it, certain necessities can elevate a decent outing to the trip of a lifetime. In 2012 we moved operations to the outdoor mecca of Salt Lake City as a base to pioneer new products and better serve the American market. Our state of the art facility guarantees that you get your order fast and on time. Now all you have to worry about is which adventure you're planning on next.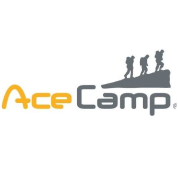 Designed In
Utah, Salt Lake City
It will fire your fireplace right up.

When I go camping by myself I often have trouble getting a good fire. These fire starters worked like a charm. I only used one or two each night and got a good fire. I appreciated that.

I bought these to start fires while out hammock camping and they are perfect for starting a camp fire. Even if conditions are wet. They have earned their place in my pack. Everyone has there ways of doing things. But in the modern world this makes things quick easy and affordable.

I was nervous about lighting my wood burning fireplace for the first time but these starters made it so easy, I'm now a pro! They light quickly, catch the kindling nicely and remain lit until the wood is properly burning. I can't imagine having a wood-burning fireplace without these. They work exactly as advertised.

I have purchased this item twice to help boost the start of my wood pellet stove. Without this product, it can take me up to 10 minutes to get a fire started, but with these sticks I can use only half of one stick and my fire is up and going in under 5 minutes. Thank you so much! This is the perfect size for my needs. Beach bonfire- I can also attest to how helpful this product was in getting a beach bonfire started!

Was disappointed in the size but they work very well.
View full details
Featured store
Our products are featured in top news publications including Fox, Newyork times & USA Today
Trusted by 1000+ customers
We are thankful to each customer for showing trust in our products.
24 x 7 support
We won't leave you alone! Every one gets 24 x 7 priority support.
2 to 4 day shipping
All products are shipped in 2 to 4 business days from USA Warehouse.
Happy Customers
So many positive reviews and happy customers cannot be wrong!
100% Satisfaction
We offer 90 days risk free trial with 100% satisfaction guarantee.
Made in the USA
All our products are made with love in the USA