If you order within
Arrives by
Regular price
$79.99 USD
Sale price
$61.99 USD
Unit price
per
Sale
Sold out
If you order within
Arrives by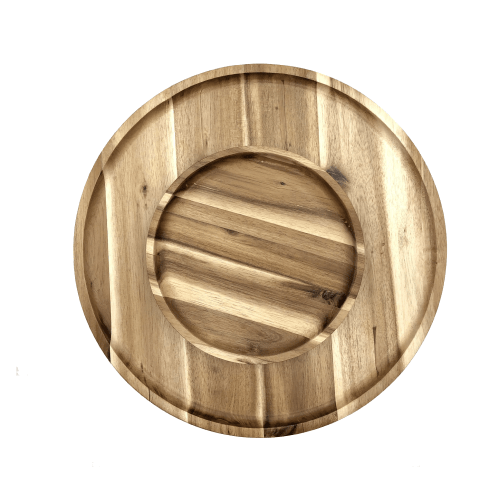 Acacia Round Plate / Platter
Whether serving hors d'oeuvres during dinner parties or fixing yourself a little cheese and crackers platter for a midnight snack, this wood platter is a must-have for your kitchenware collection. Crafted from solid acacia wood, each piece features a brown coloring and strikes a round-shaped silhouette.
Acacia Round Plate: features & details
#1 essential for home chefs and entertainers.
Ideal for any occasion
This acacia platter is an ideal party setting option. Measuring 8", it can be used for individual meals, cheese platters, appetizers, or finger food. This charming acacia round platter is perfect for everyday use as well as for entertaining during that special party.
100% eco-friendly
Acacia wood, also known more simply as acacia, is an environmentally friendly hardwood that is grown all over the world. This product is 100% made from plantation grown acacia wood.
Dishwasher safe
All our acacia tableware is dishwasher safe. While acacia wood is NOT oven or microwave safe, it IS dishwasher safe and works for any wet environment due to our proprietary banana leaf-based glue that is meant to withstand high heat and moisture.
Easy & stylish storage
Our round acacia plates are stackable into each other for ease of storage and presentation tableside. The same size plates will nest one into another with a proprietary lip that is meant to sit inside the front side of the previous platter.
Handcrafted with love
Each acacia piece has been hand-carved from the highest quality acacia wood. Attractive and functional, the rich contrasts of color and grain add style and elegance to any home!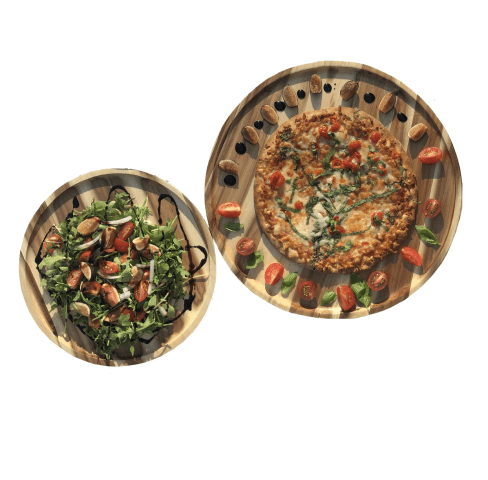 About WILMAX USA
Wilmax is an established manufacturer of tabletop small wares including Fine and durable Porcelain, Glassware, Thermo, Bamboo serve ware and High Polish Stainless Steel Flatware. With over 12 years of experience in Europe, we have finally made the move into North America. With Headquarters and a warehouse conveniently located outside of Philadelphia. Wilmax Manufactures 100% of its product using our own or shared facilities in Asia in order to control quality and design 12 years producing and distributing tabletop goods in Europe, Asia, and Latin America 1,800 + Active and unique SKUs (growing by over 300 per quarter) Currently, producing all products in Asia under our total control (we do not outsource) Multi-Million US warehouse located outside of Philadelphia We are very familiar with the hospitality market and our international clients have nothing but great things to say about our product.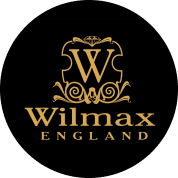 Designed In
Bensalem, Pennsylvania
These plates are beautiful and I'm very happy with them.

I was super surprised how nice these really were. I will be ordering more!!!

My husband really wanted wooden plates so I got him these for Christmas. They are good. I do not put them in the dishwasher. I noticed them getting a little rough on the edges and wondered if they needed a little mineral oil on them.

I have wanted these plates for a long time and finally decided to get them. I love them!

They are beautiful, great quality, hand wash and dry only, sturdy, and solid wood. I am very pleased.

I received my plates quickly and was so excited to open my package to unveil 4 beautiful wooden plates, they are thick and sturdy and they will go with my bohemian chic theme. They had bowls and utensils to match but were happy with my plates.

I was looking for the perfect plates for our kids that were not plastic, that would hold up if accidents happened. These are not only beautiful but great quality! Their Customer Service is also amazing! I am very pleased and will be adding more to our collection.

I really like these plates. They are thick, sturdy, and look great. I am using them as chargers, so I do not wash them so I don't know how well they will hold up if they are washed several times. But great for chargers. I thought they would be just a little bigger, but they look just fine.

These plates are exactly as pictured. They have a large, flat surface, which holds a good amount of food...either as a platter or dinner plate. The finish has a nice sheen. They are well sanded, and have held up perfectly through several washes.

Ok so at first I wasn't sure about the plates because the quality is good but the sides didn't look high enough and I wasn't sure if it was going to hold my food without falling off the sides. I unwrapped one and tested different food on it and it looks like it can hold burgers, pizza, carrots, mashed potatoes no problem. I posted some pictures. Great material, well made and each plate comes wrapped individually in a plastic wrapper. I highly recommend it
View full details
Featured store
Our products are featured in top news publications including Fox, Newyork times & USA Today
Trusted by 1000+ customers
We are thankful to each customer for showing trust in our products.
24 x 7 support
We won't leave you alone! Every one gets 24 x 7 priority support.
2 to 4 day shipping
All products are shipped in 2 to 4 business days from USA Warehouse.
Happy Customers
So many positive reviews and happy customers cannot be wrong!
100% Satisfaction
We offer 90 days risk free trial with 100% satisfaction guarantee.
Made in the USA
All our products are made with love in the USA